14M Downloads | by CaptTatsu
Meanwhile, there are some Minecraft Shaders, which are mainly known for extreme graphics, but BSL Shaders has a different approach. CaptTatsu, the creator of the pack, wants to improve Minecraft foremost. Meanwhile he has already released more than seven development versions and with every update the shading gets a bit better. Basically the BSL shader works for every Minecraft version and it doesn't matter if you play the Nether update or an older game version. The only important thing is to make sure you have the correct OptiFine edition installed.
Technically, you can use BSL Shaders with almost any graphics card. So it doesn't matter if you are using Windows, Mac, Linux or any other operating system. To come back to the topic of graphics cards: Officially an NVIDIA GeForce GTX750 or better is required. But this is only a guideline. For example, most Mac devices use Intel Graphics, which are also fully compatible. Unlike other packs, the BSL Shader is relatively simple and uses few resources. You probably won't get an extreme FPS boost, but also no performance drops. It's best if you try the pack yourself.
Graphical features
But now you will also learn about the graphical features, which are probably the most exciting aspects. Basic functions like more realistic water or a more realistic sky are of course included. Even the clouds can be customized. For me these features definitely belong to a good shader. Furthermore, the anti-aliasing effect is used, which makes the blocks look smoother. This special atmosphere is complemented by better shadow and light effects. As a result, you will notice a significant difference, especially in sunlight or torches. Ultimately, many different factors make BSL Shaders so popular.
All in all, you'll feel much more comfortable in Minecraft after downloading and installing. In other words, BSL Shaders could be described as an Instagram Filter that makes your selfie look different. Finally built-in color options give you unique customization options.
BSL is compatible with these Minecraft versions: 1.19.1 – 1.19 – 1.18.2 – 1.18.1 – 1.18 – 1.17.1 – 1.17 – 1.16.5 – 1.16 – 1.15.2 – 1.15 – 1.14.4 – 1.14 – 1.13.2 – 1.13 – 1.12.2 – 1.12 – 1.11.2 – 1.11 – 1.10.2 – 1.10 – 1.9.4 – 1.9 – 1.8.9 – 1.8
Screenshots & Video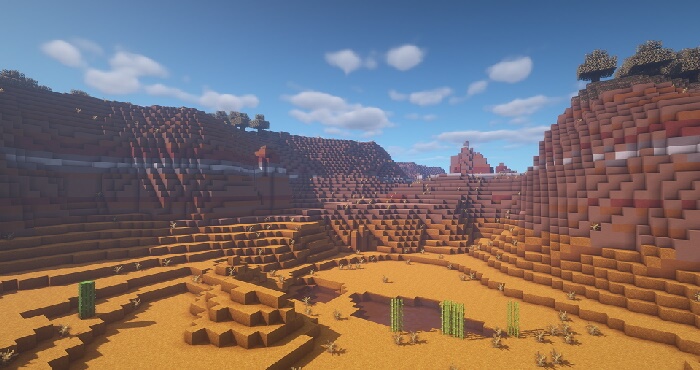 BSL Shaders Download
Click on the download link and wait a short time until the shader is downloaded.
Install Optifine.
Start Minecraft with Optifine.
Go to "shaders" in the "video settings".
Open the "shaders folder" at the bottom left.
Move the BSL shaders into that folder.
The file must be in ZIP format. Select the shader in the game.
Click on "done".
✔️ None of the files are hosted on our server. All direct download links on our website are provided by the authors. The packs are free of viruses. Therefore, they are completely safe and secure.
✔️ Please share this post on social media.
✔️ Are there any thoughts you'd like to share? Please write a comment and rate the pack to help the authors.
---
👨‍💻 CaptTatsu is the author of BSL. Rate this pack: