1.1M Downloads | by LexBoosT
Many Minecraft players unfortunately had problems with the BSL shader in the past. Therefore, a modified version was released, which is called AstraLex shader. The project was originally just called BSLex, but that caused confusion for some people. The name was changed accordingly, so that everyone would immediately notice that these are two different packs. Of course, the creator of the BSL edit has gotten permission from the main developer to allow him to change his programming code. Generally you should ask others if you are allowed to use their work. That's why you should always ask first if you want to change textures in a resource pack, for example.
First of all, it is important for you to understand what makes the AstraLex shader so special. Compared to BSL, the pack offers significantly more modification options. This allows you to customize Minecraft even more perfectly to your needs. The best thing about it is that you don't need any programming skills. You can easily configure everything in the shaders menu.
AstraLex is mainly designed for poor computers, because the shader is comparatively resource efficient. This also means that the pack is compatible with all major graphics card brands, such as AMD, Nvidia and Intel. As a result, you can play it with Windows, Linux and macOS. This is especially pleasing for Apple users, because normally shaders don't work that well with the Apple hardware.
According to a survey, most players even get over 500 FPS in Minecraft, which is really amazing. If you have a very good computer, I'm sure even more will be possible. Feel free to comment on how many FPS you get.
AstraLex is compatible with these Minecraft versions: 1.19 – 1.18.2 – 1.18.1 – 1.18 – 1.17.1 – 1.17 – 1.16.5 – 1.16 – 1.15.2 – 1.15 – 1.14.4 – 1.14 – 1.13.2 – 1.13 – 1.12.2 – 1.12 – 1.11.2 – 1.11 – 1.10.2 – 1.10 – 1.9.4 – 1.9 – 1.8.9 – 1.8
Screenshots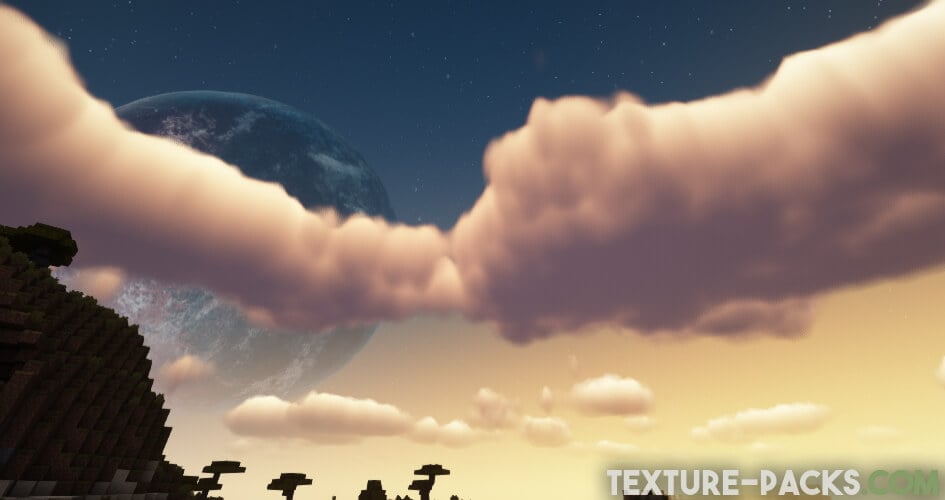 AstraLex Shader gives Minecraft a whole new atmosphere, as you can see in the screenshots. Literally everything in your game world looks different. Everything from the sky to the water looks extremely realistic and shines very brightly. However, the new lighting also creates a problem. It is pitch black at night. So we recommend that you go to the shader options and make some changes to the lighting.
Furthermore, the creator LexBoosT writes that the pack was only tested in Minecraft Vanilla. As a consequence, there may be problems with mods. But according to our tests, this is rather the exception and the most popular modpacks should run without problems.
AstraLex Shader Download
So far you have only learned what the AstraLex shader has to offer. Now comes the most important part of this article and that is how to install it. The download links are completely free and exclusive for the Minecraft: Java Edition. There is currently no version for MCPE and Bedrock players.
Download and install Optifine. Use this mod to install any shader pack in the world.
Click on the AstraLex Shader download button. This will redirect you to Curseforge and your browser will start with the download immediately.
Go to the directory ".minecraft/shaderpacks". Move the downloaded file into this folder, which you don't have to unzip by the way.
Start Minecraft with Optifine.
Click on "options" in the menu, then on "video settings" and finally on shaders.
Select AstraLex and click "done".
Sometimes you may have problems with lags and errors in the beginning. A quick fix would be to set the render distance lower so that your graphics card has less to process. More troubleshooting can be found in the creator's FAQ, which will surely help you. Nevertheless, more serious errors do happen, which are not due to a wrong installation and therefore not due to you. It's best to let us know if you see something that doesn't work properly.
✔️ None of the files are hosted on our server. All direct download links on our website are provided by the authors. The packs are free of viruses. Therefore, they are completely safe and secure.
✔️ Please share this post on social media.
✔️ Are there any thoughts you'd like to share? Please write a comment and rate the pack to help the authors.
---
👨‍💻 LexBoosT is the author of AstraLex. Rate this pack: