There are many great tools for Minecraft out there, but OptiFine 1.18.2 → 1.17.1  is by far one of the best. This mod's goal is to enhance the game performance as well as the game's aesthetics. It manages to do so by doubling the FPS and by using fewer resources. Many of you out there struggle with the game lags and low speed, but using this mod you will be able to optimize your game in order to get rid of the speed issues, even if you play the game online or with others.
Using this mod you get access to the Video Settings, allowing you to customize your game in order to get the best from it. Therefore you have a lot of options that can be set in order to customize your game. For instance, you can control the weather as well as the time. It is possible to control the existence or the intensity if the water, stars, moon, fog, rain etc. The game visuals are also radically improved since the lighting and the shading is much better, and the HD textures will no longer be a problem.
As mentioned above, this mod has support for HD Resource Packs so it is highly recommended to have the OptiFine HD 1.18.2 installed, since most of the texture/resource pack demand it. When you download this mod pay attention to the version you are downloading, and do note that the ULTRA version is the most recommended one. It may take some time until you will figure out the best combination of settings that works for your computer, but take your time. Once you got it all figure it out, you will never run a single game without it.
FAQ
1
How do I optimize Minecraft with OptiFine HD?
By default, Optifine offers many optimizations to improve your FPS that require no action on your part other than its installation.
2
Is OptiFine HD 1.18.2 compatible with Minecraft Forge Mod?
Yes, however, when a new version of Minecraft is released, they are not immediately compatible.
3
How to install OptiFine for Minecraft Java?
Simply download it and launch the installation which will automatically install OptiFine on your game. Then launch Minecraft and select the new OptiFine profile. Be sure to download the version corresponding to Minecraft.
4
With which versions of Minecraft is OptiFine compatible?
Currently you can download OptiFine for any Minecraft version between 1.7.2 and 1.18.2.
5
How to have a cape with Optifine?
To get a cape, you'll have to make a donation of any amount on the official Optifine site
How to download and install OptiFine 1.18.2
---
---
It's best to have a Minecraft file that has just been installed to avoid creating conflicts. Then just download the preferred version of Optifine. If for example you play with Minecraft 1.18.2, you will have to download the version that is compatible with 1.18.2. Once downloaded, run the file by double clicking on it: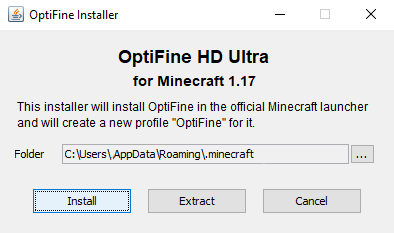 Then click on the install button and check that the installation path is correct. Once the installation is complete, launch your Minecraft game and select the new OptiFine HD profile: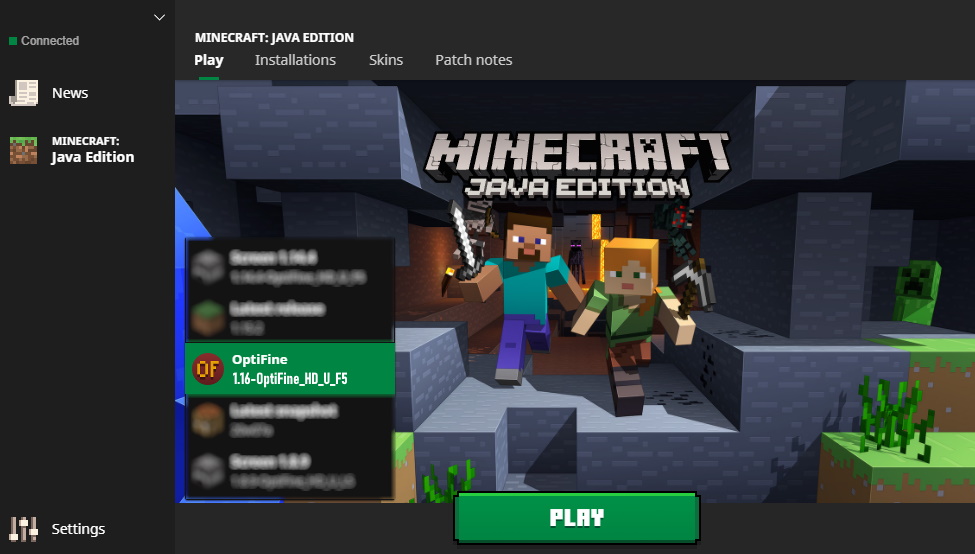 Make sure you are using the Optifine profile before starting the game.
🔔 Please note:
We appreciate it if you share this post.
Minecraft Java Edition Optifine Download Links:
All versions