Even for those with perfect eyesight, dimly lit games can prove to be extra tricky. Players struggle to enjoy gameplay that involves beating dungeons with dimly lit caves or nighttime play. In Minecraft, this hurdle is overcome by installing and utilizing the FullBright texture pack. The pack lights up dimly lit areas without cheats so that players are able to play the game without having to worry about hidden items or enemies. This makes gameplay significantly easier for everyone that uses this Minecraft texture pack. By the way, you don't need to increase gamma. Here are a few perks to the FullBright resource pack for Minecraft.
Enhanced Visibility
The most basic element of the FullBright texture pack is the ability to see anything and everything in areas that may be dark. This allows players to be able to grab things they might have otherwise missed in the past. Hostile mobs will also have a more challenging time sneaking up on you, so you will be able to complete dungeons and travel dimly lit areas with ease.
By the way, you don't need to type any commands in the chat for the unlimited light source. Everything works completely automatically once you install the pack. As a result, you'll have light in Minecraft without a light source, which sounds really weird, but it's the truth. You'll never need luminous blocks, such as a light block or a glowstone, because you'll play with the maximum light level anyway. The FullBright pack is the best light source in Minecraft.
Accessibility
Some players have difficulty seeing properly in dimly lit areas. As much as that applies to real life, it also applies to a dark room in a game. This makes it literally impossible for the player to find the chests or items other players are easily able to discover. For these players, the FullBright texture pack is less a hack or cheat than it is a way for them to experience the game on the same level as any other play.
With that in mind, those players are able to be on an even playing field with skilled players. This will give them the opportunity to compare their skills and keep up with other players that seem more skilled simply because they have "normal" eyesight.
Being the Best
Ok. Ok. This is technically cheating, but utilizing the FullBright pack when you have perfect eyesight can allow you to easily complete dungeons and avoid enemies in dimly lit areas. You can make it appear that you are simply doing an amazing job or getting lucky when in actuality, you can see everything that others can't.
This is definitely cheating, so I wouldn't recommend lying about it when seriously discussing your success and abilities with other players. FullBright is also banned on some multiplayer servers, so getting caught cheating with this texture pack is just not it. Be mindful.
Follow Server Rules
Different servers have different rules for what texture packs are permitted or not. It is important to keep up with the requirements so that you are not caught breaking any rules. This can result in a ban from that server.
While some servers permit you to use whatever texture pack you want, others are not as lenient. If you have perfect eyesight, utilizing the FullBright texture pack can be considered cheating. Other players may not be happy with you using it, and if they find out, they can report you. This can likely result in you being banned from a realm.
For the visually impaired, the FullBright mod makes dark caves and dimly lit caves something they can enjoy when they weren't able to before. While this may not be cheating for these players, respecting the server rules is still a must. You don't want to be caught using something that is practically necessary for you to play the game properly, only to be banned from your favorite server. Use it wisely.
Test Out FullBright
If you are a connoisseur of Minecraft texture packs and have to collect them all, give the new improved textures a try. It works with all Minecraft editions, including Java, Bedrock, Minecraft PE, and MCPE with no OptiFine.
See everything in caves and enjoy night gameplay without straining your eyes or missing anything. The full brightness texture pack is fun and can enhance your gameplay experiences to levels you never thought of before. Give it a download and install it today. It is also recommended to download the XRay texture pack to get even more advantages.
FullBright is compatible with these Minecraft versions: 1.20.1 – 1.20 – 1.19.4 – 1.19.3 – 1.19.2 – 1.19.1 – 1.19 – 1.18.2 – 1.18 – 1.17.1 – 1.17 – 1.16.5 – 1.16 – 1.15.2 – 1.15 – 1.14.4 – 1.14 – 1.13.2 – 1.13 – 1.12.2 – 1.12 – 1.11.2 – 1.11 – 1.10.2 – 1.10 – 1.9.4 – 1.9 – 1.8.9 – 1.8
---
Video
&

Screenshots

ADVERTISEMENT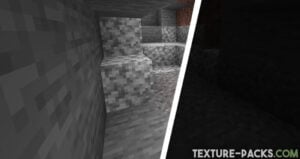 Comparison
Use our comparison tool to compare the Minecraft default pack with FullBright.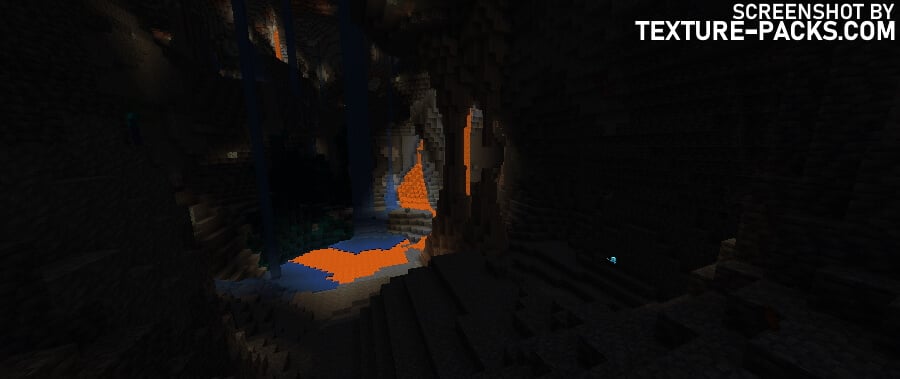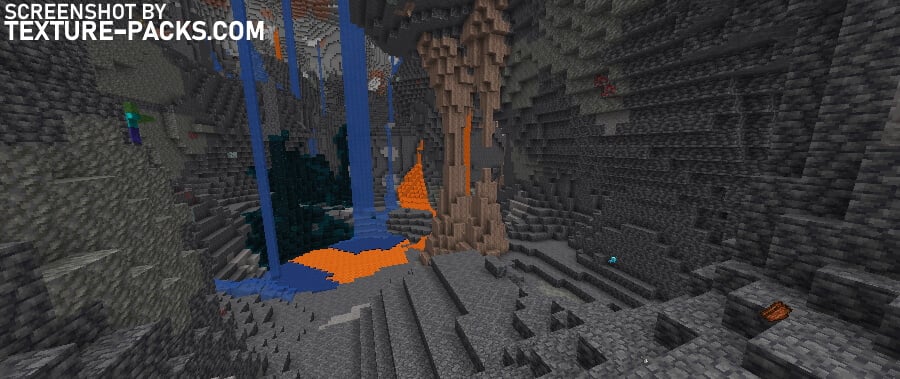 How to install the FullBright Texture Pack
Install OptiFine.
Click on the FullBright texture pack download link that is compatible with your game version and Minecraft edition.
Launch Minecraft.
Click on "Options" in the main menu.
In the options menu, go to the submenu "Resource Packs".
Click on "Open Pack Folder" at the bottom left.
Move the downloaded ZIP file into your resourcepacks folder.
You will see the pack on the left half of the resource pack screen. If it is not displayed in Minecraft, you need to unzip the file.
Move the cursor to the pack logo and click the arrow pointing to the right.
Click on "Done".
The game may tell you during the installation that the pack was made for a newer or older Minecraft version. This is an error and you can still activate the pack.
FullBright Texture Pack Download
ADVERTISEMENT