5.5M Downloads | by EminGTR
EminGTR's Complementary shader is useful for both high-end and low-end computers. This is because you can make a seemingly infinite number of customizations in the settings. In addition, the developer is incredibly active and documents everything in great detail. A complete changelog has been updated for several years, and it contains interesting information. You can be sure that every little change is listed there. Apparently the creator is quite a structured person. However, there is no official website from him, so everything is summarized here.
By the way, the pack is a BSL shader edit, which is also very popular in the Minecraft community. The same goes for the AstraLex shader, which is also based on BSL and is a good alternative. All in all, hundreds of changes have been made, so you won't find many similarities when comparing it to BSL.
A well-known example of the successful use of the shader is the Bare Bones texture pack. The textures look like the official Minecraft trailer if you combine them with the lowest complementary shader profile. Therefore, you should download both if you want to recreate the trailer.
All Complementary Shader versions
Furthermore, there is unfortunately no information about the PC requirements. Honestly, this is also difficult, because the Complementary Shader has several versions that have different requirements. They have the big advantage that you don't need any technical knowledge. These are all available versions:
Potato: No shadows and water reflections. In addition, glowing ores are disabled.
Low: Reduced shadow quality and shadow distance.
Medium: No specular maps.
Vanilla / RTX-ish: Realistic vanilla-style settings.
High (Default): The default setting for new installations.
Ultra: Additional effects are enabled.
Extreme: The ultimate Complementary Shader experience with ray tracing.
You probably know your PC pretty well, so you should know which version you choose in the shader settings. If not, start with Potato and work your way up carefully. Also, if you have problems with blurry blocks, a white sky and crashes, switching to a different version is the solution. On top of that, EminGTR has written down the most common issues and their solutions here. If that doesn't help, you can join the Complementary Discord server.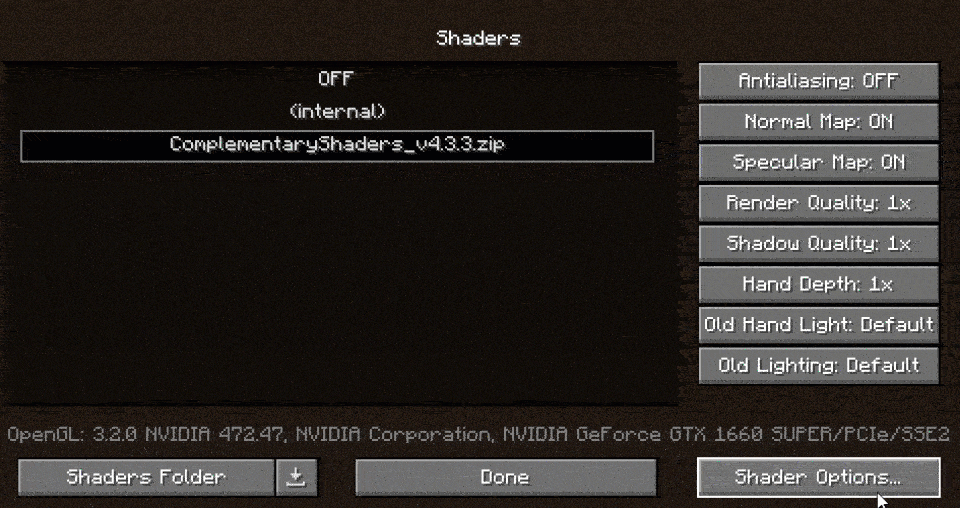 Best settings for low-end PC
Ultimately, the goal of every Minecraft player is to get high FPS. We are experts in this field, so we will show you how to get high FPS with the Complementary Shader and a low-end PC.
First, you need to check if you have set the maximum frame rate to unlimited in the video settings. Move the slider to the right to do this.
It is also advisable to reduce the render distance. Even extremely high-performance PCs usually can't handle more than 16 chunks. It's best to test for yourself which render distance is the most suitable for you.
Now go to shaders in the Minecraft options and make sure that the render quality and shadow quality is set to 1x. This is the default value and should be used in any case.
Then you go to the performance settings. There you activate render regions, fast rendering and fast math. In contrast, you switch off the smooth FPS.
Optionally, you can reduce the entity distance to 50% in the detail settings and deactivate the anisotropic filtering in the quality settings.
Complementary is compatible with these Minecraft versions: 1.19 – 1.18.2 – 1.18.1 – 1.18 – 1.17.1 – 1.17 – 1.16.5 – 1.16 – 1.15.2 – 1.15 – 1.14.4 – 1.14 – 1.13.2 – 1.13 – 1.12.2 – 1.12 – 1.11.2 – 1.11 – 1.10.2 – 1.10 – 1.9.4 – 1.9 – 1.8.9 – 1.8
Screenshots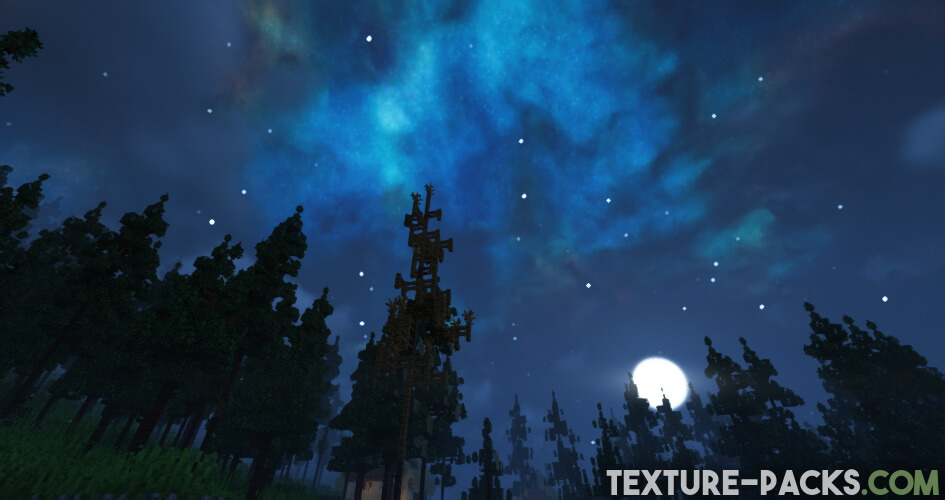 Complementary Shader Download
The Complementary Shader download links are exclusive for the Minecraft: Java Edition. The shader is not compatible with Bedrock and MCPE, which is why the majority of Minecraft players cannot play with it. Especially Android users would like to see an APK version, but nothing is planned at the moment. That's because it's not technically feasible. Therefore, you can only enjoy the aurora borealis and all other effects on the PC.
This guide will help you install the Complementary Shader in Minecraft:
Click on the download link and wait a short time until the shader is downloaded from Curseforge.
Install Optifine.
Start Minecraft with Optifine.
Go to "shaders" in the "video settings".
Open the "shaders folder" at the bottom left.
Move the Complementary Shader into that folder.
The file must be in ZIP format. Select the shader in the game.
Click on "done".
✔️ None of the files are hosted on our server. All direct download links on our website are provided by the authors. The packs are free of viruses. Therefore, they are completely safe and secure.
✔️ Please share this post on social media.
✔️ Are there any thoughts you'd like to share? Please write a comment and rate the pack to help the authors.
---
👨‍💻 EminGTR is the author of Complementary. Rate this pack: