ADVERTISEMENT
The majority of Minecraft players live in Europe or America, but our beloved video game is also becoming increasingly popular in Asia. In Japan, a large community of players has now emerged, which you may not have noticed at all due to the prevailing language barrier. However, thanks to the ongoing digitization, it is not impossible to find out which Minecraft texture packs are popular there. We have done a small survey among our Japanese readers. Many of them wrote us that the Mizuno Craft texture pack is definitely worth trying.
It is easy to explain why just this name was used so often because the creator Mizuno is also Japanese. To be honest, the official name "Mizuno's 16 Craft" is not very memorable. This title came about because, according to his own statement, he speaks very poor English, and therefore he does not come up with a glamorous name. In the end, it doesn't matter, because after all, it's the textures that are important to you.
With regard to the colors, a few characteristics can be identified directly. First of all, the new colorful and soft blocks in your environment will catch your eye. Between you and me, there's definitely no shame in losing track of what's going on because all textures are replaced by Mizuno Craft. After a short period of getting used to it your gaming fun will increase permanently.
If you are planning a larger building project the Mizuno Craft texture pack can help you. In the survey, our subscribers recommended medieval buildings. You don't have to follow this recommendation because you can also do the complete opposite. For example, build a house in the Nether.
In addition, all important blocks for architecture and interior decoration have been carefully designed. The cobblestone in particular is a strikingly beautiful result because it is a mixture of realism and cartoon. Nevertheless, the other blocks do not deserve to be neglected, because all of them cut a good figure. The main reason for the good results of all textures is the fact that they were created with a lot of patience. The result is a unique style that you'll love when you try the pack yourself right after.
Another great thing is that the Mizuno Craft texture pack is free for the Java Edition. So as a computer player you can download the pack without spending any money. Unfortunately, the case is different for the Bedrock Edition because all console and mobile gamers have to pay 830 Minecoins. If this is too expensive for you, then you should have a look on our website for a free alternative for Minecraft PE. What you decide is up to you, but without a new texture pack, you shouldn't fall asleep tonight.
Mizuno's 16 Craft is compatible with these Minecraft versions: 1.20 – 1.19.4 – 1.19.3 – 1.19.2 – 1.19.1 – 1.19 – 1.18.2 – 1.18.1 – 1.18 – 1.17.1 – 1.17 – 1.16.5 – 1.16 – 1.15.2 – 1.15 – 1.14.4 – 1.14 – 1.13.2 – 1.13 – 1.12.2 – 1.12 – 1.11.2 – 1.11 – 1.10.2 – 1.10 – 1.9.4 – 1.9 – 1.8.9 – 1.8
Screenshots & Video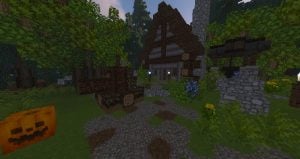 If you look closely at the gameplay screenshots, you may discover similarities to Jolicraft. This is probably because this pack also uses a nice 16×16 resolution. You should take this feature positively because you don't necessarily need good hardware. Therefore it is completely irrelevant if you use a slow computer or a bad cell phone to play Minecraft.
You'll have even more fun if you additionally install the KUDA shader, which creates cool light reflections. As already mentioned, the resolution of the items and blocks is not very high, and therefore the use of shaders is recommended. This makes your game world look realistic despite all circumstances.
How to install Mizuno's 16 Craft Texture Pack
Minecraft Bedrock Edition:
As mentioned above, you as a Bedrock or MCPE gamer have to buy the pack in the official Minecraft Marketplace. This is the only legal way. Further down in the article you'll find the appropriate link that will take you directly to the purchase page.
Minecraft Java Edition:
Before you install Mizuno's 16 Craft texture pack for Java Edition we strongly recommend that you download Optifine. For example in the last screenshot, you can see the connected textures feature added by this mod.
Now we present the easiest solution for an installation without complications with Java.
Click on the Mizuno Craft download and you will be forwarded to Mediafire.
Start Minecraft and navigate to options and then to resource packs.
Open the resource packs folder and move the downloaded file into it.
Activate the pack using the arrows on the pack icon.
Mizuno Craft Texture Pack Download
We don't speak fluent Japanese, but that doesn't matter, because somehow we managed to list all the official download links here. The Mizuno website is completely in Japanese characters and we didn't understand a word. Well, maybe we'll learn the language in the future when we use it in Minecraft 😉
Blocks

Items

Details

Shader compatibility
Summary
Time to explore the huge open world in style. Equip this Mizuno Craft texture pack to unlock endless fun!
+ Fully custom textures for blocks, tools, mobs and more
+ Cute textured villagers
+ Awesomely crafted textures with a fantasy vibe