ADVERTISEMENT
Although Minecraft players are mostly found in Europe or America, the game is also gaining popularity in Asia, where a large community of players has emerged in Japan. This community may have gone unnoticed due to the language barrier, but with ongoing digitization, it is possible to discover popular Minecraft texture packs from other countries. Many of our fans from the Asian continent recommended the Mizuno Craft texture pack as a must-try. By the way, BlockPixel also comes from Asia but was created by a Chinese.
We think the official name of the pack, "Mizuno's 16 Craft," is not particularly memorable. According to Mizuno, he speaks poor English, which is why he did not come up with a more glamorous name. This doesn't matter too much because this pack adds fully custom textures for blocks, tools, mobs, and more. No more boring stones or generic swords – every aspect of your Minecraft experience will be transformed. And the best part? The textures are cute and quirky, with a fantasy vibe that will have you feeling like you're exploring a magical world, but in reality, you just play your Minecraft world. Even the villagers are given a delightful makeover, with unique clothing and accessories that make them stand out from their plain vanilla counterparts.
Regarding the colors, the Mizuno Craft resource pack features new colorful and soft blocks that immediately catch your eye. Although it may take some time to get used to all the new textures by Mizuno, the increased gaming fun that follows is worth it. If you are planning a large building project, the pack can help you. We recommended using the pack for medieval buildings, but you are free to go in the opposite direction. For example, you could build a house in the nether.
In addition, the pack features carefully designed blocks for architecture and interior decoration. The cobblestone is particularly noteworthy as it is a blend of middle ages and cartoons. However, all other blocks are also impressive. The key reason for the excellent texture results is that they were created with great patience, resulting in a unique style that you will love. Another aspect of the Mizuno Craft pack is that all blocks are low-resolution. While other projects may aim for photo-realism or ultra-high definition, this one embraces a more simplistic style.
Please note that the Mizuno Craft texture pack is free for the Java Edition, which means computer players can download it without spending any money. In contrast, console and mobile gamers have to pay 830 Minecoins to get it. If you find this price too steep, you can look for a free alternative on our website.
Mizuno's 16 Craft is compatible with these Minecraft versions: 1.20.1 – 1.20 – 1.19.4 – 1.19.3 – 1.19.2 – 1.19.1 – 1.19 – 1.18.2 – 1.18 – 1.17.1 – 1.17 – 1.16.5 – 1.16 – 1.15.2 – 1.15 – 1.14.4 – 1.14 – 1.13.2 – 1.13 – 1.12.2 – 1.12 – 1.11.2 – 1.11 – 1.10.2 – 1.10 – 1.9.4 – 1.9 – 1.8.9 – 1.8
---
Armor
Art
Font
GUI
Font
Mobs
Mod Support
Video
&

Screenshots

ADVERTISEMENT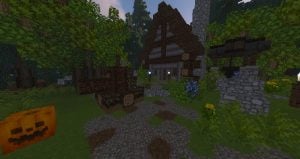 If you scrutinize the gameplay screenshots closely, you may notice some similarities with Jolicraft. This is likely due to the fact that this pack also adds a pleasant 16×16 resolution. You should view this aspect positively, as it doesn't require high-end hardware. Therefore, it's completely irrelevant whether you're playing Minecraft on a slow computer or a poor-quality cellphone.
Moreover, you'll have even more fun if you install the KUDA shaders, which generate cool light reflections. As previously mentioned, the resolution of the items and blocks isn't very high, so using shaders is recommended. This will give your game world a realistic appearance despite all limitations.
Comparison
Use our comparison tool to compare the Minecraft default pack with Mizuno Craft.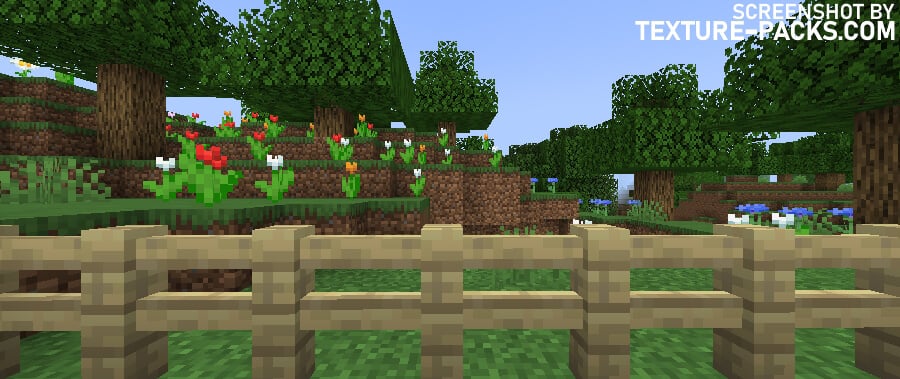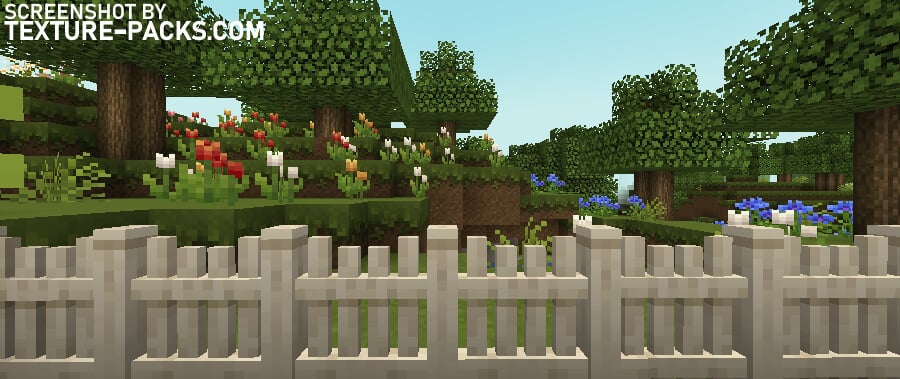 How to install Mizuno's 16 Craft Texture Pack
Minecraft Bedrock Edition:
As mentioned above, you as a Bedrock or MCPE gamer have to buy the pack in the official Minecraft Marketplace. This is the only legal way. Further down in the article, you'll find the download link that will take you directly to the purchase page.
Minecraft Java Edition:
Download and install OptiFine.
Click on the Mizuno Craft texture pack download link that is compatible with your game version and Minecraft edition.
Launch Minecraft.
Click on "Options" in the main menu.
In the options menu, go to the submenu "Resource Packs".
Click on "Open Pack Folder" at the bottom left.
Move the downloaded ZIP file into your resourcepacks folder.
You will see the pack on the left half of the resource pack screen. If it is not displayed in Minecraft, you need to unzip the file.
Move the cursor to the pack logo and click the arrow pointing to the right.
Click on "Done".
The game may tell you during the installation that the pack was made for a newer or older Minecraft version. This is an error and you can still activate the pack.
How to install Mizuno's CIT Pack
But the fun doesn't stop there – Mizuno has also created a custom item texture (CIT) add-on that uses OptiFine's features to increase the number of decorative items and blocks. This means you can truly personalize your Minecraft world, adding even more variety to your virtual Minecraft rooms. For example, you can build a kitchen with the Mizuno CIT pack.
Requirements:
Minecraft Java Edition
OptiFine
Mizuno's 16 Craft (base pack)
Mizuno's 16 Craft CIT (add-on)
Invisible Item Frame Pack (add-on)
Please make sure that you have followed the installation guide above for the base pack and installed OptiFine. Put all packs inside the resourcepacks folder and pay attention to the correct order in the resource packs list. After that, check out the CIT catalog.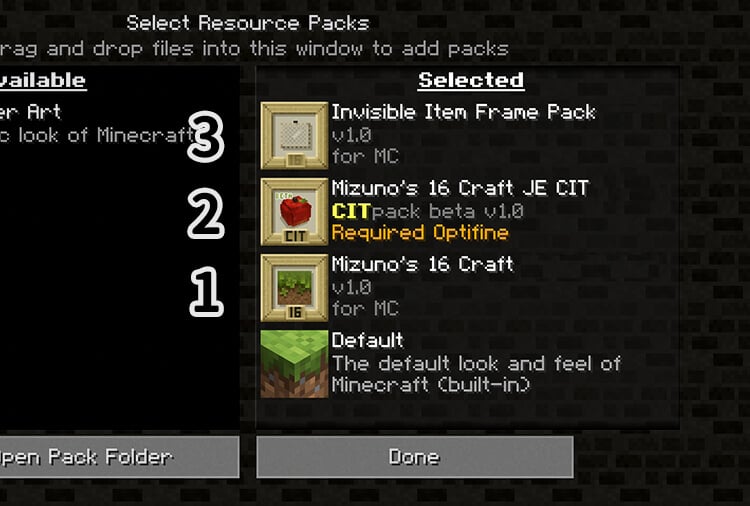 Mizuno Craft Texture Pack Download
ADVERTISEMENT
Blocks

Items

Details

Shader compatibility