ADVERTISEMENT
The great thing about the Visible Ores texture pack for Minecraft is that it is allowed on all public servers. However, read the server rules carefully if you are unsure. It will help you find diamonds, ancient debris, and all other minerals. Compared to X-Ray, it is a legal alternative that is very popular among players. Although you don't get X-Ray vision, the addon is still a great help in caves and the Nether. The same goes for SkyWars, where you also have to mine ores. It is essential in this PVP mode that you get your armor and weapons together as quickly as possible. Therefore, it is recommended to install Visible Ores if you don't want to waste time in the future. It's even compatible with mods, such as Immersive Engineering.
Furthermore, you can play this Minecraft texture pack with all editions. Accordingly, it doesn't matter if you have a powerful computer or a small mobile phone. The PC version is a bit better because the ores glow when you use a shader. Also, some of them have pulsating animations. You'll see them even better and they look significantly better. Anyway, this is only optional and the Visible Ores texture pack works fine without any other programs. In addition, it is also a perfect add-on, because it just outlines the ore blocks. So you can play it together with other packs that include all textures.
Overall, the Visible Ores texture pack is a really great help for Minecraft players. There are many people who suffer from visual impairment and rely on such add-ons. By the way, this topic is more important than you might think, which is why we also showcased Faithless. This project is especially for users with color blindness.
Visible Ores is compatible with these Minecraft versions: 1.20.3 – 1.20.2 – 1.20.1 – 1.20 – 1.19.4 – 1.19.3 – 1.19.2 – 1.19.1 – 1.19 – 1.18.2 – 1.18.1 – 1.18 – 1.17.1 – 1.17 – 1.16.5 – 1.16 – 1.15.2 – 1.15
---
Video
&

Screenshots

ADVERTISEMENT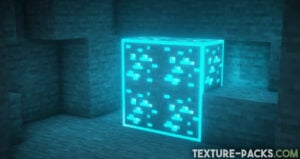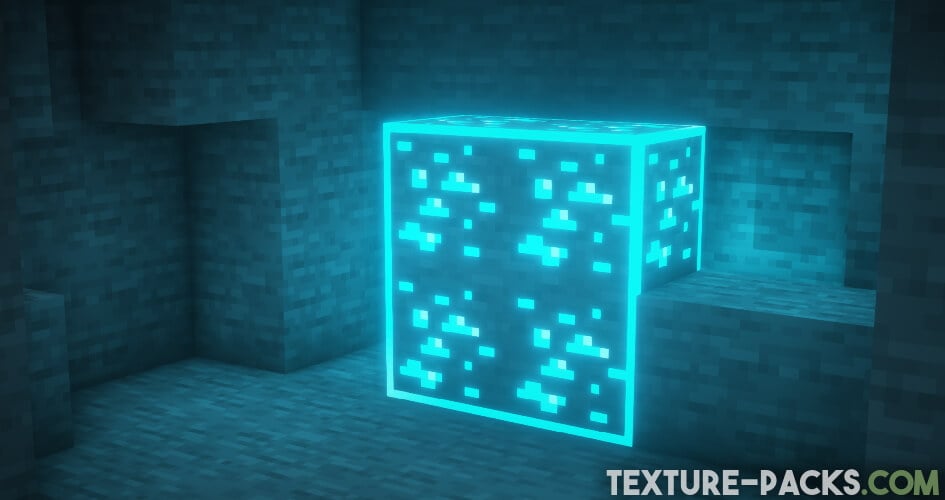 This before and after screenshot clearly shows the differences from vanilla Minecraft. Move the slider to compare the details even better. The rest of the screenshots were created with the BSL shader. The creator recommends BSL for Java Edition players because it supports the LabPBR version. This feature allows each block to have its own block light.
Comparison
Use our comparison tool to compare the Minecraft default pack with Visible Ores.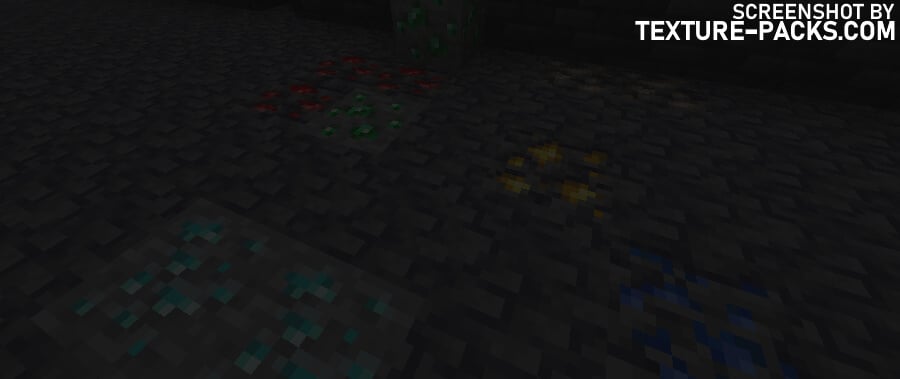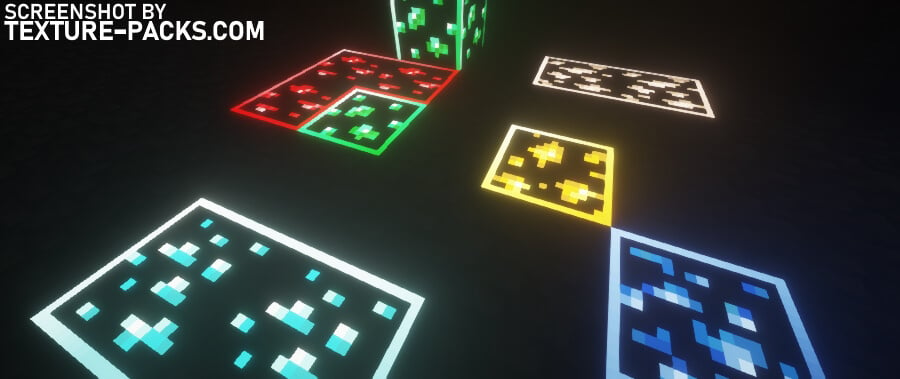 How to install the Visible Ores Texture Pack
Download and install OptiFine.
Launch Minecraft with Optifine.
Click on video settings in the options and then on quality.
Enable glowing textures there. Also, select "fancy" or "fast" for connected textures. It's best to choose the latter if you use a bad graphics card.
Download the Visible Ores texture pack.
Go to resource packs in Minecraft.
Move the ZIP file into the game.
Agree to the import and ignore the incompatibility message that sometimes appears.
Move Visible Ores from the left to the right side.
The game may tell you during the installation that the pack was made for a newer or older Minecraft version. This is an error and you can still activate the pack.
Visible Ores Texture Pack Download
ADVERTISEMENT