ADVERTISEMENT
Initially, it may not be immediately apparent what changes the Fresh Animations texture pack makes. However, you do not have to search for a long time in Minecraft because a single glance at the mobs should be sufficient. FreshAlex, the creator from New Zealand, focused solely on mobs and did not change any blocks or items. This is not a bad thing at all because the new animations for the Minecraft mobs are exceptional. The project was a success right from the beginning since it was a completely new mod idea.
The project was published at the end of 2020 and is a work-in-progress pack, which means that it is developed over time and is not fully finished. Within a few months, the pack had already received several hundred thousand downloads. It gives an animation overhaul to the creatures in the default look of Minecraft. The goal is to make the mobs more dynamic and believable. You can enjoy better physics and behavior in single-player, realms, and public multiplayer servers. Please note that FreshAlex works and adds new textures at his own pace, so it's best to refrain from requesting new animations.
By the way, we recommend that you use the Fresh Animations texture pack as an add-on. This means that you should also use another pack so that all textures are enhanced. It is best to select one in the default style from our website because the mobs are also designed in this style.
No more boring zombies
Monsters and animals have been improved and do not look the same as they did in Minecraft Vanilla. The new expressive faces and movements make them much livelier. From now on, you will no longer see boring zombies moving unrealistically at night. Instead, the arms and legs move like those of a human. Even the creeper has been changed and looks quite amusing when it moves. The hostile mobs look cool, but they are still dangerous. Especially the mobs carrying weapons look extremely realistic.
Moreover, there are numerous changes to the villagers. However, we will not reveal more features so that you have the opportunity to explore everything for yourself. The best approach is to look for a village in your Minecraft world and see for yourself what changes have been made to the villagers and iron golems.
Honestly, it would have been nice if Mojang had included such animations in Minecraft from the beginning. Fortunately, this is not an issue anymore because you can install the Fresh Animations texture pack in our download section. We hope that more features will be added in the future. Furthermore, the creator is often asked if he can create animations for player models (skins) as well. Unfortunately, this is not possible at the moment, so there is no way to add animated player models to the Fresh Animation mod. So you have to use another mod if you want to dance with your Steve or Alex skin.
If you like the Fresh Animations resource pack and want to support the creator, you can donate to him. This will give you the supporter role on the official Fresh Animations Discord server and early access to new updates. In addition, it's great to see that the creator FreshAlex is contributing to other projects, such as the Patrix texture pack. By adding custom mob animation and tweaking the models, Alex is helping to improve the realistic Patrix mod.
Fresh Animations is compatible with these Minecraft versions: 1.20.1 – 1.20 – 1.19.4 – 1.19.3 – 1.19.2 – 1.19.1 – 1.19 – 1.18.2 – 1.18 – 1.17.1 – 1.17 – 1.16.5 – 1.16 – 1.15.2 – 1.15 – 1.14.4 – 1.14
---
Video
&

Screenshots

ADVERTISEMENT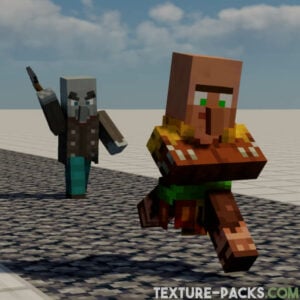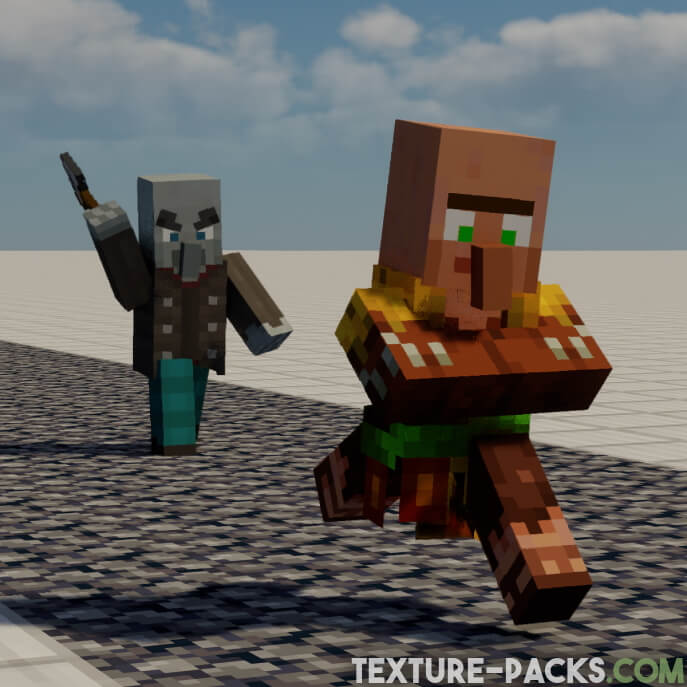 How to install the Fresh Animations Texture Pack
It should not go unmentioned that you need OptiFine, because the pack will not work without his mod. You should play the pack with version 1.14.X or higher because in older versions not all mobs work.
Install OptiFine for Minecraft. To use Fresh Animations properly, it's important to make sure that you have the correct settings in the video options. You need to go to the video settings, click on quality, and make sure that custom entity models are turned on. Random entities and emissive textures are optional settings that can also be turned on.
Download the Fresh Animations texture pack.
Start Minecraft.
Click on resource packs in the options and move the downloaded file to your pack folder, which you open in the bottom left corner.
Fresh Animations is now displayed in the list and you can activate it with the arrow pointing to the right. The arrow is visible when you move the mouse over the pack icon.
The pack uses a feature of OptiFine called custom entity models (CEM) to add new animations. It's important to note that if you have other packs with OptiFine CEM features installed, they will override Fresh Animations CEM, removing the animation.
If you have problems with the activation and get an error message in the launcher, please restart the game. Our final question for you: Do you like the animations? Feel free to write a comment.
How to install Fresh Animations add-ons and extensions
You can install add-ons and extensions in our download section. These are extra packs with additional features for Fresh Animations. They need to be loaded above the base Fresh Animations pack to work correctly.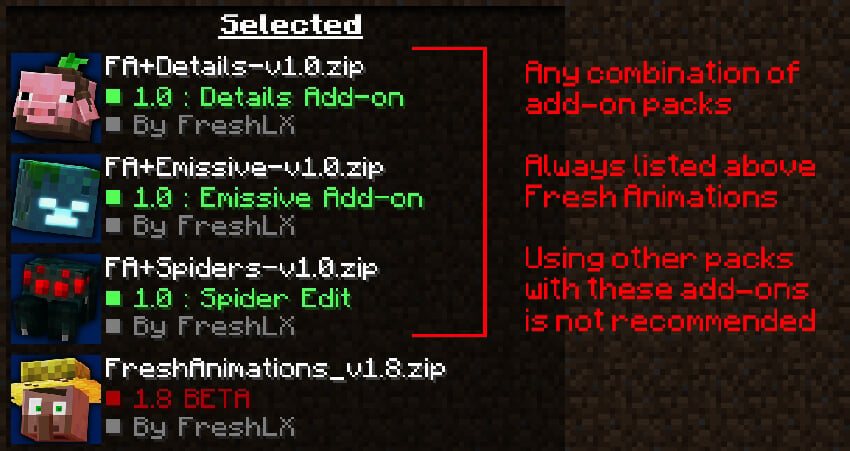 Fresh Animations Texture Pack Download
ADVERTISEMENT
Originality

Completeness

Popularity
Summary
The dynamic animations bring a lot of variety. The developer was inspired by Minecraft Dungeons and official trailers by Mojang during the development. The result is one of the coolest and most creative texture packs ever.