ADVERTISEMENT
The great thing about Mythic texture pack is that the developer constantly releases new updates. This makes the project more and more extensive. As a result, the gameplay is always enjoyable, but only if you like medieval textures in Minecraft. Admittedly, the gameplay is more like old RPG games than a new, highly realistic multiplayer shooter. However, that doesn't matter, because that's exactly what the Mythic texture pack is supposed to represent. Furthermore, the traditional textures have more details than you can spot at the first moment. The creator is definitely a top-notch pixel artist. If you don't believe that, take a look at the dirt block or cobblestone. Those are two excellent examples of the remarkable work that has been done. Mythic has even more to offer. The items are also a feast for the eyes. The best graphics are those for food and tools. They are an important component of a medieval Minecraft environment.
Of course, the mobs must also be mentioned. Their 3D models look like in a classic HD texture pack. They even come close to PureBDcraft, which is almost unbeatable in this sector. This shows the excellent quality of Mythic in Minecraft. For example, the facial expressions are more realistic, which also makes the mobs look more alive. Nevertheless, the Illagers look really cursed. They stick out their tongues permanently and their facial expressions are not cheerful. In the beginning, this takes a bit of getting used to. It's relatively unimportant in the end because you won't often encounter this hostile mob in your Minecraft environment anyway. Compared to that, you will certainly often see armor. It protects you in PvP battles and also plays a central role in the Mythic texture pack. They remind me a little of ancient gladiator outfits. Maybe the creator was inspired by that.
Overall, Mythic is a good medieval texture pack that has many useful features. Although, there are negative aspects as well. For example, there has been a bug for a while that causes an ugly green line in the leaves. Fortunately, this bug can be easily fixed. You have to enable fancy graphics in the settings. This is done quickly, but it would be more user-friendly if such bugs didn't exist.
Apart from that, the pack always runs smoothly, so we recommend downloading it. However, it is not really suitable for younger players, because some textures are scary. Responsible for this is the inventory, which mainly consists of bones and skulls. But at the same time, this fits perfectly with Mythic's fantasy style. After all, everyone has to decide for themselves if this style is something they like.
By the way, there is also a curious side note. Among the first players of Mythic is none other than the user "IStealYourRAM". He is also a texture pack creator and is known for Steven's Traditional. This happened because he was online by chance and probably noticed the potential of the textures right away. Anyway, he also noticed the very long tongues of the Illagers, which have already been described further above.
Mythic is compatible with these Minecraft versions: 1.20 – 1.19.4 – 1.19.3 – 1.19.2 – 1.19.1 – 1.19 – 1.18.2 – 1.18.1 – 1.18 – 1.17.1 – 1.17 – 1.16.5 – 1.16 – 1.15.2 – 1.15 – 1.14.4 – 1.14
---
Armor
GUI
Particles
Environment
Font
Terrain
Models
Video
&

Screenshots

ADVERTISEMENT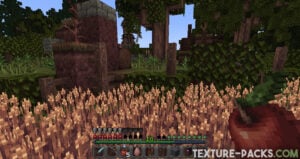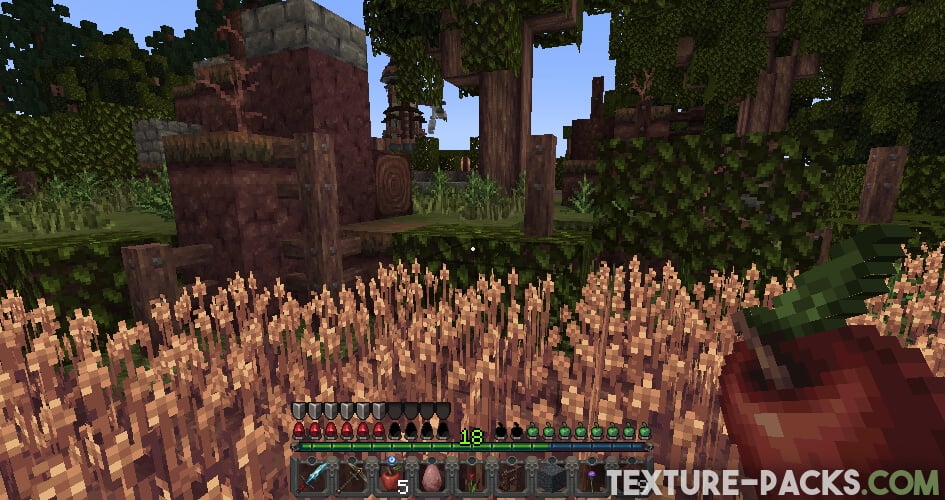 Comparison
Use our comparison tool to compare the Minecraft default pack with Mythic.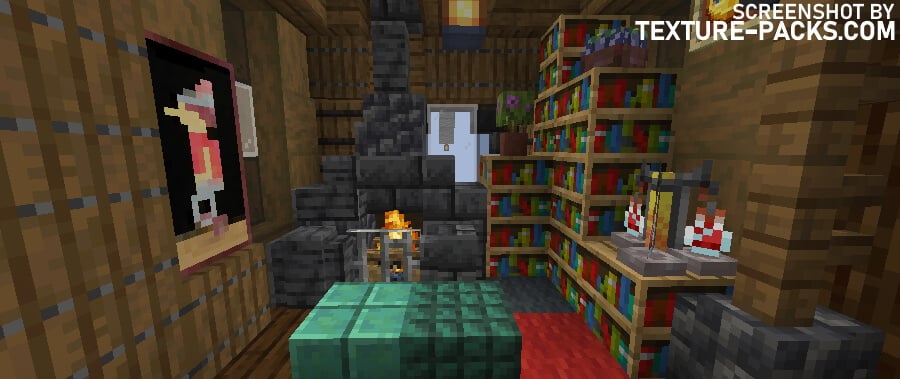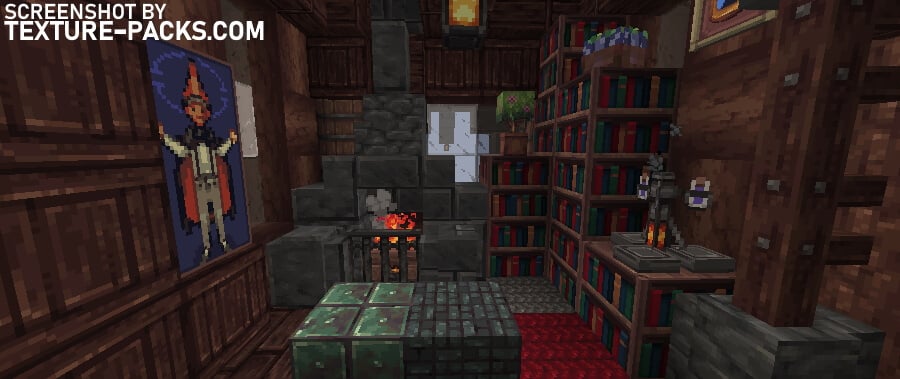 How to install the Mythic Texture Pack
You can download and install the Mythic texture pack for all Minecraft Editions. This is possible because the pack was released in the Marketplace in collaboration with Syclone Studios. You might already know this developer studio through Chroma Hills, Lithos, and Quadral. Unfortunately, this also means that MCPE and Minecraft PE players will have to pay money (830 Minecoins) for the textures.
The situation is different with the Java Edition. PC players don't have to pay any money and can play all new updates of the Mythic texture pack for free. If you decide to download Mythic, just follow this tutorial.
Download the Mythic texture pack from our download section.
Go to downloads in your browser and move the downloaded file to your desktop.
Launch Minecraft.
Click on options in the main menu.
Navigate to resource packs in the options.
Move the ZIP file from your desktop into the Minecraft window.
Agree to import all textures.
Move the pack from the left to the right side in Minecraft. You need to click on the pack icon to do this.
Open a game world and check if the gameplay loads correctly.
Mythic Texture Pack Download
ADVERTISEMENT