---
Minecraft versions: 1.17.1 – 1.17 | 1.16.5 – 1.16.4 – 1.16.3 – 1.16.2 – 1.16.1 – 1.16 | 1.15.2 – 1.15 | 1.14.4 – 1.14 | 1.13.2 – 1.13 | 1.12.2 – 1.12 | 1.11.2 – 1.11 | 1.10.2 – 1.10 | 1.9.4 – 1.9 | 1.8.9 – 1.8
Resolution: 64×64
Author: 5teven


---
Stevens Traditional Texture Pack is a Faithful version that retains the original default style of Mojang's Minecraft. However, it also includes some embellished blocks, items and mobs. Until mid-2017 the name was still Ragecraft Faithful, but the creator found the name too impersonal. Accordingly, the name was changed to Stevens Traditional Texture Pack, which also contains the real name of the creator. Meanwhile, this Minecraft Texture Pack has been around since the end of 2012 and was initially intended for private friends only, but a year and a half later it was made available for download to the large Minecraft community.
A main focus is to improve the resolution of Minecraft. Normally the default resolution is 16×16 pixels, but with Steven's Traditional 64×64 the textures turn into a high-resolution visual spectacle. Better said your Minecraft landscapes have more detail. In addition Steven's Traditional Faithful brings another advantage because everything is Faithful-style, so you'll recognize every block instantly. In other texture packs, the look of some of the blocks is changed so much that you have to think about which block it is. As a result, your magnificent buildings will always look beautiful and not be spoiled by strange textures. On the internet you can find the creator as "IStealYourRAM", "5teven" or "StevenZocktFett".
Customizer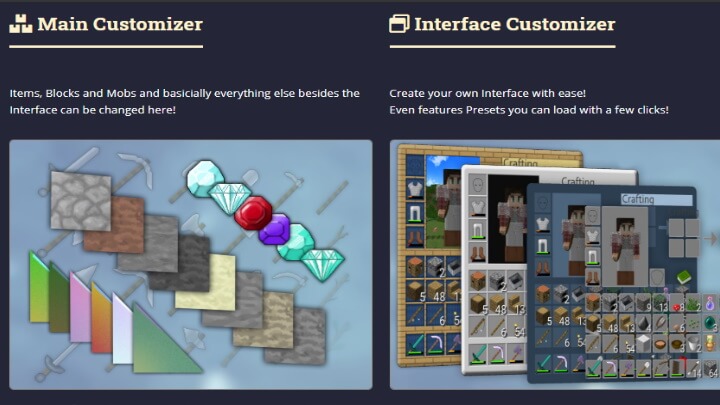 But that's not all, because on the official website of Stevens Traditional 64×64 Pack you can change the pack. On the one hand there is a "Main Customizer", which gives you the freedom to change all items, blocks and mobs. There is also an "Interface Customizer", which allows you to choose different backgrounds for your Minecraft inventory. For Steven, it was very important to have an online customizer for Minecraft fans, so that you and everyone else in the community can create there own add-on. This customizer is of course only optional and just another offer from the creator, as you can also simply download Steven's Traditional Texture Pack in its official version.
Stevens Traditional -Screenshots
---
How to download and install Stevens Traditional Texture Pack
You may not know how to install the Stevens Traditional 64x Texture Pack, so we have prepared a small installation guide for you. First you need to download Stevens Traditional and then start Minecraft. Once you are in the game's main menu, click on "Options", then "Resource Packs" and finally "Open Resource Packs" in the lower left corner. This will open your own Resource Packs directory and into that folder you will move the Stevens Traditional Pack. Now restart the game and you can select and use the Texture Pack.
---
🔔 Please note:
We appreciate it if you share this post. Also, you can support the author by checking out the
original post
.
None of the files are hosted on our server. All direct download links on our website are provided by the authors. The packs are free of viruses.
Minecraft Java Edition Download Links:
1.17.X
1.16.X
1.15.X
1.14.X
1.13.X
1.12.X
1.11.X
1.10.X
1.9.X
1.8.X
---
Blocks

Items

Shader compatibility

Faithful style
Summary
For true Minecraft fans, the Stevens Traditional Texture Pack Download is perfect.
---