---
Minecraft versions: 1.16.5 – 1.16.4 – 1.16.3 – 1.16.2 – 1.16.1 – 1.16 | 1.15.2 – 1.15 | 1.14.4 – 1.14 | 1.13.2 – 1.13 | 1.12.2 – 1.12 | 1.11.2 – 1.11 | 1.10.2 – 1.10 | 1.9.4 – 1.9 | 1.8.9 – 1.8
Resolution: 512×512 | 256×256 | 128×128 | 64×64 | 32×32 | 16×16
Author: BDcraft Team
---
Sphax PureBDcraft Texture Pack is a very well known Resource Pack in the Minecraft community that was made by Sphax84. As its name suggests, this pack offers a cartoon atmosphere that integrates perfectly with Minecraft.
The latest Nether Update will update numerous blocks, items and mobs. Sphax has included all the necessary textures for these new textures, which will definitely increase the fun for you. You will feel comfortable right away and can start a huge adventure in the Nether. With the newly introduced trading system you will be able to survive there even with Sphax 1.16.5.
Also the PureBDcraft Resource Pack aims to completely transform the Minecraft experience and tries its best to immerse you in a comic-like world. The blocks, creatures, objects, and user interface have been reworked in high definition and are full of detail.
Sphax Bedrock Edition
Indeed, the pack has been adapted for all Minecraft updates and the MCPE PureBDcraft Bedrock Edition version of the game. This pack will turn your game into a real Comic Book and will perfectly match the Minecraft environments!
This pack is a true work of art, both in its bright colours and pure lines and in its characteristics. Available in 6 different resolutions, it will delight all types of gamers and all types of PCs! Sphax84 hasn't done its job only halfway: the pack is complete and modifies the entire game interface, from fonts to graphic interfaces.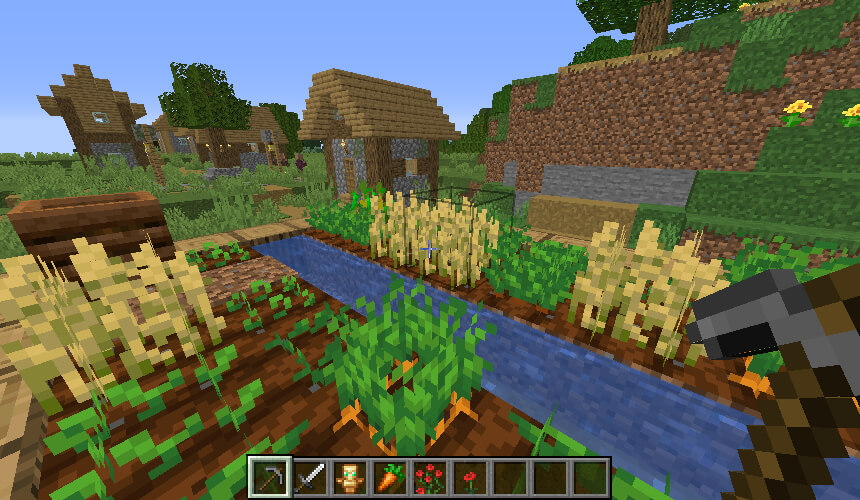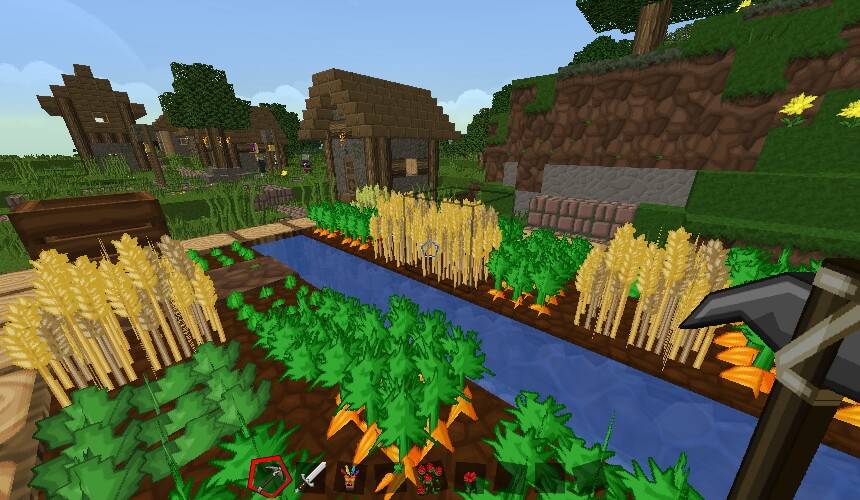 ---
Sphax PureBDcraft Addons
To complete the Sphax PureBDcraft Texture Pack, you can download addons to enrich the graphics. Enjoy 3D weapons and blocks, futuristic Redstone network and damage to your weapons. The download links to all additional content can be found further down the article.
3D Items Addon
3D Items Addon for PureBDcraft adds new 3D models to swords for a sharper and finer rendering. In the future more weapons will be compatible.
Tech Addon
Tech Addon for PureBDcraft replaces most Redstone blocks with more technologically advanced 3D models. The Redstone wire is more accurate and the Redstone block looks like a futuristic battery.
3D Blocks Addon
The 3D Blocks addon for PureBDcraft adds new 3D models for various blocks to improve visual appearance and gameplay. The main goal is to add new details and more depth to common blocks such as rails, dispenser, dropper, craft table, pumpkin, cactus and much more.
Extra OptiFine Addon
Extra OptiFine (ExOF) Addon for PureBDcraft implements two features.
The first is a special OptiFine feature to customise the look of several items and armours.
Just rename certain items in an anvil and you can get battleaxes, warhammers, new bows, crossbows, new armours, coloured Elytra and more! The second is using Connected Textures with double slabs to give builders more creative expression.
OptiFine Connected Textures Transitions Addon
OptiFine Connected Textures & Transitions Addon for PureBDcraft uses an OptiFine feature to let certain blocks connect to allow for smoother looking builds. Some blocks – such as grass, snow, gravel, and sand – are also given blended edges so visual transitions are less jarring.
Damaged Items Addon
Damaged Items Addon for PureBDcraft changes the appearance of the tools based on the remaining durability. Just play and watch tools such as shovels, axes, swords, picks and shears wear out over time. It works with any resolution and adds depth to your survival experience. However it is not compatible with the 3D Items addon.
Better Leaves Addon
Better Leaves Addon for PureBDcraft adds new 3D models and special textures for all the leaves varieties to give the trees a realistic twist. Say goodbye to the leaves trapped in a cube and welcome the free and beautiful ones which like to go beyond the limits.
Customiser Addon
Customiser Addon for PureBDcraft allows you to choose from alternative textures so you can easily change the look of certain blocks, items, and entities. The result is an experience specially catered to you, so you can play the game exactly how you want!
PureBDcraft – Screenshots
---
How to install the Sphax PureBDcraft Texture Pack
Download and install OptiFine HD for an FPS-Boost and smoother graphics.
Download the Sphax PureBDcraft Resource Pack.
Launch Minecraft.
Go to "Options" > "Resource Packs" > "Open folder".
Move the Resource Pack into the folder.
Enjoy the new textures.
You have problems? Then have a look at the detailed Resource Pack Installation guide.
Sphax PureBDcraft Texture Pack Download
---
---
Sphax PureBDcraft FAQ
❓ What is Sphax PureBDCraft?
Sphax PureBDCraft is a very famous texture pack that proposes to transform the look of Minecraft with a cartoon style.
📜 With which versions of Minecraft is Sphax PureBDCraft compatible?
To date, it is compatible from version 1.2.5 to version 1.16.x of Minecraft.
🎮 Is Sphax PureBDCraft available for the Bedrock Edition of Minecraft?
Yes, it is available on the MarketPlace at the price of 660 Minecoins. You can buy it at the official store.
💻 Is my computer powerful enough to use Sphax PureBDCraft?
Sphax PureBDCraft is available in resolutions ranging from 16×16 to 512×512. If you experience a slowdown, try a lower resolution.
Blocks

Items

Mobs

PvP-Items
Summary
As an avid Minecraft player it is highly recommended to try a Sphax Pack. 
🔔 Please note:
We appreciate it if you share this post. Also, you can support the author by checking out the official links.
None of the downloadable files are hosted on our server. All direct download links on our website come from the authors and are accordingly safe, secure and checked by us several times.
---