Minecraft versions: 1.8.9 – 1.8 | 1.7.10 – 1.7
Resolution: 32×32
In the past the Fazon Texture Pack (100k) has been downloaded by thousands of players. However, the first version was released in 2015 and is no longer up to date with Minecraft. Accordingly, iSparkton has made it its mission to revamp the Fazon Texture Pack. If you already liked the old version, then you will surely like the new update.
A very distinctive detail is the hotbar, which displays your items, hunger bar and hearts. At this point, you will notice the "Black & White" addition to the name, because the emphasis here is on the lowest possible saturation. If you compare the old Fazon Texture Pack (100k) and the Revamp, you can also see a difference on the XP bar. This bar now matches the diamond sword better. Other PvP items like bow and arrow are again in black and white.
Extra PvP-Shader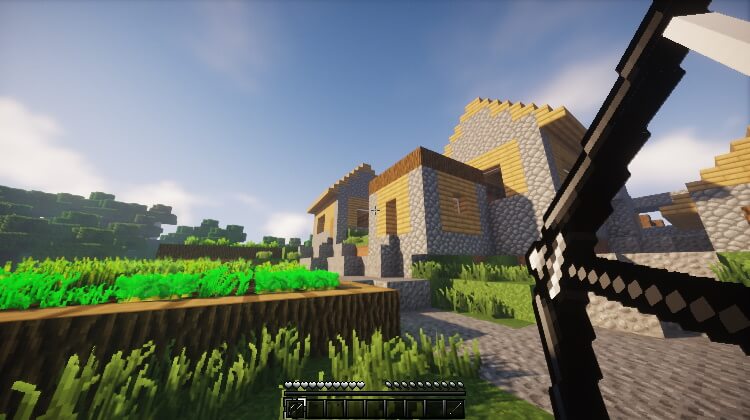 Finally, you could also call the entire texture pack from Fazon a PvP optimized Minecraft darkmode. You'll come to the same conclusion, because all inventory and interface are a bit darker than normal. Finally, your focus should be on the items, because the blocks are completely from Faithful and not self-created. This increases the overall resolution significantly and makes Minecraft more high-resolution.
YouTube Review
You will get the best impression if you watch the video to the end. Subscribe to our YouTube channel.
Fazon 100k Texture Pack Installation Tutorial
How to install the Resource Pack for Minecraft?
Download and install OptiFine HD for an FPS-Boost and smoother graphics.
Download the Fazon Resource Pack.
Launch Minecraft.
Go to "Options" > "Resource Packs" > "Open folder".
Move the Resource Pack into the folder.
Enjoy the new textures and share it with you friends!
You have problems? Then have a look at the detailed Resource Pack Installation guide.
Fazon Texture Pack Download
We use official and original download links provided by original author and creator. All links are completely safe and secure.
---
---
Questions and answers about the Fazon 100k Revamp Pack
❓ What is the Fazon 100k Pack Revamp?
The Fazon Texture Pack has been released as a 100k subscriber special and is a black and white edit for Minecraft PvP.
👦 Where can I download the Fazon Minecraft Skin?
In addition to his Texture Pack, we have also released his Fazon Skin. So you can download his Minecraft Skin directly from us.
📜 In which Minecraft version can I use the Fazon Pack?
Currently the Fazon Pack is only available for Minecraft versions 1.8 and 1.7.
💻 What resolution do the blocks and items have in Minecraft?
Because of the Faithful blocks, the whole pack has a resolution of 32x.
Blocks

Items

PvP-Items

Shader compatibility
Summary
The reworked Fazon 100k Texture Pack (Revamp) with download link. It is a Black and White Edit for Minecraft PvP from iSparkton. Improve your FPS! Credits: iSparkton, FazonHD