ADVERTISEMENT
If you've ever played Minecraft, you know how exciting it is to explore vast underground caves and mines in search of valuable ores. However, sometimes these precious resources can be quite elusive, blending into the surrounding blocks and making them difficult to spot. This is where the Outlined Ores texture pack comes to the rescue. It's a simple yet powerful enhancement for Minecraft.
The Outlined Ores texture pack is a game-changer for any Minecraft player. Its primary purpose is to make ores more visible and easily distinguishable from the blocks around them. No longer will you need to strain your eyes or miss out on valuable resources because you overlooked them.
Not only does the pack preserve the original textures with a 16×16 resolution, but it also maintains the default appearance of the ores. You might be wondering, "How does it highlight the ores then?" Well, it cleverly adds subtle yet effective outlines to them. These outlines serve as visual cues, making the Minecraft ores stand out without altering their core design. The outline is composed of colors that represent the resource you obtain when mining the ore. For example, iron ore will have a distinctive reddish outline, while diamond ore will have a sparkling blue outline.
One exceptional case worth mentioning is the highlighted ancient debris. This valuable material, found in the Nether, has an outline based on the colors of gold. Why is that? Well, when you mine ancient debris, it takes on the same color as the ore itself, making it difficult to find without the outline. Thanks to this unique feature, you'll never miss out on ancient debris again.
List of Outlined Ores
Here are the blocks that are outlined:
Diamond: The highly sought-after diamond ore shines with a blue outline, making it even more enticing to mine.
Emerald: When you stumble upon an emerald ore, its outline takes on a vibrant green color, ensuring you won't miss out on this precious gem.
Coal: Coal ore, a reliable source of fuel, features a distinct black outline that stands out against the stone blocks.
Copper: With its distinct reddish-brown outline, copper ore is easily recognizable.
Redstone: Redstone ore, a key component of complex circuitry, is outlined with a fiery red color.
Lapis Lazuli: Lapis lazuli ore, known for its vibrant blue dye, is outlined in a shade of deep blue.
Gold: The lustrous gold ore showcases a shining yellow outline, catching your attention and tempting you to claim its riches.
Iron: Iron ore, a staple material for tools and armor, is outlined in a strong gray color.
Raw Ore Blocks: The texture pack also highlights the different variations of raw ore blocks, such as raw iron, raw gold, raw copper, and raw Redstone blocks. These blocks will feature the same outlines as their respective ores.
Nether Ores: For those brave enough to venture into the Nether, the Outlined Ores texture pack supports highlighting various ores found in this treacherous dimension. Whether it's nether quartz, ancient debris, or other Nether-specific ores, you can rely on the outlines to spot them amidst the hazardous terrain.
With the Outlined Ores texture pack, you'll have no trouble distinguishing these blocks and their respective deepslate variants from their surroundings. Whether you're on a quest for diamonds, searching for Redstone to power your contraptions, or simply looking to stock up on coal, this project ensures that these blocks will never go unnoticed.
Outlined Ores is compatible with Java Edition and Bedrock Edition
Whether you're playing Minecraft on the Java Edition or the Bedrock Edition, you can enjoy the best Outlined Ores texture pack. No matter your preferred platform, this pack is designed to enhance your mining experience and make it more efficient. Simply install the Highlighted Ores texture pack by following the usual installation process.
You can find further below an download and installation tutorial. Once installed, you'll immediately notice the difference in how ores stand out in dark caves, allowing you to quickly and effortlessly collect valuable Minecraft ore blocks. It is recommended to use OptiFine if you are a PC player. This will make the ores in your Minecraft world shimmer. As a Minecraft PE player, you don't need an additional mod and can also download the textures for free for the latest version. It is one of the most useful packs for MCPE.
One pack that pairs exceptionally well with the Outlined Ores pack is the FullBright texture pack. FullBright is designed to increase the brightness of the gameplay, particularly in dark or dimly lit areas such as caves and mines. When used together, the packs create a dynamic duo that optimizes your mining efficiency.
Highlighted Ores on Servers
The permissibility of using the Outlined Ores texture pack on Minecraft servers and PvP modes is ultimately determined by the specific server's rules and policies. Some servers may allow the use of texture packs that enhance visibility or provide clearer outlines for ores, while others may restrict or prohibit such modifications.
When it comes to PvP modes, servers often have stricter rules to maintain a fair and balanced gameplay experience for all participants. Minecraft texture packs that offer distinct advantages in PvP, such as highlighting players or altering hitbox visibility, are generally discouraged or disallowed.
Before using the Bordered Ores texture pack or any other modification on a server or realm, it is essential to review the server's guidelines or consult with the server administrators to ensure compliance. They will have the final say on whether the Outlined Ores resource pack is permissible or if there are any alternative mods that are specifically allowed for better visibility with bordered ores.
Outlined Ores is compatible with these Minecraft versions: 1.20.1 – 1.20 – 1.19.4 – 1.19.3 – 1.19.2 – 1.19.1 – 1.19 – 1.18.2 – 1.18 – 1.17.1 – 1.17 – 1.16.5 – 1.16 – 1.15.2 – 1.15 – 1.13.2 – 1.13 – 1.12.2 – 1.12 – 1.7.10 – 1.7
---
Miscellaneous
Environment
Video
&

Screenshots

ADVERTISEMENT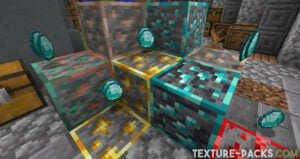 Comparison
Use our comparison tool to compare the Minecraft default pack with Outlined Ores.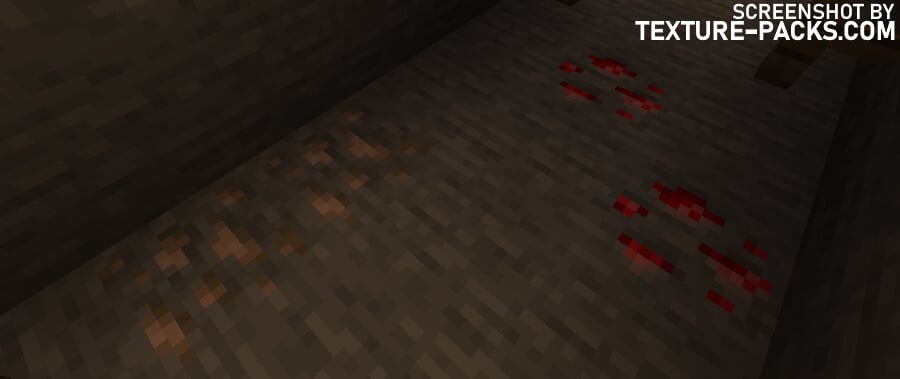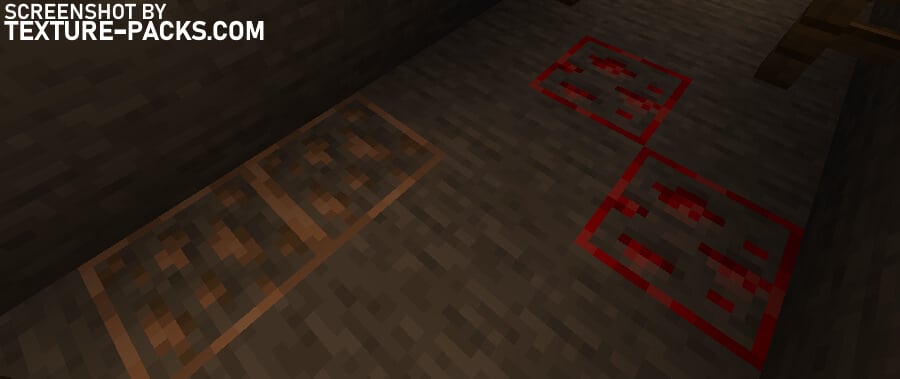 How to install the Outlined Ores Texture Pack
Download and install OptiFine.
Click on the Outlined Ores texture pack download link that is compatible with your game version and Minecraft edition.
Launch Minecraft.
Click on "Options" in the main menu.
In the options menu, go to the submenu "Resource Packs".
Click on "Open Pack Folder" at the bottom left.
Move the downloaded ZIP file into your resourcepacks folder.
You will see the pack on the left half of the resource pack screen. If it is not displayed in Minecraft, you need to unzip the file.
Move the cursor to the pack logo and click the arrow pointing to the right.
Click on "Done".
The game may tell you during the installation that the pack was made for a newer or older Minecraft version. This is an error and you can still activate the pack.
Outlined Ores Texture Pack Download
ADVERTISEMENT
Bedrock Edition, Minecraft PE and MCPE:
[MCPACK] Download Outlined Ores Texture Pack
Java Edition:
[16x] [1.20.X] Download Outlined Ores Texture Pack
[16x] [1.19.X] Download Outlined Ores Texture Pack
[16x] [1.18.X] Download Outlined Ores Texture Pack
[16x] [1.17.X] Download Outlined Ores Texture Pack
[16x] [1.16.X] Download Outlined Ores Texture Pack
Mod Support (Java Edition):
This Ore Grids pack supports the following mods: Biomes O' Plenty, Create, Immersive Engineering, IndustrialCraft, Magneticraft, Mekanism, NetherEx, Pixelmon, Railcraft, Tech Reborn, Thaumcraft, Thermal Foundation, Tinkers, Construct, and Traincraft.
[16x] [1.18.X] Download Ore Grids Texture Pack
[16x] [1.16.X] Download Ore Grids Texture Pack
[16x] [1.15.X] Download Ore Grids Texture Pack
[16x] [1.13.X] Download Ore Grids Texture Pack
[16x] [1.12.X] Download Ore Grids Texture Pack
[16x] [1.7.X] Download Ore Grids Texture Pack