---
Minecraft versions: 1.17 | 1.16.5 – 1.16.4 – 1.16.3 – 1.16.2 – 1.16.1 – 1.16 | 1.15.2 – 1.15 | 1.14.4 – 1.14 | 1.13.2 – 1.13 | 1.12.2 – 1.12 | 1.11.2 – 1.11 | 1.10.2 – 1.10 | 1.9.4 – 1.9 | 1.8.9 – 1.8
Resolution: 16×16
Author: SeaOfPixels


---
A great feature of New Default+ Texture Pack is that the pack is updated every month. Accordingly, there are no bugs or lags at all, since all graphics are constantly being developed. The name of a Minecraft Texture Pack is very important, because if it has the wrong title, nobody will download it. In this case the name is very well chosen.
Above all, the basic idea is that all textures are cleverly mixed together. So some of the blocks reminds you of the normal default, but everything looks a bit less angular and the colors are more vibrant. Enchanted books have an adapted look, depending on the type of enchantment. Other items are also completely new and shiny. Furthermore a small highlight is included. If you use a sword, the blade will become dull and will gradually lose its durability.
With the title New Default, you already have a little taste of what to expect. Namely improved vanilla textures from Minecraft, which have been brought to a whole new level by SeaOfPixels. At the moment the blocks and items of the Nether Update are the most interesting ones for you, because they have never existed in this form before. After adding bees in the last major update, new logs of the Netherwart trees are now included.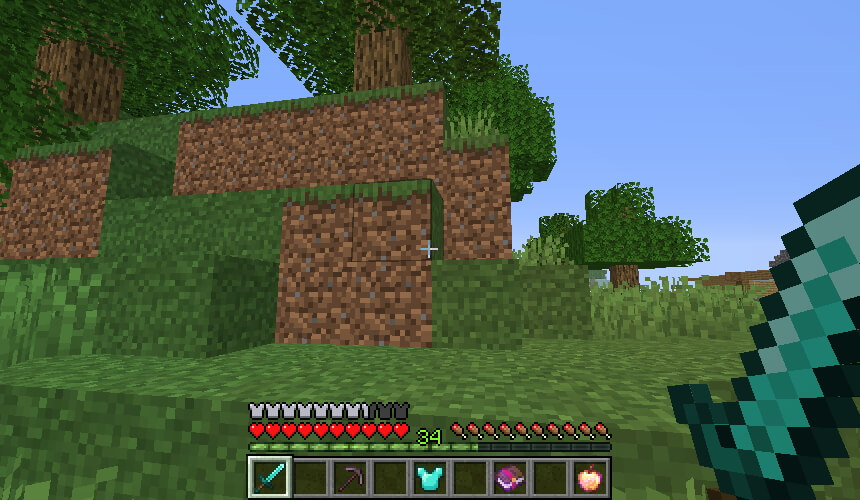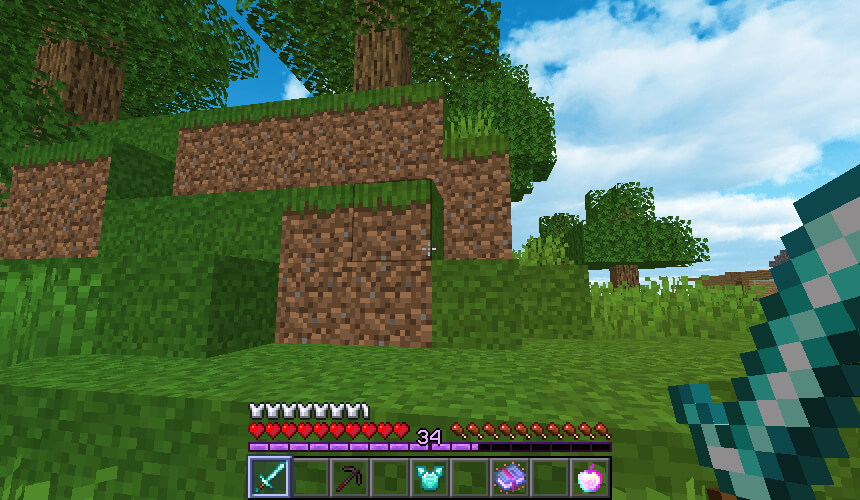 ---
New Default Nether Update – What is new?
There are also two much more significant changes, as there are also two new biomes to discover. Until now, the Nether with the New Default Texture Pack was a dark area with endless fortresses and lava rivers. With the Nether update, the infernal dimension of Minecraft is enhanced with the landscapes of Soulsand Valley and Netherwart Forest. In the first of these, you'll find the eponymous Soulsand, which will make you and other players slow down and sink in. Netherwart, on the other hand, will be found in the other new biome mainly for you.
These are certainly the biggest focus of the community when it comes to new Texture Packs. For this reason it is very gratifying that New Default is still being worked on regularly. As an example we can mention the new Netherite armor and various items of this material. They are already included in the current Nether Update, which means SeaOfPixels is already one step ahead of the competition.
PvP Texture Pack Addon
Basically, any Texture Pack can be used to play in Minecraft PvP battles, but some are better suited than others. Meanwhile a specially developed PvP addon has been released. Among other things, the add-on especially marks diamonds or Netherite. With OptiFine they even shine a little bit additionally. In our opinion, New Default+ is an all-round carefree package.
New Default+ Screenshots
---
How to install New Default+
You may have difficulties installing the New Default Texture Pack. Of course you have to click on the download link first. Then move the newly downloaded file into your Resource Pack folder. If you don't know how to get there, take a look at our simple step-by-step tutorial. For the most exciting gameplay, we recommend OptiFine, which gives you a whole new level of control. We suggest you read our full review, because you will be very surprised what is included.
Download and install OptiFine HD for an FPS-Boost and smoother graphics.
Download the New Default Resource Pack.
Launch Minecraft.
Go to "Options" > "Resource Packs" > "Open folder".
Move the Resource Pack into the folder.
Enjoy the new textures and share it with you friends!
You have problems? Then have a look at the detailed Resource Pack Installation guide.
New Default Texture Pack Download
---
🔔 Please note:
We appreciate it if you share this post. Also, you can support the author by checking out the original post.

None of the files are hosted on our server. All direct download links on our website are provided by the authors. The packs are free of viruses.
Minecraft Java Edition Download Links:
1.17.X
1.16.X - 1.15.X
1.14.X - 1.13.X
1.12.X - 1.9.X
1.8.X
Minecraft PE / Bedrock Edition Download Link:
1.16.X
---
Conclusions
As a conclusion, one thing above all is to be said, New Default is optimal for Minecraft fans. However, in order for the pack to unfold its full range of functions, we definitely recommend installing OptiFine.
Blocks

Items

Shader compatibility
Summary
In Minecraft the New Default + Texture Pack has a 16x resolution. It adds numerous new blocks and items from the Nether Update. With the PvP Addon you get an additional boost!
---