2.5M Downloads | Resolution: 16x16 | by SeaOfPixels
The New Default+ texture pack transforms the normal Minecraft graphics into a real eye-catcher. However, it is only an improvement of the vanilla textures, so it is very similar to the default game look. The creator works under the pseudonym SeaOfPixels and comes from the USA. He describes himself as an enthusiastic resource pack creator and pixel artist who loves to create graphics for video games.
Above all, the basic idea is that all textures harmonize well with each other. Everything looks a bit more modern and the colors are more vibrant. Furthermore, a small highlight is included. If you use a sword a lot, then the blade becomes more and more dull and gradually loses durability.
First of all, you will notice some new things in the GUIs. The most noticeable is the new title screen, which has cleaner buttons. The normal inventory, but also other interfaces now look completely different. The great thing is that it's very uniformly designed. There is also a small color change in the XP bar, but that's about it, because the hunger bar and health indicator look the same as always.
The next category is texture variation. This means that a block, item or mob can have different appearances. This gives Minecraft much more variety. This can be seen well in wolves, because instead of just one color, there are now over 45 different types of wolves. From now on, creepers also offer real added value, because they adapt to their environment in caves. However, this also comes with a bit of a risk for you, as you'll have a harder time spotting them because they'll behave like a chameleon. These variations only work with Optifine, which is why we definitely advise you to install the mod. Furthermore, you should know that it is completely random which texture is displayed in the New Default+ texture pack and you have no influence on it.
That's not all, because all biomes also get new features.If you ever find yourself in a snowy biome in the future, take a close look at the environment. There are snowed-in trees in a forest and frozen zombies at night as a new feature. We have noticed in our tests that this also applies to other biomes and each biome has its own unique look.
The last category are the new sky textures. The beauty of this is that at any time of the day the sky looks fabulous and the clouds look as realistic during the day as they do with a shader. The clear blue sky turns into an orange-red spectacle during sunset and strongly reminiscent of real life. The only negative point is that the sun and moon are still quite angular. We would have wished for more realism at this point, but that is just a side note.
All in all, the New Default+ texture pack is extremely comprehensive. There is much more variety for you thanks to the many different modifications. That's why you'll have a lot more fun gaming. Also, a PvP addon has now been released due to high demand. A great feature is that the extension outlines ores like diamond or netherite. They even glow a little bit additionally if you use Optifine.
Finally, there is something great to mention. With the help of an anvil you can rename many items. At the first moment it probably doesn't sound worth mentioning, but some items will change their texture when renamed in an anvil. Items, ultimate gear and armor was inspired by Minecraft Story Mode. Tools and Weapons was inspired by Minecraft Dungeons. On the creator's website there is a complete list of names that you can use. If you like that, feel free to check out BetterVanillaBuilding as well, because this texture pack also has such a feature.
New Default+ is compatible with these Minecraft versions: 1.19.1 – 1.19 – 1.18.2 – 1.18.1 – 1.18 – 1.17.1 – 1.17 – 1.16.5 – 1.16 – 1.15.2 – 1.15 – 1.12.2 – 1.12 – 1.11.2 – 1.11 – 1.10.2 – 1.10 – 1.9.4 – 1.9 – 1.8.9 – 1.8 – 1.7.10 – 1.7 – 1.6
Screenshots & Video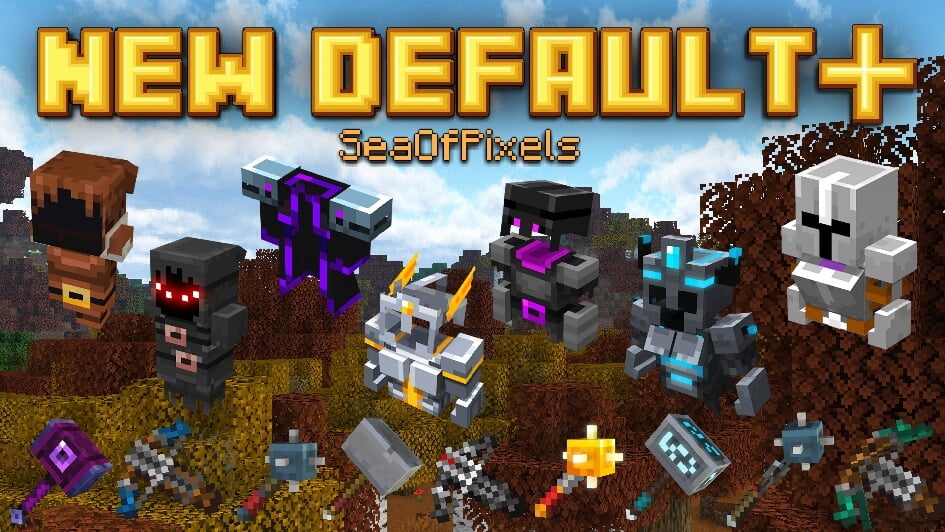 New Default+ Texture Pack Download
You may have difficulties installing the New Default Texture Pack. Of course you have to click on the download link first. Then move the newly downloaded file into your Resource Pack folder. If you don't know how to get there, take a look at our simple step-by-step tutorial. For the most exciting gameplay, we recommend OptiFine, which gives you a whole new level of control. We suggest you read our full review, because you will be very surprised what is included.
Download and install OptiFine HD for an FPS-Boost and smoother graphics.
Download the New Default Resource Pack.
Launch Minecraft.
Go to "Options" > "Resource Packs" > "Open folder".
Move the Resource Pack into the folder.
Enjoy the new textures and share it with you friends!
You have problems? Then have a look at the detailed Resource Pack Installation guide.
✔️ None of the files are hosted on our server. All direct download links on our website are provided by the authors. The packs are free of viruses. Therefore, they are completely safe and secure.
✔️ Please share this post on social media.
✔️ Are there any thoughts you'd like to share? Please write a comment and rate the pack to help the authors.
---
👨‍💻 SeaOfPixels is the author of New Default+. Rate this pack:
Blocks

Items

Shader compatibility
Summary
In Minecraft the New Default + texture pack has a 16x resolution. It adds numerous new blocks and items and with the PvP addon you get an additional boost!