Just about everything looks different in Minecraft because of the Soft Bits Texture Pack. No matter which biome you are in. One great thing is that your eyes are much better protected than normal. That's the reason for the redesign of the textures, which now look much simpler. Sometimes you will feel as if you are moving in a huge Lego world because comparatively few pixels were used to create the blocks. One of the results is that Minecraft looks even more square and the edges are more accentuated. A good example of this are all the blocks that have ores in their center. These ore blocks look much more angular than in the default pack.
Nevertheless, Soft Bits still comes up with a general resolution of 16×16, which most Minecraft Texture Packs have. In my opinion, there are also some similarities to Rodrigo's 8×8 Pack, which has an even lower pixel resolution. I came to this conclusion because Rodrigo also uses simple blocks and items. By the way, this has a big advantage for you, because you will surely get an FPS boost with both packs. On top of that, it can't be denied that the pack is based on the very popular Plastic Resource Pack, which you might already know. All mentioned texture packs have one thing in common they all focus on a basic style without too many details.
But now we're going back to the Soft Bits Texture Pack, which is the subject of this article. Besides the extreme FPS Boost, there is another feature that the creator WolfieTundra has implemented. The main goal is to make it as easy as possible to recognize the items. And he really succeeded in adding this feature. This means that you will immediately recognize e.g. Netherite, even though the item looks a bit different now.
All in all, one of the main success factors is the great chosen color palette, which is very soft and connects all blocks nicely. They appear relatively uniform and form a colorful overall picture. As a result, you will be offered first-class and visually appealing textures that meet your requirements. The landscape of your game world definitely doesn't look as dreary as before.
Soft Bits is compatible with these Minecraft versions: 1.19.4 – 1.19.3 – 1.19.2 – 1.19.1 – 1.19 – 1.18.2 – 1.18.1 – 1.18 – 1.17.1 – 1.17 – 1.16.5 – 1.16 – 1.15.2 – 1.15 – 1.14.4 – 1.14 – 1.13.2 – 1.13 – 1.12.2 – 1.12 – 1.11.2 – 1.11 – 1.10.2 – 1.10 – 1.9.4 – 1.9 – 1.8.9 – 1.8
Screenshots & Video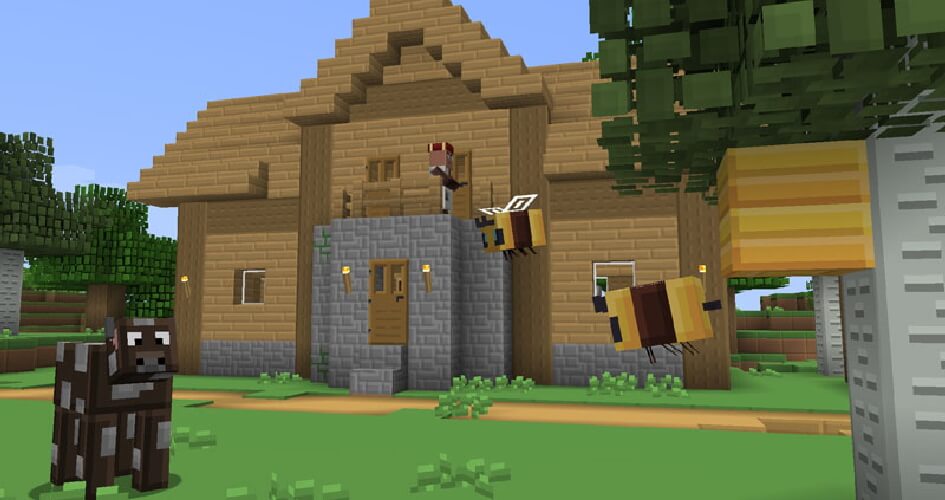 On the Soft Bits screenshots, you don't see any additional shaders, so that Minecraft PE and Bedrock players can get a good picture. You can immediately recognize all the above-mentioned special features on the various screenshots.
How to install the Soft Bits Texture Pack
For the Bedrock Edition version, all you have to do is go to the official Minecraft Marketplace. For the Java Edition the installation is a bit more complicated, but still not difficult. Nevertheless, the necessary steps are now explained to you in an easy-to-understand way, because you might encounter problems even though you have already installed Texture Pack several times. This tutorial will work for Windows, Mac, and Linux.
Either the Soft Bits download starts with just one click or you will be redirected to Mediafire. No matter which links you click, the file is downloaded via secure servers and you don't need to be afraid of viruses.
It's best to move the Texture Pack to your desktop so you can find it right away. Then click on the Minecraft icon and start the game.
In the game menu, you navigate to the game settings listed under "Options". On the left side of the screen, you click on "Resource Packs". Then open the Pack folder and move Soft Bits into that folder.
Soft Bits Texture Pack Download
| | | | |
| --- | --- | --- | --- |
| Progress: | Resolution: | Operating systems: | File size: |
| 100% complete | 16x | Windows, Android, iOS, macOS, Linux | 4.19 MB |
A really great thing is that the Soft Bits Texture Pack is also available for download for Bedrock and MCPE. So it doesn't matter if you play Minecraft on a computer, a console, or a mobile device. You get two free skins, a custom font, and much more. However, as a Bedrock player, you have to pay 660 Minecoins in the Marketplace, whereas the Java version is free.
Blocks

Items

Details

Shader compatibility
Summary
The Soft Bits Texture Pack changes every mob, items and block. Also, even the font is changed. These excellent changes will at least double your gaming fun.