LEGO® sets can be found in many children's rooms around the world. However, video games have also become increasingly popular, including Minecraft. In fact, there are some parallels, because both games consist largely of blocks (bricks) and both come from Scandinavia. That's why there are many people who see Minecraft as LEGO® for older people. But that's not entirely true, because some adults still like to play with bricks. In addition, Minecraft LEGO® sets are also available. So you can experience cool adventures in real life. It also works the other way around with the MineBricks texture pack that you can download for free. This pack adds plastic bricks to Minecraft.
In the past there have been several other creators who had a similar idea. One big difference is that this pack is made for the SEUS shader and is very realistic. Originally, creator macio6 had only posted a screenshot of the new designed blocks in the Minecraft subreddit, but the post got several tens of thousands upvotes in a few hours. As a result, several YouTubers became interested in the MineBricks texture pack and uploaded videos about it. So it's safe to say that the pack became so popular mainly through social media.
By the way, you should avoid calling the project LEGO® texture pack, because it is not an official product. Incidentally, the toy company had a similar thought a few years ago and released LEGO® Worlds, which was very much reminiscent of Minecraft. Unfortunately, this open-world game was not very successful. But you can see from the MineBricks texture pack that there is definitely a demand for a digital crossover.
This site is not associated with LEGO®. We did not create the pack and respect the copyright of the company.
MineBricks is compatible with these Minecraft versions: 1.19.4 – 1.19.3 – 1.19.2 – 1.19.1 – 1.19 – 1.18.2 – 1.18.1 – 1.18 – 1.17.1 – 1.17 – 1.16.5 – 1.16
Screenshots & Video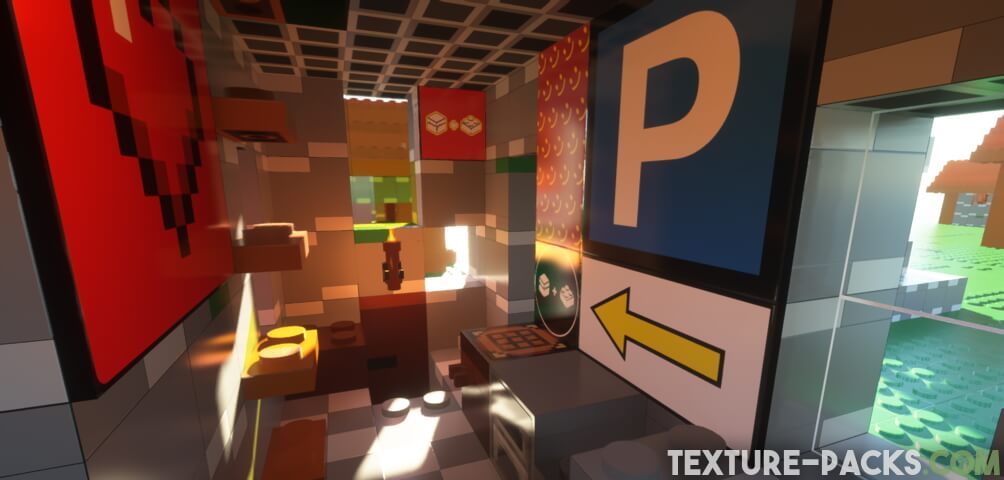 How to install the MineBricks Texture Pack
The MineBricks installation is a bit more complicated, which is why we have written a tutorial about it. Currently there is no easier and legal way to download this texture pack.
1. Click on one of the download links and you will be redirected to the online platform Gumroad.
2. Gumroad is intended for selling products and therefore the highest resolution costs about five dollars. Even the lower resolutions are sufficient in our opinion and you can download them for free.
3. Select a version and enter the minimum price. You have to enter "0" for the free packs.
4. Now you can press the "Add to cart" button and then click "Check out".
5. At this point you need to enter your email and in the next step select the "Show content" button.
6. Now you can download the MineBricks texture pack. You can also give a star rating, but you should do that only after you have tested the textures yourself.
7. Finally, you just need to start Minecraft and navigate to "Resource Packs" in the options. Open the Resource Packs folder at the bottom left and move the ZIP file into it.
Shader settings
Unfortunately, that's still not all. You'll also need a shader to get the full experience. Theoretically you can use any ray tracing shader pack, but SEUS PTGI or PTGI HRR Test is recommended.
The following settings must be made for SEUS:
Options > Video Settings > Details > Alternate Blocks must be turned ON
Options > Video Settings > Details > Trees: Fancy or Smart
SEUS PTGI Shader Options > Raytracing Options > Geometry Trace Quality: 0
SEUS PTGI Shader Options > Raytracing Options > Screen Space Reflection Tracing: ON
MineBricks Texture Pack Download
Blocks

Shader compatibility

Mobs

Creativity
Summary
MineBricks is the perfect Minecraft add-on for all LEGO® fans. We can only hope that you don't get pain in your feet from walking over plastic bricks all the time.