You want to change your landscapes in the game? Then make sure you install this Minecraft Texture Pack. To give you a first taste of what to expect when using Rodrigo's Texture Pack, we'll give you three ultimate facts.
Radical textures that remind you of a cartoon
Colourful blocks and objects
Extreme FPS boost, because of the low 8×8 resolution
So you can already see that the work of Rodrigo Alfonso (aka Rodrigo Al.) clearly stands out from other Texture Packs. He only plays on a below average laptop and therefore he was always interested in getting the maximum FPS. Accordingly, when he started playing Minecraft in 2013, he started using an 8×8 texture pack. However, it wasn't updated anymore and so after three years Rodrigo's Pack was created, which was edited completely with Paint.net.
One of the main goals is definitely to improve the performance of your computer and increase the Minecraft performance. Even very weak computers, which are not really made for video games at all, can easily render the textures of Rodrigo's Pack. With a download, the landscapes in Minecraft are much more colorful and it's also perfect for children who like to play the sandbox game.
Will the Texture Pack be available for Bedrock?
Unfortunately this is not possible at the moment and not in planning, because there are many functions built in, which are only supported by the Minecraft Java version. These would not be included in a Rodrigo's Pack MCPE version. OptiFine must be mentioned here, because especially for this mod some features are built in, which make everything look even better. Another point is that with an official Minecraft PE port the quality of the textures would definitely suffer and they don't come close to the original one. So theoretically the porting would be possible for the Bedrock Edition, but it would be absolutely not enjoyable for you.
(8×8) Rodrigo's Pack is compatible with these Minecraft versions: 1.17.1 – 1.17 – 1.16.5 – 1.16 – 1.15.2 – 1.15 – 1.14.4 – 1.14 – 1.13.2 – 1.13 – 1.12.2 – 1.12 – 1.11.2 – 1.11 – 1.10.2 – 1.10 – 1.9.4 – 1.9 – 1.8.9 – 1.8
Screenshots & Video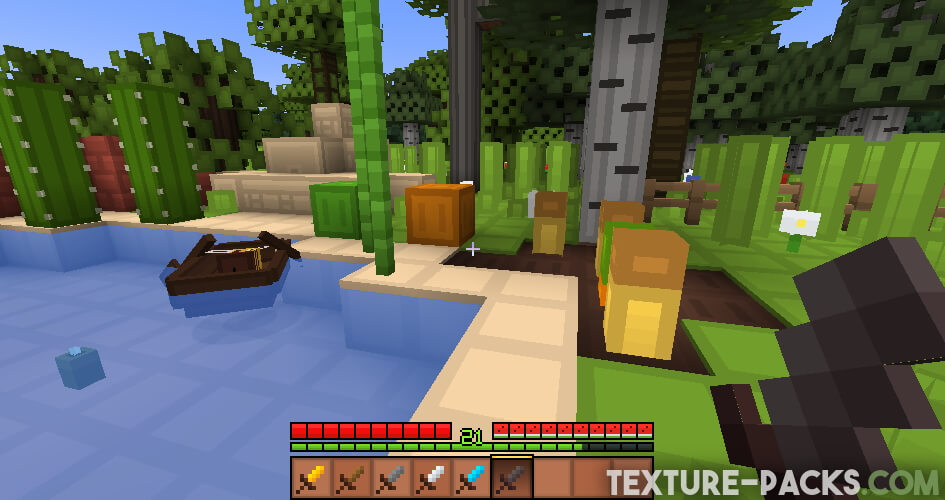 Rodrigos 8×8 Pack Download
If you want to play with Rodrigo's Pack in the long run, you should install OptiFine. You've probably heard of this Minecraft modification before, and there's a reason for that. In Vanilla Minecraft there are only a few settings that really help you to improve the performance. After the OptiFine download you will find some new things in the menu. The creator from Venezuela has published a list with the best OptiFine settings. As a result, even beginners can easily adjust the mod like a real pro.
Install Optifine for Minecraft so you can use all the features of the texture pack and get an extra FPS boost.
Download Rodrigo's texture pack by using one of the links in our download section.
Go to your download folder and copy the file with CTRL+C.
Start Minecraft and go to resource packs in the options.
Open the pack folder and copy the file into it. You can do this with the key combination CTRL+V.
Activate Rodrigo's Pack by moving it to the left side and clicking "Done".
Blocks

Items

Shader compatibility

Sounds
Summary
Rodrigo's (8×8) is a Comic & Cartoon texture pack for Minecraft. It removes some details and makes the game look easier and more beautiful.