ADVERTISEMENT
Are you looking to change up your Minecraft game? Look no further than Rodrigo's texture pack. This Minecraft texture pack gives you a fresh and unique experience with its radical textures, colorful blocks and objects, and extreme FPS boost. Rodrigo Alfonso, also known as Rodrigo_Al, is the mastermind behind this innovative texture pack. Playing on a low-cost laptop, Rodrigo was always focused on maximizing FPS for optimal performance. In 2013, he started using an 8×8 texture pack, but when it stopped being updated, he took matters into his own hands and created Rodrigo's Pack from scratch, using Paint.net for editing.
One of the main goals of Rodrigo's texture pack is to improve computer performance and boost Minecraft's performance. Even on weak computers that are not specifically designed for gaming, this texture pack can easily render the textures without any issues. The landscapes in Minecraft come to life with vibrant colors, making them perfect for children who enjoy playing the sandbox game. By the way, another project of Rodrigo_Al is the Smoube texture pack.
But what about Bedrock Edition? Unfortunately, at the moment, Rodrigo's Texture Pack is not available for Bedrock Edition and there are no plans for an official port. This is due to the fact that the pack includes many features that are only supported by the Minecraft Java version, including compatibility with OptiFine, a popular mod that enhances the game's visuals. Additionally, an official Minecraft PE port would likely compromise the quality of the textures. While it's technically possible to port the textures to Bedrock Edition, it would not provide an enjoyable experience for players.
Best Features
One of the standout features of Rodrigo's resource pack is the extensive collection of connected textures. With over 200 blocks, including wooden planks, terracotta, and even carpets, this texture pack provides an incredible amount of variety for building, giving you more possibilities to bring your Minecraft structures to life. It's worth noting that this feature requires OptiFine. You can add even more connected textures with add-ons from our download section.
Rodrigo has also put a lot of effort into creating a realistic environment within the texture pack. Despite its cartoonish style, the pack features a custom lightmap, custom sky colors, and custom fog colors. They give your Minecraft world a unique and immersive look. From warm lantern lights on your base during rain to torches in a cave and even a light red fog in the nether, the attention to detail in the environmental effects is truly impressive. Rodrigo even provides OptiFine settings suggestions to achieve these looks. You can find the best settings in the installation guide further below.
Another notable feature of Rodrigo's texture pack is the handmade block models. With over 230 custom block models, Rodrigo has taken the time to ensure that the most important sub-blocks have custom textures that blend seamlessly with the default ones. This not only enhances the visual appeal of these blocks but also fixes some common vanilla visual issues. What makes this even more impressive is that Rodrigo has created all these block models without using third-party programs, making them truly hand-made. If you like this feature, test BetterVanillaBuilding as well, because it contains even more custom block models.
In addition to the visual enhancements, Rodrigo's pack also includes a custom multi-language font. The ASCII, non-Latin European, and accented font files have been edited to provide a simplistic squared font that is compatible with popular languages. This attention to detail ensures that players from various regions can enjoy the texture pack without any language barriers. More and more packs are paying attention to accessibility. For example, Faithless was developed specifically for colorblind people.
Last but not least, Rodrigo's texture pack also includes custom sounds. When you're hungry in the game, you'll be greeted with unique eating sounds that add another layer of immersion to Minecraft. The custom audio further enhances the simplistic environment. Whether you're a builder, explorer, or simply a Minecraft enthusiast, Rodrigo's work is a must-try for every player.
Rodrigo's Pack is compatible with these Minecraft versions: 1.17.1 – 1.17 – 1.16.5 – 1.16 – 1.15.2 – 1.15 – 1.14.4 – 1.14 – 1.13.2 – 1.13 – 1.12.2 – 1.12 – 1.11.2 – 1.11 – 1.10.2 – 1.10 – 1.9.4 – 1.9 – 1.8.9 – 1.8
---
Blocks
GUI
Items
Mobs
Font
Audio
Video
&

Screenshots

ADVERTISEMENT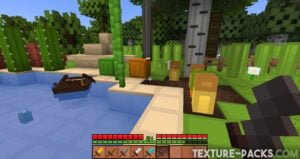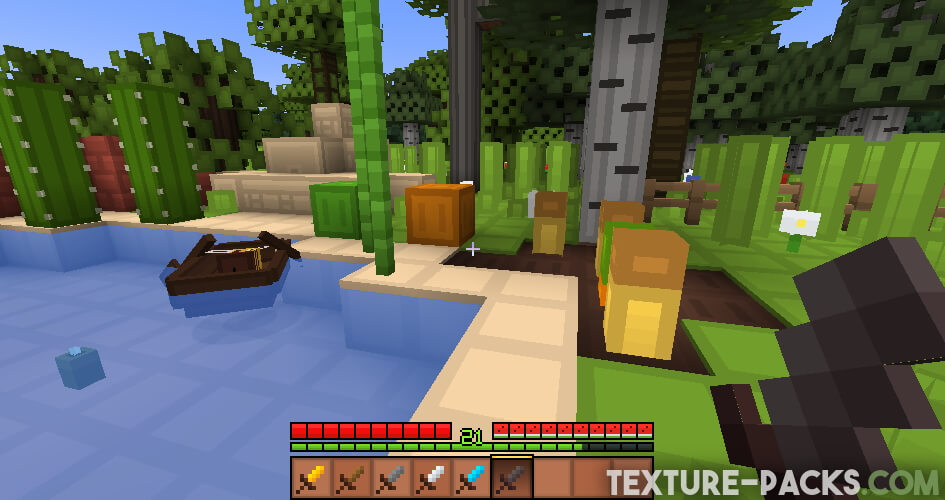 Comparison
Use our comparison tool to compare the Minecraft default pack with Rodrigo's Pack.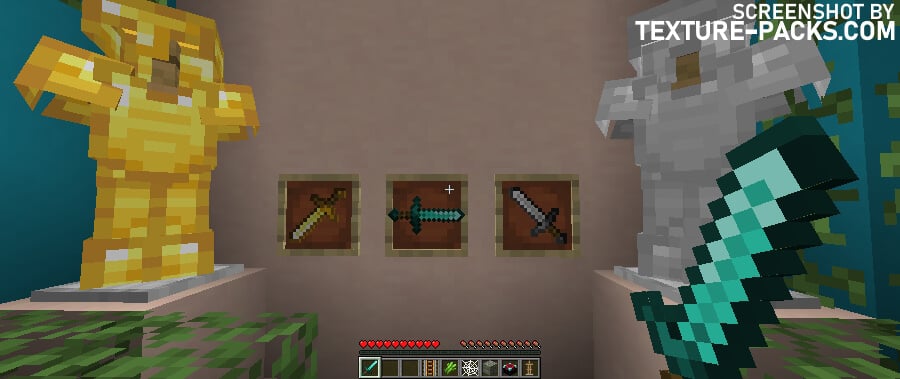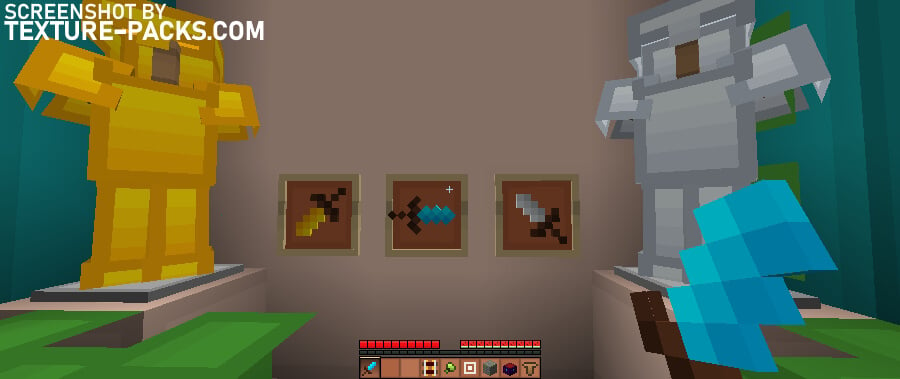 How to install Rodrigo's Texture Pack
If you want to play with Rodrigo's Pack in the long run, you should install OptiFine. You've probably heard of this Minecraft modification before, and there's a reason for that. In Vanilla Minecraft there are only a few settings that really help you to improve the performance. After the OptiFine download you will find some new things in the menu. The creator from Venezuela has published a list of the best OptiFine settings. As a result, even beginners can easily adjust the mod like a real pro.
Install Optifine for Minecraft so you can use all the features of the texture pack and get an extra FPS boost.
Download Rodrigo's texture pack by using one of the links in our download section.
Go to your download folder and copy the file with CTRL+C.
Start Minecraft and go to resource packs in the options.
Open the pack folder and copy the file into it. You can do this with the key combination CTRL+V.
Activate Rodrigo's Pack by moving it to the right side and clicking "Done".
Rodrigo's Texture Pack Download
ADVERTISEMENT
Blocks

Items

Shader compatibility

Sounds
Summary
Rodrigo's (8×8) is a Comic & Cartoon texture pack for Minecraft. It removes some details and makes the game look easier and more beautiful.