We review the MS Painted texture pack in this article. It is absolutely unique due to its various features. You probably have never seen such textures before. Stridey created the pack with Microsoft Paint. The raster graphics editor is extremely limited and you can see that in Minecraft. There are only 20 colors. Despite the fact that there are no realistic textures in the MS Painted pack, the project has become popular in recent years. Originally, it was a joke, but players liked the cursed blocks and items. Everything is colorful and kid-friendly. However, the Minecraft world looks too garish in some cases. The texture pack is certainly not for everyone because the graphics style is freaky.
The pack drawn with MS Paint is also often featured in top lists on popular websites and in YouTube videos. It's remarkable that Stridey managed to create a complete resource pack with outdated image editing software. As a result, Minecraft looks simple. Nevertheless, the 128x resolution is comparatively high. Other websites say that the resolution is only 16x, but this is not true. We don't know how people believe that because the developer explicitly emphasizes the high-resolution blocks.
MS Painted with mods
Furthermore, the MS Paint texture pack contains files for Minecraft mods. You can use mods to fundamentally change your Minecraft world in single-player and multiplayer modes. For example, the MS Painted pack works with AppleSkin, Mod Menu, Biomes O Plenty, Presence Footsteps, Figura, and Effective mods. Furthermore, Terralith support has been incorporated into MS Painted. So if you are using OptiFine with Continuity, the biomes now display accurate Terralith color maps. Additionally, alpha islands blocks retain their original MS Painted textures. Only a few resource packs have textures for mod packs. If you like playing with mods, you should also check out the Dandelion texture pack. Dandelion doesn't look strange, but it's also in cartoon style. You feel like you're in a cartoon. The simplistic textures make your gaming experience enjoyable.
There is also a version for Minecraft Dungeons available. All MS Painted texture pack content has been made compatible with Minecraft Dungeons using a tool from the Dokucraft team. This is a great thing because only a few community add-ons have been released for the Minecraft spin-off. However, this subproject is still in the alpha phase. This is why there are maybe bugs and lags, but the main Minecraft PC project works perfectly.
More operating systems will be supported in the future, and new updates are planned. Overall, you can't take the textures too seriously because it's a fun project. It's just a funny texture pack. Just like Moving Blocks, for example. MS Painted resource pack is made to make you laugh and distract you from the sometimes hard everyday life. If you like Stridey's work, you can follow him on social networks.
Feedback
Some Minecraft players have sent us feedback on this cursed texture pack. You can leave your feedback in the comments section at the bottom of this page. Here are a few quotes:
"First I thought it was ugly, then funny, and finally, it has become my new favorite pack. Excellent work!"
"The sun and the moon are my favorites. They look funny, but I like them."
"I can't even draw a tree in MSPaint.exe. Respect!"
All in all, the feedback is positive. Other users were most impressed with the mob faces. Most of the players like the MS Painted texture pack. Minecraft has never looked so cute. We recommend parents to install this pack for their children.
An MS Painted download link is available for almost all Minecraft versions. You should know that you don't need good hardware to play with it. The minimum requirement is a standard gaming setup. We update the links regularly, so you should bookmark the page.
We were able to get over 300 FPS in our tests. We used a low-end computer and a new mobile phone for the test runs. The results were similar. Please have a look at our FPS survey at the end of this page. It's interesting to see how many FPS all players have on average. But note that the performance can be worse in the nether.
MS Painted is compatible with these Minecraft versions: 1.21 – 1.20.3 – 1.20.2 – 1.20.1 – 1.20 – 1.19.4 – 1.19.3 – 1.19.2 – 1.19.1 – 1.19 – 1.18.2 – 1.18 – 1.17.1 – 1.17 – 1.16.5 – 1.16 – 1.12.2 – 1.12 – 1.8.9 – 1.8
---
Armor
Art
Font
Particles
Mod Support
Video
&

Screenshots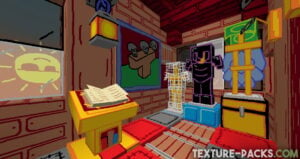 All the armor and tools look like they are copied from an older computer game. The old-school textures fit great because the software Paint was released back in 1985. Back then, the program was called Paintbrush. If you like retro textures, we recommend the Retro NES texture pack for Minecraft. Retro NES Revived is compatible with Minecraft PE, Bedrock, and MCPE.
The screenshots might remind you of how you used to draw crazy things with Microsoft Paint. Drawings are always colorful in this app and that's why the texture pack is colorful as well. As a result, it's super appropriate for kids. The reason is that the Minecraft world looks friendlier. Even the scary zombies suddenly look totally harmless. A small disadvantage arises from this because the game graphics look overexposed. You can fortunately change this detail in the Minecraft settings by reducing the brightness. Beginners may have problems with the installation, which is why we will teach you how to install the MS Painted texture pack in the next section.
Comparison
Use our comparison tool to compare the Minecraft default pack with MS Painted.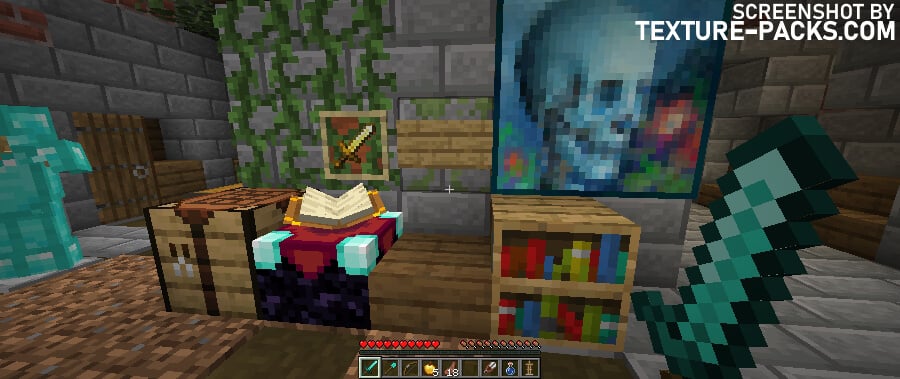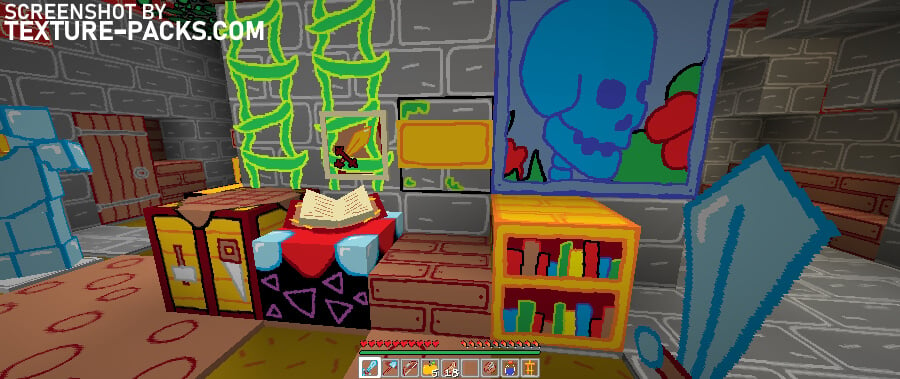 How to install the MS Painted Texture Pack
Check out the easy steps to install everything with just a few clicks.
To use all the cool features in this pack, download and install OptiFine.
Download the MS Painted texture pack for Minecraft from the file section below. Pick the file that matches your Minecraft edition and version.
Launch Minecraft.
Click "Options" on the main menu.
In the options, go to the submenu "Resource Packs".
Click "Open Pack Folder" at the bottom left to see a folder titled "resourcepacks".
Put the downloaded ZIP file into your "resourcepacks" folder. Or, just just drag and drop it into the Minecraft window to add the pack.
You will see the pack on the left side of the resource pack selection menu. Unzip the file if you can't see the pack.
Hover over the pack thumbnail and click the arrow pointing right.

If the game says the pack is for a newer or older Minecraft version when you activate it, don't worry! It's just a heads-up. Click 'Yes' and enjoy the new textures – it won't affect your gameplay.

Click "Done" and all assets have been loaded.
MS Painted Texture Pack Download