The Moving Blocks texture pack has exactly one purpose, and that is to create confusion. Your Minecraft environment is constantly moving, and you will quickly lose track of it. It is currently programmed in such a way that the default textures move infinitely in any direction. You may have seen the animated blocks and items in a YouTube video before. For example, the extremely famous Lets Player CaptainSparklez reviewed the Moving Blocks texture pack in a video.
Usually, Minecraft resource packs are structured differently than the Moving Blocks texture pack. They usually consist only of PNG files. However, the Moving Blocks mod for Minecraft also contains a lot of MCMETA files. There is one MCMETA file for each texture. These are needed so that you can see the new moving animations in Minecraft. You could theoretically add this effect to every Minecraft texture pack. However, the hundreds of animations also require a lot of processing power. That's why you need a powerful computer. Mobile devices are unfortunately not compatible, which is why Moving Blocks is not available for MCPE, Bedrock, or Minecraft PE. Only Minecraft Java Edition players can download and install the pack. By the way, an alternative name for the project is "Scrolling Textures".
Furthermore, you can also take it as a challenge and try to beat the ender dragon with this cursed texture pack. If you don't have that much time, you can at least try to win a Bedwars or Skywars game with this challenge texture pack. If you are a YouTuber yourself, upload it to YouTube and link this post in the video description. Your subscribers will love it!
Moving Blocks is compatible with these Minecraft versions: 1.19.4 – 1.19.3 – 1.19.2 – 1.19.1 – 1.19 – 1.18.2 – 1.18 – 1.17.1 – 1.17
---
Video
&

Screenshots

ADVERTISEMENT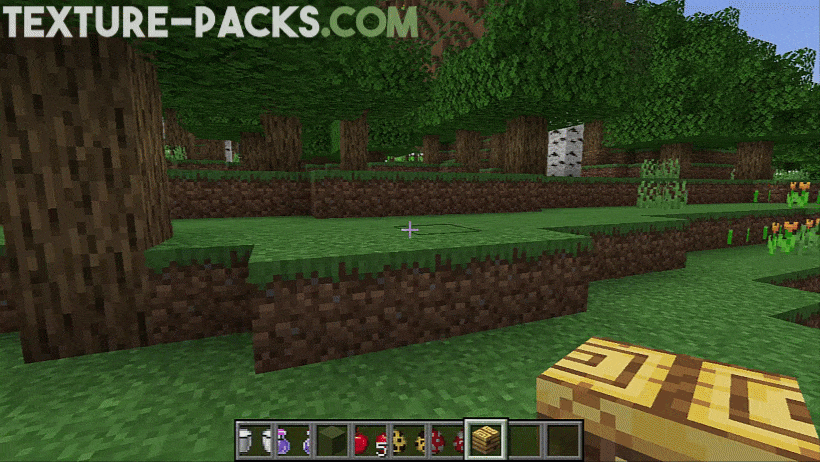 How to install the Moving Blocks Texture Pack
Install Optifine so that you don't get any lags. The pack is very CPU intensive, and Optifine will help you get more FPS.
Click on the Moving Blocks texture pack download link.
Launch Minecraft.
Click on resource packs in the options.
Open the resource packs folder at the bottom left and move the downloaded ZIP file into it.
Now the Moving Blocks texture pack appears in the list of available packs. Click on the pack icon and move it to the right side.
Now everything is installed, and you can click on done.
Optionally, you can activate alternative blocks in the video settings under details. This will make all blocks move in random directions.
It is important to know that after installation, all Minecraft items and blocks move. Accordingly, people who suffer from epilepsy should not play with it. This Minecraft texture pack can cause seizures in the worst-case scenario. All other gamers should also take regular breaks. Also, you should definitely not use VR headsets.
Moving Blocks Texture Pack Download
ADVERTISEMENT