---
Minecraft versions: 1.17 – 1.16.5 – 1.16.4 – 1.16.3 – 1.16.2 – 1.16.1 – 1.16 | 1.15.2 – 1.15 | 1.12.2 – 1.12 | 1.11.2 – 1.11 | 1.10.2 – 1.10 | 1.9.4 – 1.9 | 1.8.9 – 1.8
Resolution: 16×16
Author: Steelfeathers
---
To bring back to life or to bring out a map full of your constructions, using the default Resource Pack is not the most attractive. The Dandelion Texture Pack is much better. And then, at some point, we all feel like changing air/air! Unbelievable, but the simple fact of putting forward rather pure and simplistic colours can bring a corpse back to life! It is therefore essential to use a resource pack combining a multitude of colors as well as a magnificent final rendering: I quoted the Dandelion Texture Pack.
The creator of this little visual marvel is none other than Steelfeathers, an English-speaking guy who is already at the origin of many Resource Packs. Unfortunately, he abandoned this texture pack a few years ago and hasn't been heard from since. As a result, Huehnerfrikassee took over the pack and updated it for the latest versions of Minecraft.
Original color code
Originally, the design of this pack was based on a color palette to spice up the realization of this one a little bit. Here is the color code that was used: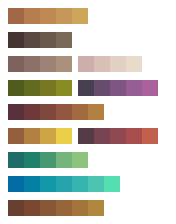 It's a bit like asking a painter to make his work with only two different tubes of gouache: possible but not easy. But this hardly prevented the original author from succeeding in exploiting this limited palette to the full. This was also respected by his new author with the addition of the latest textures.
Realistic animals
Dandelion X Texture Pack manages to give meaning to any texture: if we take the example of the countryside and its animals, we notice that they are more in osmosis and are more realistic: the coat of the sheep is defined to perfection. As for the houses, they have a touch of the old school, old-fashioned. When you enter a building, you feel good, everything is cosy, cosy and comfortable. This pack also has the particularity of recalling the first colour cartoons. Indeed, the pastel colors soften the landscapes as well as the reliefs.
Once installed on our game, you can play in a softer, more muffled and softer atmosphere and you can easily be carried away by a certain zenitude… We notice a clear difference if we compare it to the default pack, which now seems more childish and flashy.
Another nice aspect to point out: this pack rests and preserves the peepers, the most assiduous gamers will appreciate it.
Dandelion – Screenshots
---
How to install Dandelion Texture Pack
Download and install OptiFine HD for an FPS-Boost and smoother graphics.
Download the Dandelion Resource Pack.
Launch Minecraft.
Go to "Options" > "Resource Packs" > "Open folder".
Move the Resource Pack into the folder.
You have problems? Then have a look at the detailed Resource Pack Installation guide.
Dandelion Texture Pack Download
---
Official links:
🔗 Check out the official Dandelion forum post
---
Blocks

Items

Mobs

PvP-Items
Summary
The Dandelion Texture Pack is one in a cool cartoon style and has a resolution of 16×16, making Dandelion suitable for weaker PC's.
🔔 Please note:
We appreciate it if you share this post. Also, you can support the author by checking out the official links.
None of the downloadable files are hosted on our server. All direct download links on our website come from the authors and are accordingly safe, secure and checked by us several times.
---