ADVERTISEMENT
Theoretically it has been possible for a long time to use extremely realistic textures in Minecraft. However, not everyone likes this style and so today we will show you the Faithful 256×256 Texture Pack. This resolution is a very good compromise between traditional and realistic textures. Especially the popular Faithful 32x should be well known to you, because it is the trendsetter for this sort of packs. But this pack only doubles the resolution and therefore we recommend Faithful 256x. To make it even clearer to you: The Faithful 256x pixel resolution is displayed sixteen times more detailed than in the default pack. At this point you will realize that you are looking at really great textures.
Every single block has been completely redesigned by the creator Gealx3 in paint.net and you will be surprised how well he succeeded. The best thing is to get really close to a random block and you will be able to admire of details perfectly. It's important to mention that despite the major overhaul, the classic Minecraft Vanilla style has been retained. This means that you won't find strange looking blocks and items anywhere in your game world.
The advantages clearly outweigh the disadvantages. One of the biggest plus points is that the Faithful 256×256 Texture Pack is free and therefore playable for everyone. Furthermore, you will immediately recognize every item. This is due to the fact that all textures remind you of the standard default pack, but are much more high-resolution. Now we will show you the disadvantages. Honestly, it's damn hard to find actual weaknesses, because of the excellent work. After a long time of consideration I finally noticed something that might not be obvious to you at first. Such excellent blocks and items need some computing power that not every computer has. In case you already have low FPS without the Resource Pack you should think about whether your PC is good enough for Faithful 256x.
All in all you should definitely download and install the pack. Below you will find an easy to understand step-by-step tutorial.
Not satisfied with this resolution yet? Then take a look at all faithful texture packs, which you can also download for free.
Faithful 256x is compatible with these Minecraft versions: 1.18.2 – 1.18.1 – 1.18 – 1.17.1 – 1.17 – 1.16.5 – 1.16 – 1.15.2 – 1.15 – 1.14.4 – 1.14 – 1.8.9 – 1.8
Screenshots & Video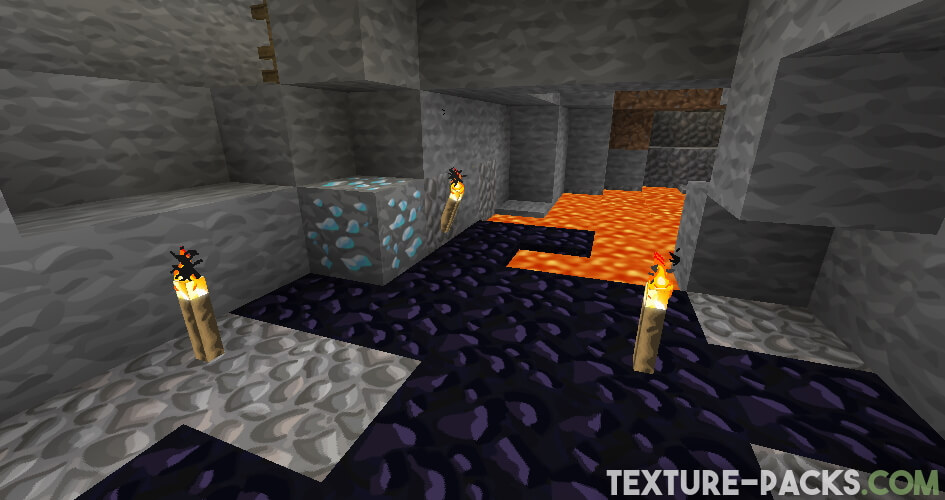 I consciously decided to show only the most necessary things on the screenshots. I don't want you to miss the chance to discover your environment by yourself.
Faithful 256×256 Texture Pack Download
At this point you are warned, because there are many different versions of the Faithful 256×256 Texture Pack. The creator has put all versions in one big Mediafire folder and you only have to choose the desired resolution. Another useful tip is that you can see the release date on the right. This information will make it easier for you to install the latest version.
First of all you have to choose the latest version, as described above. Then you will be redirected to the correct download page.
Make sure the file is fully downloaded and then start Minecraft.
Now click on "Options" on the screen and then on "Open Packs folder". Move the Faithful 256×256 Texture Pack into this folder.
On the left side you can now see the pack and you have to move it to the right half of your game screen using the arrows. Finally, click on "Done" and the installation is complete.
Blocks

Items

Details

Shader compatibility
Summary
The Faithful 256×256 Texture Pack improves detail and has a resolution sixteen times better than normal. Take you and your environment to the next level in Minecraft.