ADVERTISEMENT
Picture yourself: a wizard retired to your chambers for the evening. You've finished constructing a vast library for yourself where you plan on reciting the ancient incantations needed to achieve ultimate power. You are a wise and powerful wizard, with powers only bound by the limits of your imagination. This is the power fantasy that many Minecraft players will find themselves falling into when they discover enchanting within Minecraft. Today we're going to be talking about a small, but extremely useful Minecraft texture pack specifically for players interested in the enchanting feature, via a helpful add-on called Xalis Enchanted Books texture pack.
Enchanting in Minecraft
Enchanting was already added in a 2011 beta prerelease. Since then it's been getting lots of updates and quality-of-life improvements from Mojang, and it really helps to add a little bit of depth for Minecraft players that are really looking for something resembling an RPG system. Even for those not especially fond of RPG games, it's hard to not enjoy the process of seeing the numbers go up on how effective your weapons, armor, and skills can be.
The process for enchanting is pretty simple. Within Minecraft, you just need an enchanting table. But if you want better enchantments, you need to place some bookshelves next to each other in such a way that they surround an enchanting table in the center. This isn't really a guide on how to do enchanting in Minecraft, so we're going to skip some of the details here.
The issue with enchanted books
Once you've set up your enchanting library, you're ready to start enchanting items and tools within Minecraft! But if you're playing the base version of Minecraft, you may have noticed an issue at this point regarding enchanted books. They all…look completely identical.
Yes, it's really odd that Mojang hasn't updated this feature yet, but that's just the way things are right now. As it currently stands, if you don't have any good Minecraft mods installed, all books within Minecraft will appear identical with the same image of a glowing book used for each one. Sure, you can hover over the book to see what it does, but if you are working with lots of different books, this is going to get incredibly annoying. If you do lots of enchanting already, you've probably run into situations by now where you open up a chest full of books and you just can't find that really important one that you're sure you left in there somewhere. The creator Xalixilax knows this problem. He has been playing Minecraft since 2010 and for him, it was always a pain to find the right book in a chest.
What is Xalis Enchanted Books Texture Pack?
Thankfully, and as you've probably guessed by this point, the Xalis Enchanted Books texture pack for Minecraft solves all problems completely by simply creating new textures for every single book you can get in Minecraft through enchanting. The design for these books is really nice and simply can't be overstated. The original book was done in a simple pixel art style, and this Minecraft book texture pack does its best to emulate that look and work upon it.
For example, the fire aspect book looks like it's almost melting where it sits, and the book of thorns looks sharp and painful to the touch. The Minecraft books even upgrade their appearance with unique characteristics based on what level it is, so a book for knockback II is going to look different from the book for knockback one. Nevertheless, the new book textures are kept very simple and fit perfectly into the game.
If you didn't know any better, and somebody installed this enchanted book for your game without you knowing and you went to go enchant for the first time, you'd probably think this was an official feature developed by Mojang. The fact that we don't already have something within the base game like this is just baffling to us, but at the same time, we sort of get it. Enchanting is a nice feature to play around with in Minecraft, but you'd be forgiven if you managed to play through the entire game, all the way to the ender dragon, without having gone through the effort of enchanting anything even once before. Enchanting items and tools can certainly make the game easier, but it definitely isn't required for beating the game, and it certainly isn't required if your goal is simply to have fun and build whatever you wish.
More OptiFine texture packs in default style:
Summary
Do yourself a favor and install the Enchanted Books resource pack. It's one of those mods that's so big in what it adds that we basically consider it essential. And we aren't the only ones; this is actually an incredibly popular texture pack for Minecraft if we look at the number of total downloads it has so far. It's so popular because it is an enhancement for everyone. During the development, the creator posted screenshots on Reddit, which got thousands of upvotes. This proves that many gamers have been waiting for something like this for years. Hopefully, the Mojang team will add better book textures to the default pack in the future.
If you have absolutely zero interest in Minecraft enchanting, then we suppose you could play without this one. But for everyone else, you basically have no excuse to not already be using this texture pack to help you organize all your books, it's just that good. Check it out today and download Xalis Enchanted Books right now!
Xalis Enchanted Books pack is compatible with these Minecraft versions: 1.20 – 1.19.4 – 1.19.3 – 1.19.2 – 1.19.1 – 1.19 – 1.18.2 – 1.18.1 – 1.18 – 1.17.1 – 1.17 – 1.16.5 – 1.16
---
Video
&

Screenshots

ADVERTISEMENT
Comparison
Use our comparison tool to compare the Minecraft default pack with Xalis Enchanted Books.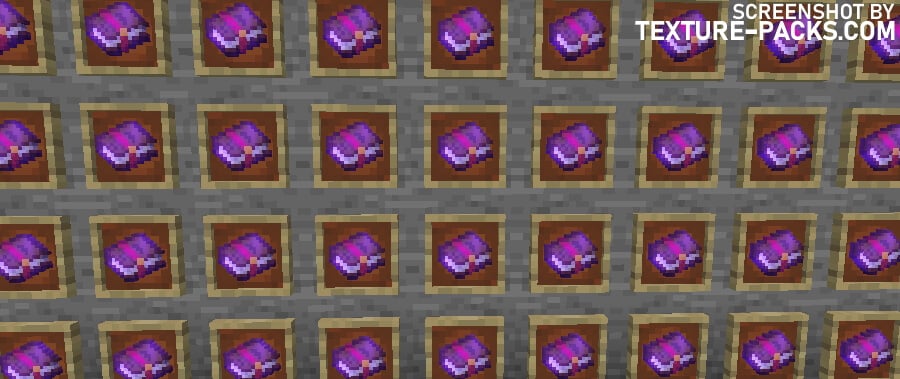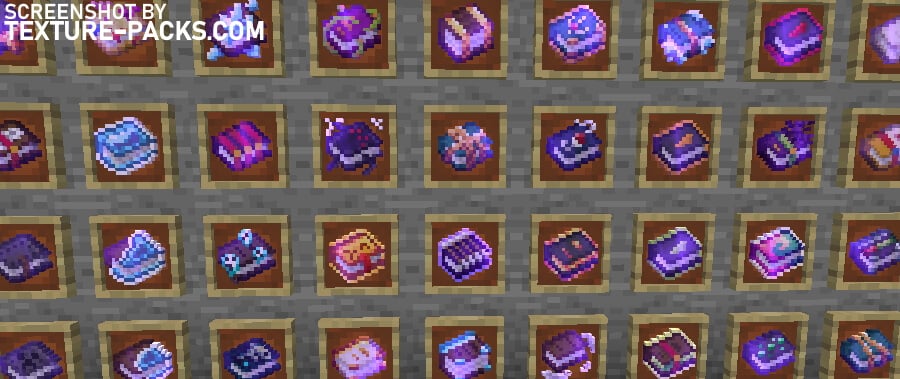 How to install Xalis Enchanted Books Texture Pack
Unfortunately, Xali's Enchanted Books texture pack is only compatible with the Java Edition. The reason is that you need the CIT (custom item textures) feature. As soon as CIT is released for Minecraft PE and Bedrock, there will also be a version for these editions. Furthermore, you can play Xalis pack with Forge and Fabric, but you need OptiFabric for Fabric.
Download and install OptiFine.
Click on the Xalis Enchanted Books texture pack download link that is compatible with your game version and Minecraft edition.
Launch Minecraft.
Click on "Options" in the main menu.
In the options menu, go to the submenu "Resource Packs".
Click on "Open Pack Folder" at the bottom left.
Move the downloaded ZIP file into your resourcepacks folder.
You will see the pack on the left half of the resource pack screen. If it is not displayed in Minecraft, you need to unzip the file.
Move the cursor to the pack logo and click the arrow pointing to the right.
Click on "Done".
The game may tell you during the installation that the pack was made for a newer or older Minecraft version. This is an error and you can still activate the pack.
Xalis Enchanted Books Texture Pack Download
ADVERTISEMENT