ADVERTISEMENT
Have you ever wondered what Minecraft would look like if it were designed for next-gen consoles? Prepare to be amazed! NAPP (Not Another Photorealistic Pack) is a free Minecraft texture pack that brings HD accuracy to all vanilla textures, combining a realistic style with the beloved videogame feel. The NAPP texture pack is made possible by the incredible support of passionate individuals like you. Led by the developer Miguel, also known as Del_Cieno, this pack has been meticulously crafted over the years with professional Photoshop software. Del_Cieno's expertise ensures that the NAPP textures are nothing short of extraordinary. With the goal of creating the ultimate Minecraft graphics, the creator aspires to dedicate himself fully to the development.
It all started when we stumbled upon the NAPP texture pack on Instagram. Intrigued, we decided to follow its development. After a while, a downloadable version became available in 2020. We must say, it exceeded our expectations. Recent updates to NAPP have focused on improving performance and streamlining the pack. The separation of the main pack from some OptiFine features ensures a clean and optimized experience, free from unnecessary clutter. Every texture is optimized to perfection, creating a true graphic masterpiece that sets new standards. Let's dive into the mesmerizing world of NAPP and see why it's worth your attention.
NAPP Features
Each block has its unique characteristics and visual flair. Take, for instance, the stones, which possess an allure, unlike anything you've seen before in Minecraft. One aspect that sets NAPP apart from other projects is its seamless transitions between different textures. It's a delightful surprise to witness the smooth blending of blocks. Whether it's the gradual shift between sand and dirt or the harmonious integration of various stone types, NAPP ensures a visually satisfying experience at every turn.
The Marvels of Depth and Reflection:
Furthermore, NAPP adds depth and reflection effects to the Minecraft graphics. Imagine gazing into a pool of water, where the reflection of the surrounding is on the surface. Similarly, the depth of certain blocks, like obsidian, is enhanced. You will also see other elements like grass blocks and ores that are in 3D. If you like PBR blocks, download also rotrBLOCKS or Optimum Realism on our website.
Realistic Ore Variations:
Mining for precious resources becomes even more exciting with NAPP's intricate ore variations. Each type of ore has its distinct appearance, adding a sense of uniqueness to Minecraft caves. From gleaming gold veins to the mesmerizing hues of lapis lazuli, these refined ore blocks make your Minecraft world more realistic. The NAPP pack doesn't stop at ore textures. It extends its magic to the surrounding environment as well. Trees boast exquisite designs, each with its own bushy leaves on top. Even the simplest of plants are transformed into captivating elements.
NAPP Free vs. Paid
Now, let's explore the differences between the free and paid versions of NAPP.
NAPP Free Version:
Limited resolution: The free version of NAPP offers textures up to 512×512, delivering a significant visual upgrade compared to the default Minecraft textures.
Limited updates: Updates for the free version occur every few months, coinciding with major Minecraft updates.
Discord access: The free version does not grant any special role on the NAPP Discord server. But fear not, your support is still greatly appreciated.
NAPP Paid Version (Patreon Membership):
Expanded resolution: By becoming a Patreon member, you unlock access to multiple resolutions. This includes the HD 1024×1024 version, as well as 512×512 and 256×256. There's even a downloadable 32×32 version for those with low-end PCs, ensuring that NAPP can be installed on all computers.
Frequent updates: Patreon members receive regular updates, guaranteeing that you're always at the forefront of NAPP's evolution and improvements.
Premium Discord support: Should you encounter any issues with the pack, Patreon members receive priority support on the officialNAPP Discord server.
Exclusive perks: By joining as a Patreon supporter, you gain access to exclusive content and features.
Add-on packs and custom creations: Patreon members can download additional add-on packs, custom paintings, vinyl, and music. Be sure to check out the amazing songs composed by CHOLEY on YouTube.
Conclusion
Whether you choose to embrace the free version or become a Patreon member, NAPP will revolutionize your Minecraft world with stunning HD graphics. The community's incredible support has made NAPP a reality, and now it's your turn to download it and enjoy this masterpiece.
The NAPP resource pack works only with the Java Edition and is always compatible with the latest version of OptiFine. Bedrock, MCPE, and Minecraft PE players will have to be patient until an MCPACK port is released in the future. It's important to note that the higher resolutions of the pack require a powerful PC to run smoothly with high FPS. Testing it on your own system is recommended, as even the best gaming machines may be pushed to their limits by the 1024x and 512x resolutions. Lower FPS may be expected as a trade-off for the incredible gameplay quality.
NAPP is compatible with these Minecraft versions: 1.19.4 – 1.19.3 – 1.19.2 – 1.19.1 – 1.19 – 1.18.2 – 1.18.1 – 1.18 – 1.17.1 – 1.17 – 1.16.5 – 1.16 – 1.15.2 – 1.15 – 1.14.4 – 1.14
---
Video
&

Screenshots

ADVERTISEMENT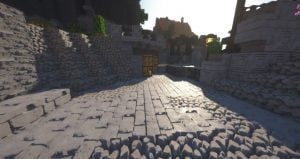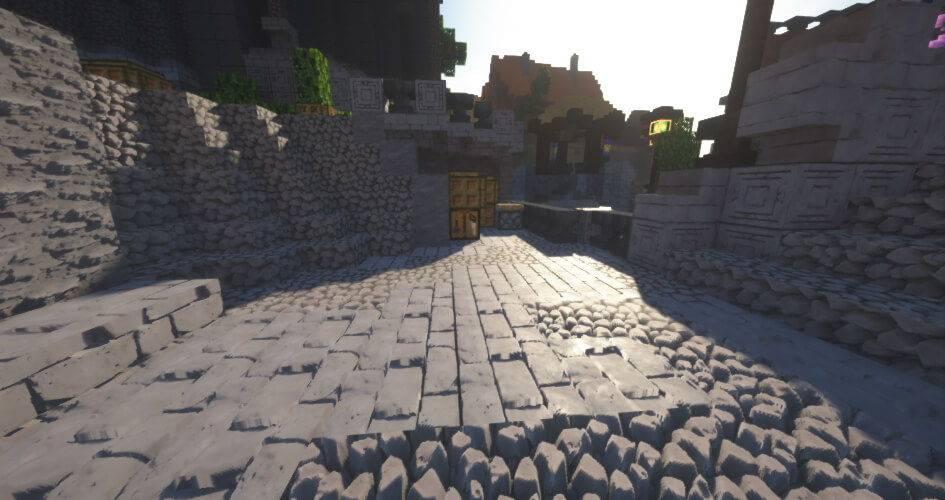 In the video and screenshots, you can witness the remarkable realism that the NAPP pack brings to the Minecraft environment. Several features have been fine-tuned and are optimized for both RTX and non-RTX shaders. To achieve the same results as in our footage, we highly recommend using one of the shader packs mentioned further below, as they fully support POM and PBR textures.
Comparison
Use our comparison tool to compare the Minecraft default pack with NAPP.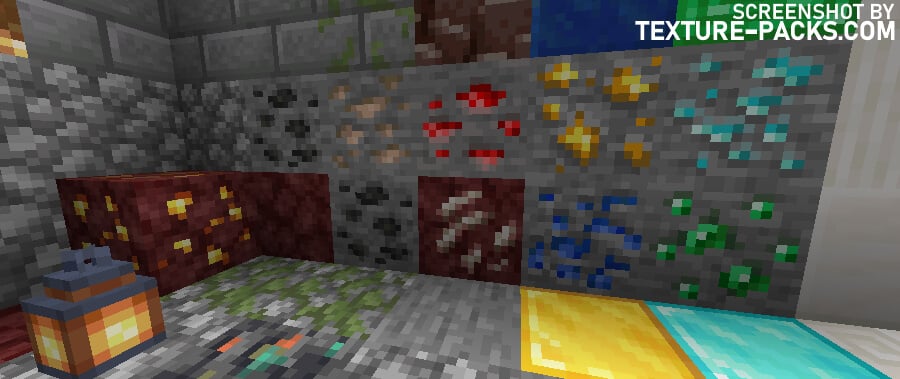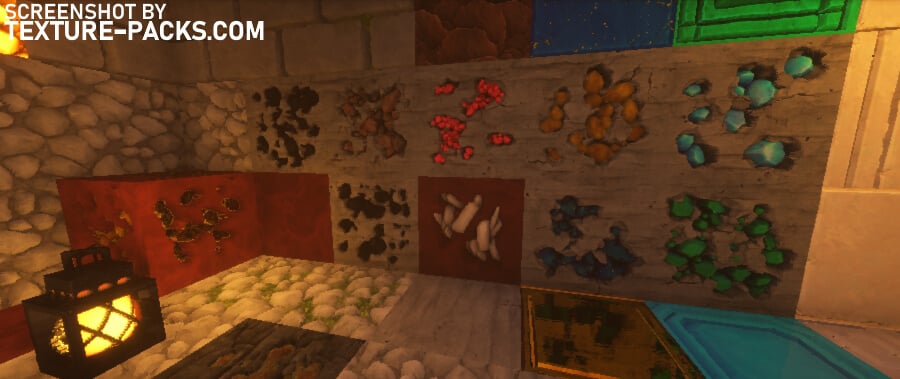 How to install the NAPP Texture Pack
Download and install OptiFine.
Click on the NAPP texture pack download link that is compatible with your game version and Minecraft edition.
Launch Minecraft.
Click on "Options" in the main menu.
In the options menu, go to the submenu "Resource Packs".
Click on "Open Pack Folder" at the bottom left.
Move the downloaded ZIP file into your resourcepacks folder.
You will see the pack on the left half of the resource pack screen. If it is not displayed in Minecraft, you need to unzip the file.
Move the cursor to the pack logo and click the arrow pointing to the right.
Click on "Done".
The game may tell you during the installation that the pack was made for a newer or older Minecraft version. This is an error and you can still activate the pack.
NAPP Texture Pack Download
ADVERTISEMENT
PC Specs Guide for NAPP
Minimum
Recommended
High
Extreme
Resolution
256x
512x
512x or 1024x
512x or 1024x
Avg. Perf. (with shader)
• 1080p
• 30 FPS
• 1080p
• 30 FPS +
• 1080p & 1440p
• 60 FPS +
1440p +
Graphic Settings
Low – Medium
Medium – High
High – Ultra
Ultra – Max
CPU
• Intel Core i3
• AMD Ryzen 3
• Intel Core i5
• AMD Ryzen 5
• Intel Core i7
• AMD Ryzen 5 3600
• Intel Core i7
• AMD Ryzen 7
RAM (Allocated)
4 – 5 GB
5 – 6 GB
6 – 8 GB
8 GB +
GPU
• GTX 750
• AMD R7 260X
• GTX 970
• RTX 2060
• AMD RX 5700
• GTX 1080
• RTX 2070
• AMD RX 5700 XT
• GTX 1080Ti
• RTX 2080
• AMD Radeon 7
VRAM
4 GB
6 – 8 GB
8 GB +
8 GB +
Recommended shaders settings
To enhance the visual experience, you can install the following free shaders that add Parallax Occlusion Mapping (POM). This feature gives all blocks a 3D effect, which may result in a significant drop in FPS. By the way, the developers recommend the BSL shaders because the pack showed the best performance in their test runs. It's important to consult our instructions for the optimal settings to achieve the desired results, resembling what you see in our screenshots and videos.
Settings: Click on Shader Options in the menu, then on Surface Options and then on Texture Res.: "512x" | Parallax Occ. Map: "On".
Settings: In the settings click on Shader Options, then on Visual Advanced Materials and finally on Parallax Occ. Map: "On" | Parallax Quality "512x" | Parallax Depth: "10cm or less" | Parallax Distance: "Increase as Needed for Diameter of POM effect".
Settings: Click Shader Options and then Surface. Parallax Occ. Map. "ON" | POM Depth: "1.5" | pomSampleAmmount: "512".
Settings: Click Shader Options, then Normal Map, and then RP Support: Parallax. RP Res.: "512x" | POM Depth: "0.15 or less" | POM Render Distance: "Increase as Needed for Diameter of POM effect".
FAQ
If you ever encounter issues with the NAPP texture pack, here are some solutions that might assist you. We've compiled a list of the most frequently asked questions to provide you with quick answers.
Why am I experiencing low FPS and lag?
If you're facing performance issues, it's likely due to your hardware's limitations. To improve performance, we recommend adjusting your Minecraft and shaders settings. As a first step, try lowering the render distance.
Why does Minecraft show an "incompatible pack" message?
This error message occurs when not all textures in the pack have been fully completed. You can safely disregard this error message and continue using the pack.
Why don't my blocks have a 3D effect?
Ensure that you have enabled all the parallax occlusion mapping (POM) settings. Read our shader guide on this page for further assistance.
Why can't I see the pack in-game?
If you don't see the ZIP archive in the Minecraft resource packs list, unzip the file.
Blocks

Details

Shader compatibility