ADVERTISEMENT
How do I download Jolicraft for Minecraft? I'd like to answer this question in this article. But first, I'd like to tell you how Jolicraft Texture Pack managed to become so popular. By the way, there are always new updates, so check back here regularly to make sure you don't miss any updates.
First, we come to the creator Jolicoeur, whose name translated means "happy heart". Accordingly, Jolicraft reads something like "happy craft". Our beloved game Minecraft is all about creating your own world and therefore the creator also found it great to determine what the textures look like. After some work, the cool Jolicraft Texture Pack was finally created.
Roughly speaking, the chosen theme is a mixture of Medieval and fantasy. Hence the motto "It's like real life, don't take it too seriously", because you will find some crazy or strange items and blocks. Nevertheless, there are animated features and I will give you a list of the most important ones here:
Animated water + watercolor
Animated lava
Animated sky
Also included are the GUI & hud, custom clouds, and much more. All in all, most of the Minecraft textures have been updated with new images. As a result, the Jolicraft Texture Pack is 100% complete and has no bugs.
Thanks to the low 16x resolution the pack is playable without any problems and it doesn't matter if you have a good or bad computer. Finally, you can be sure that Jolicraft is always compatible with the latest Minecraft version. Also, be sure to check out the official add-ons. You can get Sunny Jolicraft add-on and a Spooky Jolicraft add-on version. It's best to try them both out.
Jolicraft is compatible with these Minecraft versions: 1.19.4 – 1.19.3 – 1.19.2 – 1.19.1 – 1.19 – 1.18.2 – 1.18.1 – 1.18 – 1.17.1 – 1.17 – 1.16.5 – 1.16 – 1.15.2 – 1.15 – 1.14.4 – 1.14 – 1.13.2 – 1.13 – 1.12.2 – 1.12 – 1.11.2 – 1.11 – 1.10.2 – 1.10 – 1.9.4 – 1.9 – 1.8.9 – 1.8
Screenshots & Video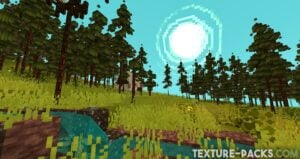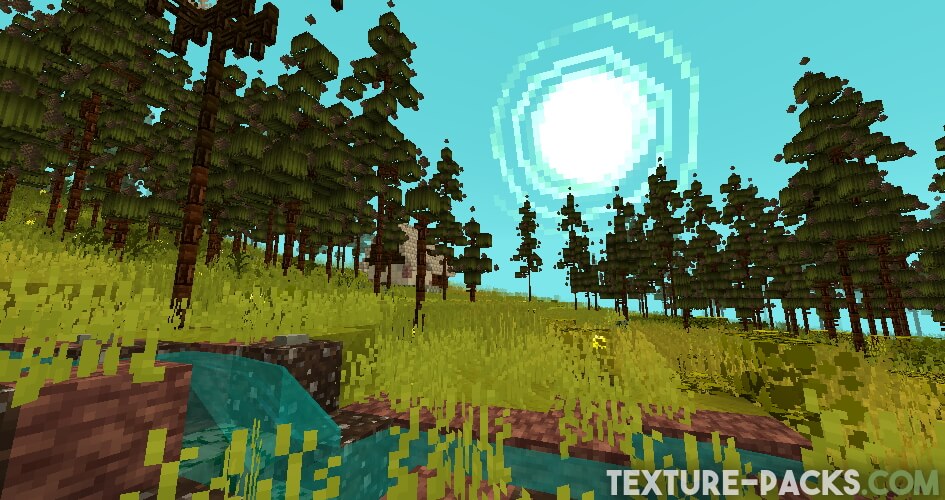 How to download and install Jolicraft Texture Pack
I recommend that you read through my review before you start downloading and installing Jolicraft. Now we teach you how to install Java texture packs.
Install OptiFine if you want to use the pack with all features.
Click on the texture pack download link that is compatible with your game version and Minecraft edition.
Launch Minecraft.
Click on "Options" in the main menu.
In the options menu, go to the submenu "Resource Packs".
Click on "Open Pack Folder" at the bottom left.
Move the downloaded ZIP file into your resourcepacks folder.
You will see the pack on the left half of the resource pack screen. If it is not displayed in Minecraft, you need to unzip the file.
Move the cursor to the pack logo and click the arrow pointing to the right.
Click on "Done".
How to install Jolicraft for Bedrock?
As a gamer of the Minecraft Bedrock version, this will probably be the most important question for you. On the positive side, the installation is very easy and you'll have completed it quickly. However, you must purchase Jolicraft MCPE from the Minecraft PE Marketplace. But this is completely legitimate because it takes a really long time to get such a great 16x texture pack up and running.
Launch Minecraft Bedrock.
Go to Minecraft Marketplace and search for "Jolicraft"
Purchase the Texture Pack
Activate the Jolicraft in the options under "Resource Packs"
If you have problems, you can alternatively use our Jolicraft Download Link which will take you directly to the right page.
Jolicraft FAQ
🌭 Why is Jolicraft in a 16×16 resolution and not in 32x, 64x or 128x?
The creator simply likes Minecraft in a 16×16 resolution more. According to him, it is the perfect resolution and feels just right. As an example, he mentions that he doesn't drink wine and eat hot dogs at the same time. But now he has released Jolicraft HD, which is more high-resolution.
🎮 How to get a Jolicraft Bedrock version?
You're lucky because there's a Jolicraft Bedrock version available. For example, the pack is for Xbox One, Android, PS4, and iOS, but also for all other operating systems.
Blocks

Items

Shader compatibility
Summary
Jolicraft texture pack is a cute resource pack for all Minecraft editions. We also offer you an additional download for MCPE, Minecraft PE & Bedrock.