ADVERTISEMENT
Already in 2011, the BlockPixel texture pack for Minecraft has been released. Back then the creator played Minecraft for the first time and he didn't like the square blocks. So he decided to create his own textures to make the environment look nicer.
Although he's been working on it for years, it's not that long ago that the worldwide Minecraft community heard about it. This is mainly because he is Chinese and has previously made BlockPixel available only in his country.
As a result, most people have seen his texture pack when it already contained all the important textures due to years of development. For you, this means that you won't notice any missing blocks or items when you play with a version that is compatible.
Furthermore, the textures remind you of graphics from old games, because the design is very simple. Thanks to the simple graphics, the included cartoon style also fits perfectly. Matching this is the color palette, which is very bright and colorful. As a result, the BlockPixel texture pack brings a breath of fresh air into Minecraft and has a calming effect at the same time, because the creatures look so cute.
Additionally, you can see 3D textures in some places in your world. However, this is limited to rails and plants only, because even more realistic textures would not fit into the pack. If you like that, you should have a look at the free Default 3D pack.
By the way, it doesn't matter if you use a powerful or a weak device for gaming, because due to the 16x resolution no operating system in the world will have a problem with BlockPixel.
BlockPixel is compatible with these Minecraft versions: 1.19.3 – 1.19.2 – 1.19.1 – 1.19 – 1.18.2 – 1.18.1 – 1.18 – 1.17.1 – 1.17 – 1.16.5 – 1.16 – 1.15.2 – 1.15 – 1.14.4 – 1.14 – 1.13.2 – 1.13 – 1.12.2 – 1.12 – 1.8.9 – 1.8
Screenshots & Video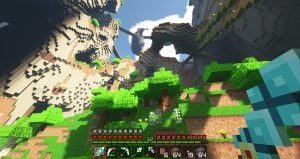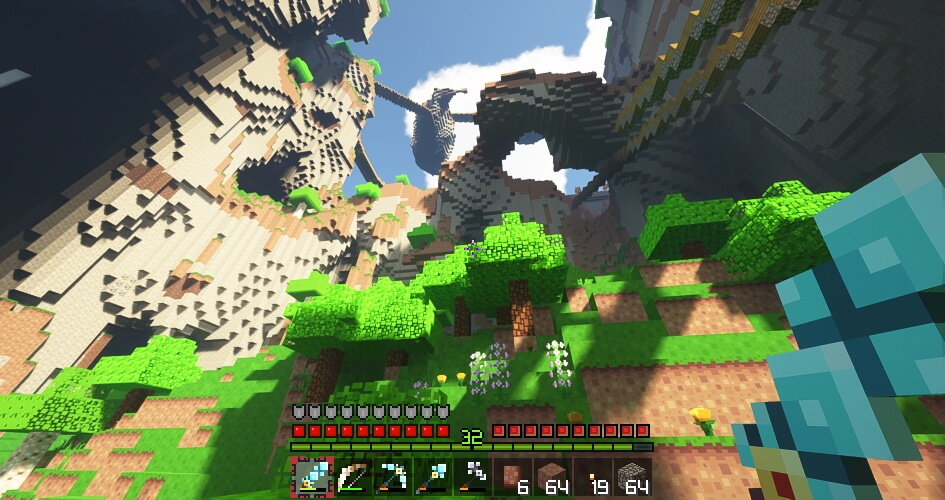 The screenshots show you what to expect. As you can see, your game world will look completely different and you will have a new way to experience the gameplay. To enhance the landscape we used the SEUS Shader which is responsible for the beautiful shadows.
How to install BlockPixel Texture Pack
Minecraft Bedrock Edition: Decide whether you want to play the free beta version or the full BlockPixel texture pack in the Bedrock Edition.
However, the beta file is for MCPE players only and can be imported into Minecraft PE with just one click. Logically not all textures are included because it is only a test version.
In contrast, you only get the complete package if you pay for it in the official marketplace.
Minecraft Java Edition: First you should install Optifine to have access to the following features: connected textures, random textures, dynamic textures, and much more. Then you can continue with the following steps.
Click on the BlockPixel texture pack download link further down.
Once the .zip file is downloaded, start the Minecraft Launcher.
Then select the version that is compatible with the pack in your profile.
Click on Play and wait briefly until the main menu is loaded.
In the main menu click on Options and then on Resource Packs.
Select the downloaded .zip file and move the pack into the Minecraft window.
Now the game asks you if you want to import BlockPixel. Answer yes to complete the installation.
You may get a message that the pack is not compatible with this Minecraft version. Ignore this message and continue, as no problems will occur.
BlockPixel Texture Pack Download
| | | | |
| --- | --- | --- | --- |
| Progress: | Resolution: | Operating systems: | File size: |
| 100% complete | 16x | Windows, Android, iOS, macOS, Linux | 10.16 MB |
Items

Blocks

Mobs

Creativity
Summary
BlockPixel is a Pixel texture pack, which was created with a lot of love. All textures have the purpose to create a wonderful pixel world, which is mainly dominated by squares.