You can customize your Minecraft world down to the smallest detail. We will explain in this article how you get round trees in Minecraft. You will need the Round Trees texture pack for Minecraft. As a result, all tree logs will look more realistic. The special thing is that the textures match Minecraft Vanilla perfectly because only the tree shapes are changed. Also, the resolution is only 16×16. This means that the gameplay is changed only minimally, which is why the project can also be called a Round Trees add-on. Therefore, you can use the pack together with another texture pack. According to the creator, no lags or bugs have been found. We have checked this in our tests and can agree with the developer. More important facts are listed in the next text sections. You can either read our detailed description or scroll down to the free download links. It's up to you.
As you already know, Motschen's pack makes every Minecraft tree round. However, the blocks are not completely round, if we are honest. A properly round tree trunk would be more useful, but the pack at least comes close to perfection. Other gamers have a similar opinion because the resource pack has already been downloaded over one million times.
Furthermore, we strongly recommend downloading the Better Leaves texture pack. It changes the foliage in Minecraft by adding new 3D textures. If you combine it with the Round Trees resource pack, you'll be impressed. Both packs are the best way to make a Minecraft tree more beautiful. It seems that the creator likes forests because both projects are made by Motschen. By the way, he is from Germany and lives in Saxony. He calls himself a Minecraft modder and is a known name in the Minecraft community for years.
Round Trees and Mods
Another important point is that you do not need to install a mod to get round trees in Minecraft. Motschen, the creator of the pack, has only changed the block states (block properties) and models to make the blocks three-dimensional. Motschen knows a lot about complex Minecraft data, so we have to thank him for his great work. We explain all this to you so that you understand why no additional mod is needed. Everything works with this 3D tree texture pack, so the installation is very easy. If you still need help, read our installation and download guide further below.
But maybe you like to play with Minecraft mods. If this is the case, the previous paragraph is not relevant for you because for players like you exists a Round Trees mod for Fabric. However, it is not updated so frequently as the Round Trees texture pack. By the way, you can play the Round Trees texture pack together with these popular modpacks: Architect's Palette, Bewitchment, Biomes o' Plenty, Blockus, Oh The Biomes You'll Go, Biome Makeover, Crimson, Croptopia, JavaDungeons, Mubble, New Lands, Ore Tree:Reborn, Lint, Luminiferous Uplands, Quek's End, Sakura Rosea, The Aether (Fabric), TechReborn, Terrestria, Traverse, Tree Hollows, WildExplorer, WildNature, and Woods and Mires. This list is incredibly long, and it certainly took a long time to make the textures compatible with all these modpacks. The outcome is that vanilla players and modders are happy.
All round trees
The following list contains all types of trees that are enhanced by the Better Round Trees texture pack.
Oak trees
Spruce trees
Birch trees
Jungle trees
Acacia trees
Dark oak trees
Azalea trees
Mangrove trees
Huge fungus (crimson and warped fungus)
Huge mushroom
Dying trees
Fallen trees
Disadvantages
Finally, it is necessary to list a few disadvantages. You must be aware that really only the Minecraft log shape is 3D. Because of this, we advise you to download another texture pack so that your entire Minecraft environment looks better. Moreover, the colors have not been tweaked. Each tree keeps its default color. Also, the Round Trees textures do not change the world generation in Minecraft. For example, your game world won't be extended with new types of trees or huge trees. Another disadvantage is that the leaves don't move. While it should be obvious that texture packs don't have this feature, some players still ask for it. Only shaders have a wind in Minecraft that adds waving leaves.
Realistico is compatible with these Minecraft versions: 1.20 – 1.19.4 – 1.19.3 – 1.19.2 – 1.19.1 – 1.19 – 1.18.2 – 1.18 – 1.17.1 – 1.17 – 1.16.5 – 1.16 – 1.15.2 – 1.15 – 1.14.4 – 1.14 – 1.13.2 – 1.13 – 1.12.2 – 1.12 – 1.11.2 – 1.11 – 1.10.2 – 1.10 – 1.9.4 – 1.9 – 1.8.9 – 1.8
---
Blocks
Mod Support
Environment
Terrain
Video
&

Screenshots

ADVERTISEMENT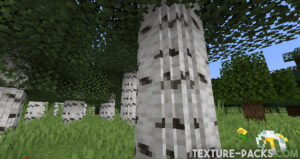 The screenshots show you the new design. It is inconspicuous, yet brilliant. Another thing that the pack optimizes are buildings. For example, wooden logs look realistic when you use them in your Minecraft houses. All in all, you'll be able to experience at least some of the Minecraft blocks in 3D. If you like this style, then you'll love the Classic 3D texture pack. Classic 3D is more complete, but requires high-end computers with more CPU power. Whereas you can play the Round Trees texture pack on any device. You will get the same result as in the screenshots even with old notebooks.
Comparison
Use our comparison tool to compare the Minecraft default pack with Round Trees.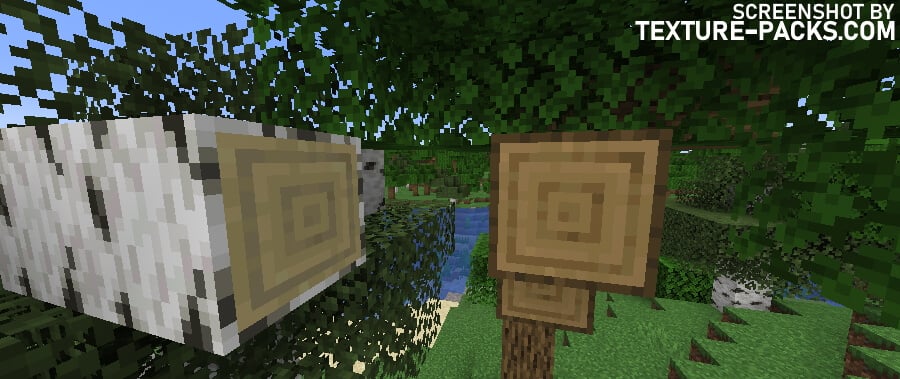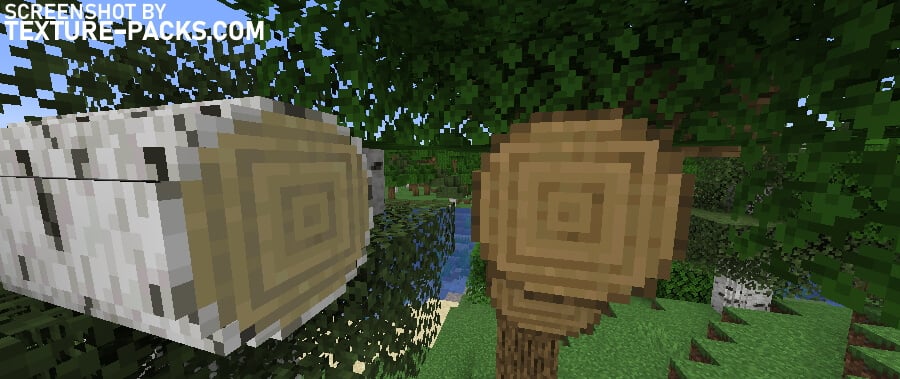 How to install the Round Trees Texture Pack
Download and install OptiFine.
Click on the Round Trees texture pack download link that is compatible with your game version and Minecraft edition.
Launch Minecraft.
Click on "Options" in the main menu.
In the options menu, go to the submenu "Resource Packs".
Click on "Open Pack Folder" at the bottom left.
Move the downloaded ZIP file into your resourcepacks folder.
You will see the pack on the left half of the resource pack screen. If it is not displayed in Minecraft, you need to unzip the file.
Move the cursor to the pack logo and click the arrow pointing to the right. Just make sure you put Round Trees on top of every other pack.
Click on "Done".
The game may tell you during the installation that the pack was made for a newer or older Minecraft version. This is an error and you can still activate the pack.
Round Trees Texture Pack Download
ADVERTISEMENT