548K Downloads | Resolution: 16x16 | by Ewan Howell
Which texture pack does PewDiePie use? This is a question that many gamers have been asking themselves lately, because the likeable Swede has started uploading Minecraft videos to YouTube again.It's certainly thanks to him that the game is being played by more people again, because his reach on the Internet is enormous. Now there is the PewDiePie texture pack for Minecraft, which officially has the title "The PewDiePack".
Of course, this pack has been perfectly customized for him and his fans. We recommend you to walk attentively through your world, because some funny insiders are included. Probably you will spot them only if you are a regular PewDiePie viewer.
Originally, Reddit user "ewanhowell5195", who also created F4thful and F8thful, started the project. The first thing he did was create the PewDiePack subreddit. This allows everyone to help with the new textures. So far there have been over 15 major updates.
In an episode of LWIAY on YouTube, Felix Kjellberg responded to the texture pack and asked the creators to give the cats and wolves armor. Promptly, these new armor textures were added to the PewDiePie texture pack. Although a download is possible for Bedrock and Java, the armors are unfortunately only visible in Minecraft Java.
The pack was also used by PewDiePie in the Jack Black Charity Livestream. Occasionally, the textures still appear in YouTube videos.
PewDiePack features
Let's start with the title screen that you always see when you start the game. Normally, the background is a panoramic image of the latest update. Instead of that, you'll now see a screenshot of Felix's base. In addition, there is a new logo with the words "Minecraft – Joergen Edition". Below that you'll find new yellow splash texts, such as "PewDieCraft".
Normally, credits with an epilogue by Julian Gough appear at the end of Minecraft. This text has been modified to better fit PewDiePie. You must first defeat the Ender dragon in the End so you can read this epilogue.
At the end of the day, sometimes you want to go to bed in Minecraft. But watch out! The beds look different in this texture pack, as you can see on the screenshot. There is also a change in the GUI for PvP fans. The hunger shows watermelons and the XP-bar is striped in blue and yellow.
In addition, there are even more features:
Discs play new music
Zombies have Sven logo on their backs
Creeper and banner are in PewDiePie wave style
All paintings in Minecraft have been replaced with fanarts
Potions are replaced by G-Fuel
Barrel becomes "evil" and an iron golem becomes a stone golem
However, you should know that most of the blocks do not get a re-design. Nevertheless, there are some new features, as you have already read.
The PewDiePack is compatible with these Minecraft versions: 1.16.5 – 1.16 – 1.15.2 – 1.15 – 1.14.4 – 1.14
Screenshots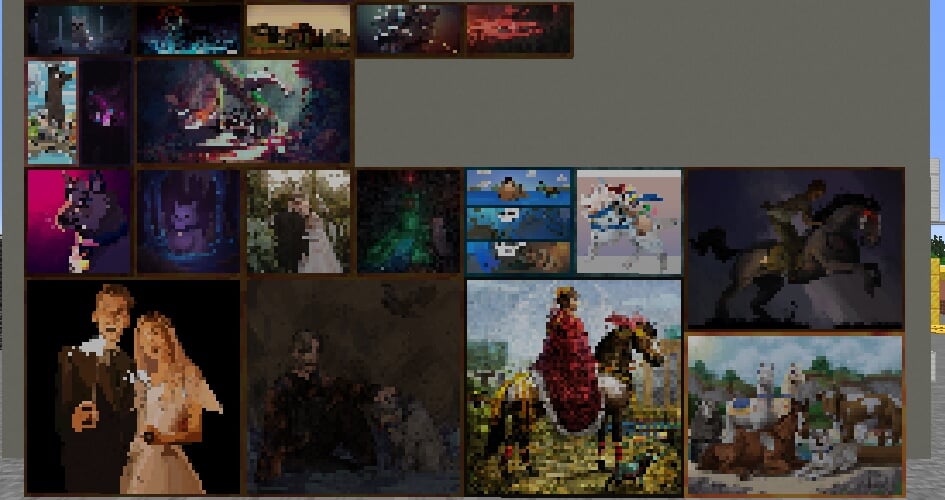 How to download and install PewDiePie Texture Pack
Due to its great success, a Bedrock port is also available. All Minecraft PE/MCPE players can download this pack. With just one click starts the download and you don't have to watch any ads. Then move the pack to your resource packs folder and activate it in the menu under global resources.
Furthermore, the PewDiePie texture pack is also available for Java Edition. We recommend you to read the installation tutorial to the end, because a few additional steps are required.
1. This pack works on PC only with Optifine. Accordingly, you must click on the link and download Optifine.
2. Then click on the PewDiePie texture pack download button on this page. You can also select a remastered version. All files are hosted on Curseforge, so you don't have to worry about viruses.
3. Start Minecraft and click on options in the menu, then navigate to resource packs and in the next window open the resource packs folder.
4. Move the PewDiePack archive to this folder. Now you can click on the X and return to Minecraft. All textures will be reloaded when you return to the main menu.
✔️ None of the files are hosted on our server. All direct download links on our website are provided by the authors. The packs are free of viruses. Therefore, they are completely safe and secure.
✔️ Please share this post on social media.
✔️ Are there any thoughts you'd like to share? Please write a comment and rate the pack to help the authors.
---
👨‍💻 Ewan Howell is the author of the PewDiePack. Rate this pack:
Blocks

Items

Mobs

Creativity
Summary
In our opinion, the many small details make the PewDiePie texture pack so great. It's from fans for fans.