ADVERTISEMENT
Brixel texture pack is the best thing that could happen to Minecraft and LEGO® fans. The blocks in the game are modified to look like real LEGO® bricks. Accordingly, it will be like a trip back to your childhood, when you built the coolest LEGO® sets in your nursery. Unfortunately, LEGO's attempts to publish their own video game were not crowned with success, so you should really appreciate this crossover.
The creator Sebastian, who is known on the internet under the pseudonym Wabbabrick, will surely have needed several hours to create all the textures. In the meantime, even a whole team has been created. The goal in their work is always to make the Minecraft blocks look like the real LEGO®. The team itself calls them all Brixel because it is a cube built of many small 3D elements. Especially the level of detail is outstanding because there are different layers on each block, so they get depth and relief texture. By the way, all textures are completely self-made and of course not automatically created by a computer program. But that would actually be pretty cool because it would save quite a bit of time.
Furthermore, there is a sound pack in the Brixel texture pack. However, it is limited only to the most important and does not have many different sounds. You hear them when you interact with the blocks. This mostly happens when you place or destroy them. There is currently a new update about once a month. Therefore, the texture pack will definitely contain more blocks, items, and sounds in the future.
Performance settings
You should also note that the pack is FPS optimized. Nevertheless, lags can occur with a bad setup and wrong performance settings because the resolution is above average. If shaders are also used, most graphics cards are finished. The main developer plays with a laptop with i7-9750H and GTX 1660 Ti. According to his own statement, he gets 40 FPS with SEUS PTGI and 70 FPS with BSL with this hardware. You can theoretically also combine another shader with BSL that does not have ray tracing. The result is that you will get more FPS with the Brixel texture pack in Minecraft. We advise you to use this option.
You should check in the options if "parallax occlusion mapping" and "advanced textures" are enabled for BSL. The value for "parallax resolution" must match the pack resolution when using SEUS and anisotropic filtering must be enabled. There are more tips for the best settings to fix performance problems with the Brixel texture pack:
Reduce render distance in-game (options -> video settings)
Allocate more RAM to Minecraft
Set maximum frame rate to unlimited in Minecraft (options -> video settings)
Use a lower resolution of the resource pack
This site is not associated with LEGO®. We did not create the pack and respect the copyright of the company.
Brixel is compatible with these Minecraft versions: 1.19.3 – 1.19.2 – 1.19.1 – 1.19 – 1.18.2 – 1.18.1 – 1.18 – 1.17.1 – 1.17 – 1.16.5 – 1.16
Screenshots & Video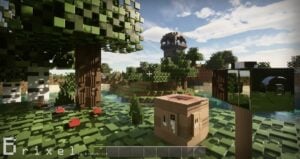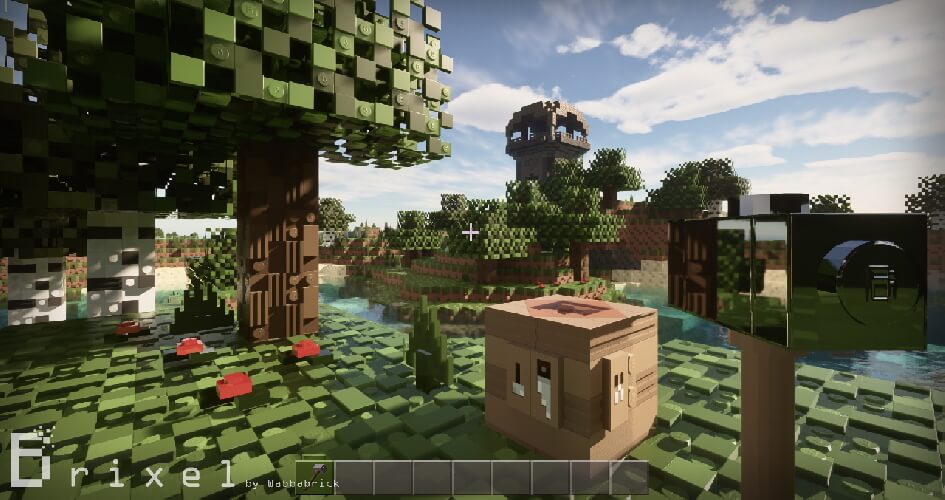 The 512x resolution is used in videos and screenshots. However, it is important to mention that the Brixel texture pack is only free as a trial version. So unfortunately you have to pay if you want to play with all resolutions and textures. We strongly advise against using a cracked version, as it is illegal and does not support the development team in any way. We recommend the MineBricks texture pack as an alternative, which can be downloaded as a full version for free. Both Lego® resource packs are quite similar in comparison and are in no way inferior to each other.
How to download and install Brixel Texture Pack
1. The first step is to decide whether you want to get Brixel for free or buy it on Patreon. Then you continue with one of the two options:
a) A new free trial version is released regularly on Curseforge and PlanetMinecraft. You can get this version with just one click on the download link.
b) There are also regular updates on the official Patreon, which are much more extensive. First of all, you need to sign up for a paid subscription to get complete access to all posts. Go to the latest post and download all files you need.
2. The steps are exactly the same from now on. Go to the Minecraft website and install the game. You must have launched it at least once to have all the file paths that will be needed throughout this tutorial.
3. Now download the latest version of Optifine. Optifine is required so that you can play with all the features.
4. You have the choice between using the BSL shader or the SEUS PTGI shader. A shader pack is required because it shows the normal blocks in 3D. Parallax mapping is used for this because no PC would be able to deal with the textures.
5. Open the Brixel ZIP folder that you downloaded in the first step. You will find a file called "Brixel 1024x PTGI – place this and run in your .minecraft folder.exe". A similar name is quite possible if you have chosen a different resolution or version.
6. Move the EXE file to your Minecraft folder. You can get there as follows: "C:\User\AppData\Roaming.minecraft". Now double-click the file to install the Brixel texture pack. A window will open asking if you want to overwrite existing files. Here you select "Yes to all". This will overwrite your personal Optifine and shader settings to ensure that Brixel can run properly.
7. Go to the options and then to the resource packs. Select the resolution you have installed.
Most likely you did something wrong during the installation if the pack is not displayed. Just try again and pay attention to every detail of this tutorial.
Brixel Texture Pack Download
Brixel for the Minecraft Java Edition requires OptiFine and BSL Shaders. It will not work without them. Please read the installation guide further above.
| | | | |
| --- | --- | --- | --- |
| Progress: | Resolutions: | Operating systems: | File size: |
| 90% complete | 512x, 256x, 128x, 64x | Windows, Android, iOS, macOS, Linux | 17.72 MB |
FAQ
Will there be a Brixel version for Minecraft Bedrock Edition?
There will probably be a version for Bedrock in the future. The prerequisite for this is that the Patreon project continues to be successful.
Why are there two versions of Brixel?
Each version supports a different shader. SEUS PTGI and BSL shaders are built differently, so the textures are tweaked for each pack version. The SEUS version is more resource-demanding for the PC, while the BSL version is more performance-friendly. Both shaders are available for free to download.
I'm having performance issues, what can I do?
Texturing more blocks involves that so-called "texture atlas" that Minecraft uses for loading textures to go to a higher resolution. This results in some FPS drop, which may be noticeable with the 1024x versions. This is pretty much standard and unavoidable for all resource packs, but the Wannabrick team will be working on a solution that will make Brixel run smoother.
Creativity

Popularity

Shader compatibility
Summary
Brixel originally became popular through Reddit and YouTube. The pack has also been mentioned on many well-known gaming websites, which has increased its popularity even more.