---
Minecraft versions: 1.19.1 – 1.19 – 1.18.2 – 1.18.1 – 1.18 – 1.17.1 – 1.17 – 1.16.5 – 1.16 – 1.15.2 – 1.15 – 1.14.4 – 1.14 – 1.13.2 – 1.13 – 1.12.2 – 1.12 – 1.11.2 – 1.11 – 1.10.2 – 1.10 – 1.9.4 – 1.9 – 1.8.9 – 1.8
Available for Java, Bedrock and MCPE
---
As a Minecraft player, you'll always see the main menu at the start of the game, and that's where our review today starts for you. Usually the layout is in a slightly lighter grey and gives you the typical Minecraft feeling. This is where the new Minecraft Dark Mode Texture Pack changes the look. It is a darker alternative to the standard vanilla interface. For example, when you start a single player adventure, your GUI and inventory will change to a darker look.
In addition, hearts, the hunger bar and the entire HUD (head-up display) are in the Minecraft Dark Mode theme. And the cool thing is that you don't need a Dark Mod for this, just our Darkmode Texture Pack. Once you activate our pack, you'll find a change the next time you start the game, because the Dark Pack is also visible in the loading screen.
Minecraft Bedrock Dark Mode
Of course we also offer a Minecraft Bedrock Dark Mode version. As a result, the dark mode is completely available in Minecraft PE and is at least as good as the Java version. Among other things the UI is darkened and protects your eyes. In our tests the Texture Pack worked very well for iPhone (iOS), Samsung (Android) and PC (Windows 10). For sure it will also work with the installation if you use another operating system.
However, the Texture Pack is more of an add-on to your gaming experience, as it does not add new textures for blocks or items. Therefore, we recommend that you install another Minecraft Texture Pack to ensure the best possible gaming experience. Basically, we have released our Dark Mode for the newest version, but you can also use the pack in all other available game versions without any problems.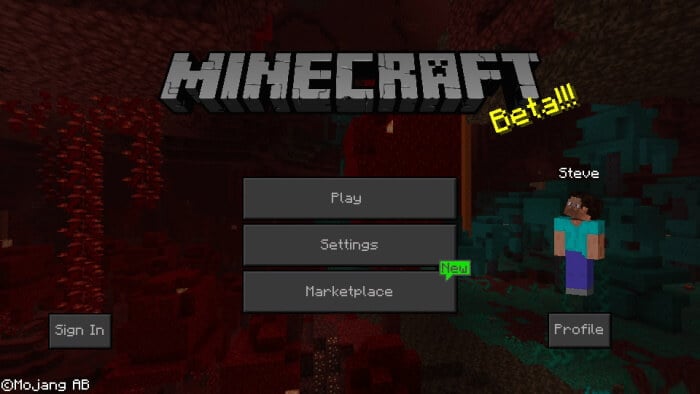 Dark Mode Texture Pack Download
In the Minecraft Mod OptiFine there are some additional settings concerning the lighting. Accordingly, we recommend that you install this modification for Minecraft Java.
First you click on the Dark Mode Download and wait a short time until the file is downloaded. Then start Minecraft and click on "Options" in the main menu and then on "Resource Packs". Finally, open your Texture Pack folder in the lower left corner and drag and drop the Minecraft Dark Mode file into it. Either restart Minecraft to see the new texture pack in your list or go back to the main menu and then back to your packs. Whichever way you choose, the installation is now complete. Feel free to let us know if we missed something or you have an error. If you like it, please share it with your gamer friends!
---
Questions and answers about the Minecraft Dark Mode
🖤 How do I activate Minecraft Dark Mode?
First you choose your favorite Minecraft version on our site. Then you can install the Minecraft Dark Mode Texture Pack.
🎮 Is there a Minecraft Dark Mode for Minecraft Bedrock?
We offer you a Minecraft PE Dark Mode and of course also a version for Java.
GUI

Shader compatibility

Loading screen
Summary
The Minecraft Dark Mode Texture Pack darkens your inventory, loading screen, GUI and much more. We recommend its use, as it is extremely eye friendly.
---