If you are a fan of cartoon texture packs, you should take a closer look at the ZigZag texture pack. By the way, a woman is responsible for development. She can be found on the internet under the pseudonym Jamizzle. This fact is especially important to us because mainly male members of the Minecraft community would dare to create their own textures. Her main profession is artist, game developer, and voice actor. So you can already see that she has the perfect qualifications. But why did she create the ZigZag texture pack? That's easy to answer because she is passionate about playing Minecraft in her spare time and wanted to see where she could take it if she used her own style.
Looking back, one can definitely say that she has made it very far with her leisure project. Jamizzle is now an official Minecraft partner and offers ZigZag in the official Minecraft marketplace. A partnership is almost like an accolade from the queen and probably the biggest confirmation that the textures are very well done.
Bedrock Edition vs. Java Edition
For the Bedrock Edition, the ZigZag texture pack is available in a 128x resolution. This resolution is intended for platforms like Windows 10, PS4, Nintendo Switch, and Xbox One. However, some Android and iOS devices have problems processing Full HD textures. As a result, you now have the choice between the resolutions 128×128, 64×64, and 32×32. Thanks to the different versions you will not have any more problems with lags or bugs.
With regard to the Java Edition, the whole thing is different. With a PC you only have the choice between the resolutions 128x and 64x, but that doesn't matter. In general, computers are more powerful and usually have no problems rendering detailed blocks and items. It is also worth mentioning that the ZigZag texture pack is free for this Minecraft Edition.
Cute animals in Minecraft
All in all, after installation you will perceive your environment as much cleaner, clearer, and cuter. Especially the creatures look very cute. As an example, you can mention the cow, which has cute big eyes. At this sight, you will find it hard to kill the cute animals in Minecraft because they all look so nice. Therefore, you should concentrate on farming and leave the other creatures alone.
Not to be forgotten are the outstandingly successful paintings. At this point, you realize that the creator is an artist in real life. Among other things, she has included the painting Mona Lisa by Leonardo da Vinci in her pack. Jamizzle has reworked the painting to make it look like it was taken from a comic strip
Finally, it should be said that the individual elements in the ZigZag texture pack harmonize perfectly with each other. While playing you will never discover an item or block that looks like it does not fit into the environment.
The project is still in the development phase. Therefore you should check here regularly to make sure you don't miss any new updates. All free download links are checked and updated regularly.
ZigZag is compatible with these Minecraft versions: 1.16.5 – 1.16 – 1.15.2 – 1.15 – 1.14.4 – 1.14 – 1.13.2 – 1.13 – 1.12.2 – 1.12 – 1.11.2 – 1.11 – 1.8.9 – 1.8
Screenshots & Video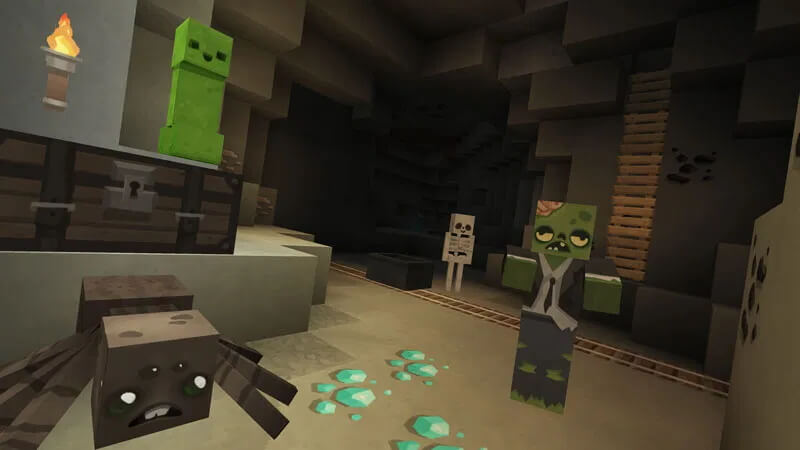 The screenshot gallery shows the animals and paintings mentioned in the previous section. At first sight, you can see some similarities to the classic Sphax PureBDcraft.
How to download and install ZigZag Texture Pack
Minecraft Bedrock Edition:
As mentioned above, you can only install the ZigZag texture pack for the Bedrock Edition via the Minecraft Marketplace. You have to spend real money on it. First, you need to fund your Microsoft account. This will be converted into the in-game currency Minecoin, so you can buy the pack. The current price for ZigZag is 830 Minecoins. In our download area, you will find a link that connects you directly to the Marketplace.
Minecraft Java Edition:
Install Optifine. Your PC will not have any problems with the 128x resolution thanks to this mod.
Click on the ZigZag download link.
The downloaded file is in .zip format and is best suited for the operating systems Windows, MacOS, and Linux.
Start Minecraft and click on "Options" in the menu, then on "Resource Packs" and finally on "Open Packs folder".
Now the folder for texture packs/resource packs opens. Move the downloaded .zip file into this folder.
With these few steps, you should be able to install the pack without any problems. If you get an error message during activation that the pack is not for this game version, you can ignore this message.
Items

Blocks

Mobs

Creativity
Summary
If you are bored with the default default pack, ZigZag is a stylish alternative. Your Minecraft world will get a better resolution and a more colorful look. Also… it is quite cute!