Today, we're thrilled to dive into the world of the CreatorPack texture pack. It's compatible with all platforms. One of the remarkable aspects of the pack is its versatility. No matter what kind of structures you're building, this pack seamlessly adapts to your style. Whether you're constructing a medieval village or a futuristic cityscape, the textures will complement your creations and make them truly stand out in singleplayer and multiplayer. The author CreatorLabs is renowned for his numerous Minecraft creations and enjoys a strong reputation within the community. We can already sense the excitement from this enthusiastic pig, and we hope you're just as eager as we are to explore this incredible pack. So, without further ado, let's take a quick overview.
CreatorPack Textures
At first glance, the CreatorPack texture pack catches your attention with its softened 32x blocks. Let's start with the wood textures. We're quite impressed with how they look. The birch and oak variants stands out, boasting a cool appearance that surpasses the vanilla Minecraft trees. As for fences and wood planks, they retain the familiar colors, so we'll move along quickly.
The doors in this pack are a real treat for the eyes. Our personal favorite is the medieval-inspired one, perfect for adding a touch of history to your builds. But don't just take our word for it. Take a general overview of all the doors and see which one suits your building style. Also, the stairs category offers an extensive selection. They all maintain a consistent appeal, and the stone stairs stand out as a favorite for residential builds.
Take a moment to appreciate the cobblestones, which feature a softer and less harsh surface compared to Minecraft vanilla. It's a subtle yet noticeable change that adds to the overall visual experience. Additionally, some of the animals, such as horses, pigs, and chickens look somewhat similar. Their presence brings a touch of cuteness to your Minecraft world.
Minerals and Raw Metals
Moving on to ore minerals, the CreatorPack texture pack presents a range of new textures for iron, diamond, emerald, gold, and copper. The diamond and emerald textures stand out with their unique flair. In addition, the iron block might appear a bit unconventional due to the stripes on the block. Most of the other minerals look faithful. When it comes to white minerals like quartz, they offer a significant improvement over the regular Minecraft textures. However, the raw metals might not be everyone's cup of tea. They look like resembling potatoes or peculiar beans.
Miscellaneous Items and Terracotta
The CreatorPack for Minecraft also redesign a range of miscellaneous items, such as slime, honey, and prismarine. Moreover, the clay and terracotta textures are a highlight. We particularly love the purple variants, which hold a special place in our hearts. The beautiful colors make them perfect for adding character and charm to your Minecraft houses.
One exciting addition is the glazed terracotta, featuring funky patterns that might seem busy when viewed together. However, when used individually or combined selectively, they can create captivating and unique designs. The stitching pattern along the edges are realistic, making it a perfect choice for creating floors or decorative elements.
If you like this style, also install Depixel, MultiPixel and Steven's Traditional.
Paintings
In addition to its captivating textures, the CreatorPack texture pack goes above and beyond by introducing a collection of beautifully crafted paintings. These paintings add an artistic touch to your Minecraft world, allowing you to showcase renowned masterpieces right within the game.
These Minecraft paintings encompass a wide range of artistic styles and periods, from iconic works like "The Scream" by Edvard Munch to classics like "Mona Lisa" by Leonardo Da Vinci. With the CreatorPack, you can transform your Minecraft home into a gallery of great masterpieces, adding sophistication and cultural richness. Imagine building a grand library with famous paintings adorning the walls, or even designing a gallery to exhibit these virtual masterpieces. The possibilities for creative expression are endless. The new paintings are a testament to the pack's commitment to enhancing every aspect of Minecraft, not just the blocks and items.
CreatorPack Community Add-ons
Animated Buckets: Have you ever found yourself spilling water when carrying a bucket? Well, this add-on brings that experience to the fish, water, lava, and milk buckets in the game.
Better Hoppers: Do you struggle to determine the direction in which a hopper is pointing to transfer its contents? With Better Hoppers, an arrow is added to indicate the direction the hopper is facing. This makes it easy to identify incorrect placements.
Better Observer: The Observer wasn't initially designed with the player in mind. From certain sides, players could only see its actual direction and pulsing status. Better Observers fixes this issue by allowing players to view its direction from any side.
Better Soul Campfire: Isn't it strange that the soul campfire doesn't have a base made of soul sand or soul soil, considering it's crafted from them? This add-on replaces the dark base of the soul campfire with one made of soul sand or soul soil.
Baseless Campfires: When it comes to aesthetics in buildings, campfire bases don't add much beauty. This addon simply removes the base from unlit campfires.
Clear Scaffolding: Scaffolding can be challenging to use due to the obstructive mesh at the top. This add-on removes the mesh, providing a clear view of what lies beneath your feet.
Low Fire: Lowers the fire textures in Minecraft.
Simple Redstone: Choose from three different versions that cater to your specific needs. The double units version includes some "quality of life" improvements, such as displaying power levels parallel to the edges of the Redstone line and showing singular values when a dot is present.
Visual Honey: Interested in checking the honey level of a beehive? This add-on allows you to easily see the honey level.
And that's not all! If you encounter any bugs, have suggestions, or simply want to share screenshots of your stunning creations, write a comment or join the CreatorLabs Discord server. It's the perfect place to connect with other Minecraft fans, get the latest CreatorPack updates, and receive announcements about the project. Don't miss out on this opportunity to be a part of a thriving community of creators.
The CreatorPack is compatible with these Minecraft versions: 1.19.4 – 1.19.3 – 1.19.2 – 1.19.1 – 1.19 – 1.18.2 – 1.18.1 – 1.18 – 1.17.1 – 1.17 – 1.16.5 – 1.16 – 1.15.2 – 1.15 – 1.14.4 – 1.14
---
Art
GUI
Particles
Armor
Font
Mobs
Terrain
Video
&

Screenshots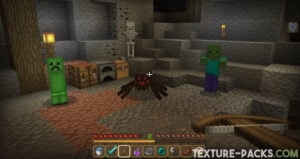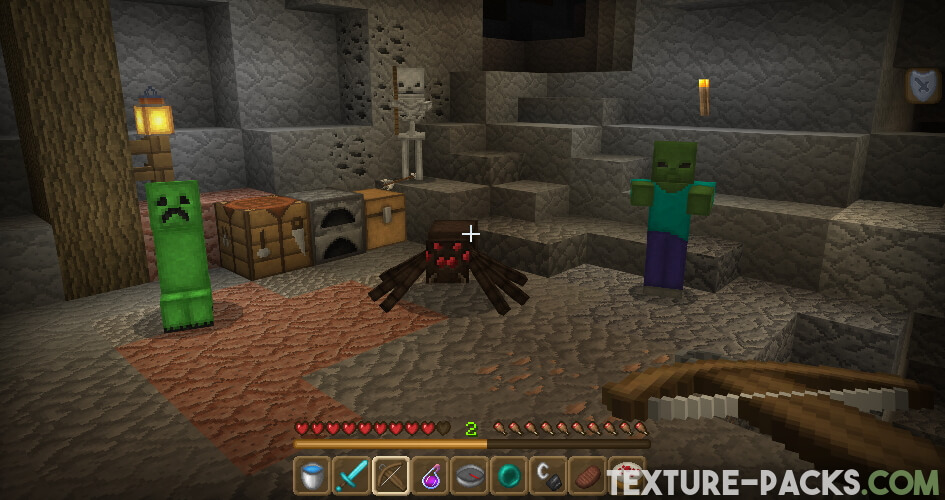 Comparison
Use our comparison tool to compare the Minecraft default pack with CreatorPack.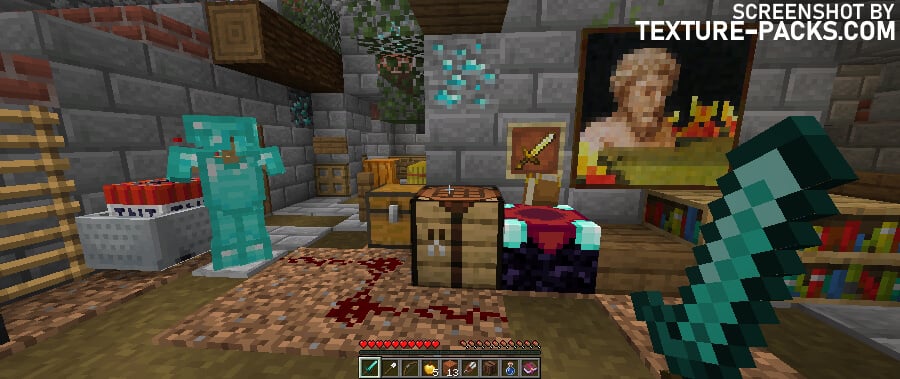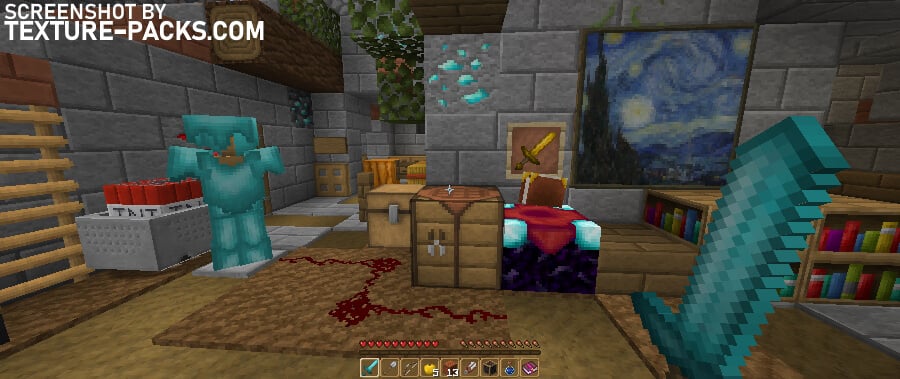 How to install the CreatorPack Texture Pack
Download and install OptiFine.
Click on the CreatorPack texture pack download link that is compatible with your game version and Minecraft edition.
Launch Minecraft.
Click on "Options" in the main menu.
In the options menu, go to the submenu "Resource Packs".
Click on "Open Pack Folder" at the bottom left.
Move the downloaded ZIP file into your resourcepacks folder.
You will see the pack on the left half of the resource pack screen. If it is not displayed in Minecraft, you need to unzip the file.
Move the cursor to the pack logo and click the arrow pointing to the right.
Click on "Done".
The game may tell you during the installation that the pack was made for a newer or older Minecraft version. This is an error and you can still activate the pack.
CreatorPack Texture Pack Download
Blocks

Details

Items

Shader compatibility