ADVERTISEMENT
Almost every theme has a suitable Minecraft mod, and this is certainly true for the Conquest texture pack, which is ideal for a medieval map. The pack is closely related to the original John Smith pack, as its textures were initially based on it. However, the creator Monsterfish has since replaced and developed many textures, making them unique. In fact, the pack is so well-regarded that many creators of medieval maps recommend it due to its perfect fit for the theme. You will undoubtedly notice quickly the high quality of the blocks and items included in the pack.
However, that's not the only benefit as even fans of realism won't be disappointed. Despite having a resolution of only 32×32 pixels, the Conquest texture pack delivers a realistic look. Additionally, there is a 3D add-on available for 1.9 and older versions, which adds 3D blocks. Moreover, some mods are supported, such as TooManyItems, Better Foliage, Balcons Weaponsmod, and a few others, although they are not particularly noteworthy.
The project has been created with builders in mind. It includes a selection of blocks and items made by builders for builders, catering to techniques that are crucial for experienced builders. This means that players who are serious about building maps will find the pack to be a valuable addition to their toolset.
Maybe the resolution is too low or something else bothers you. That's not a problem, because MeineKraft and Winthor Medieval are very good alternatives, because they focus on the Middle Ages as well.
Best Features
One of the standout features of the Conquest texture pack is the sheer number of textures it offers. While many packs offer a few alternative textures for common blocks, Conquest takes things to the next level by offering a wide range of new graphics that can be accessed through the use of double slabs, the petrified slab, and all the technical blocks. This means that players have access to a much wider selection of blocks for their homes, and can create more complex and detailed structures as a result. Additionally, the pack includes a dirt texture for the petrified oak slab, which allows for smoother walking on forest paths and adds an extra level of detail to outdoor builds.
Another key feature allows blocks to seamlessly connect to each other, resulting in a significant visual enhancement that is not present in vanilla Minecraft. We consider the blocks to be one of the selling points of the pack, particularly due to the implementation of connected textures. While connected textures are often used in buildings, they are also frequently encountered in landscapes.
Furthermore, a detailed GUI (graphical user interface) is part of the pack. This makes it easy for players to navigate the various options available and ensures that they can find exactly what they need for their maps. The custom skybox is also a subtle but important detail, adding a realistic sky to Minecraft. Finally, the Conquest resource pack also offers custom mob models and animations, as well as biome-specific textures. This means that there are many blocks added that change their appearance depending on the biome in which they are placed.
In addition, you can rename items and tools in the anvil to get new custom textures. The same goes for custom armor textures and 3D helmets that can be created by renaming the right armor type and carved pumpkin using an anvil. Paintings can also be renamed and then placed in an item frame to display the new paintings. In contrast, custom heads can only be obtained using command blocks. If you want to use these features, you need to check the list of names for custom textures. There you'll also find names for custom shields, elytras, and sounds.
Conquest is compatible with these Minecraft versions: 1.19.4 – 1.19.3 – 1.19.2 – 1.19.1 – 1.19 – 1.18.2 – 1.18.1 – 1.18 – 1.17.1 – 1.17 – 1.16.5 – 1.16 – 1.15.2 – 1.15 – 1.14.4 – 1.14 – 1.13.2 – 1.13 – 1.12.2 – 1.12 – 1.11.2 – 1.11 – 1.10.2 – 1.10 – 1.9.4 – 1.9 – 1.8.9 – 1.8 – 1.7.10 – 1.6.4 – 1.5.2 – 1.3.2 – 1.2.5 – 1.1
---
Font
Audio
Mobs
Particles
Mod Support
Video
&

Screenshots

ADVERTISEMENT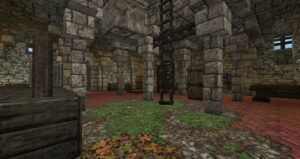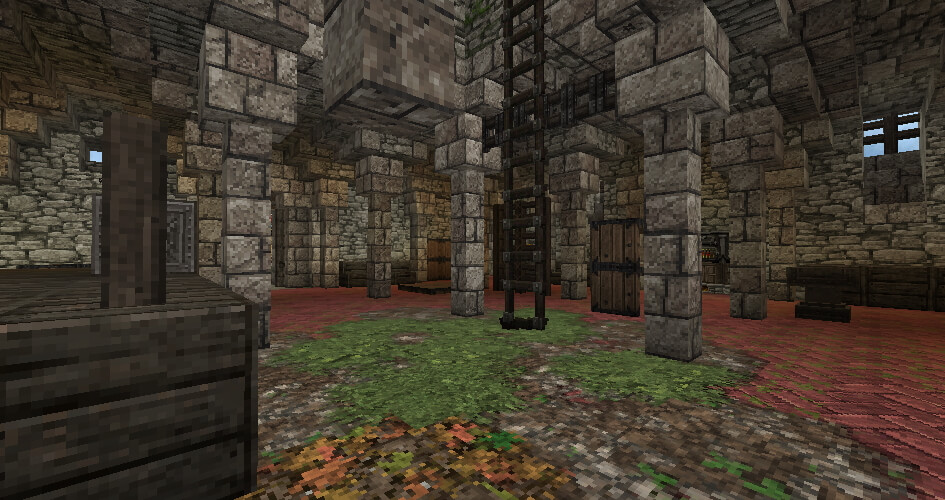 Comparison
Use our comparison tool to compare the Minecraft default pack with Conquest.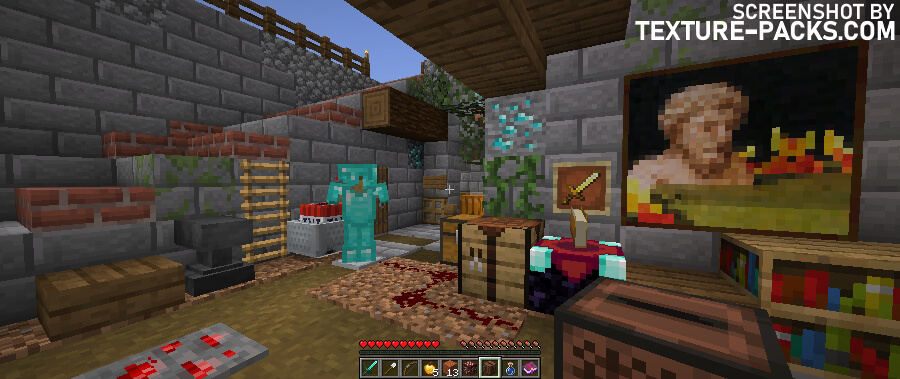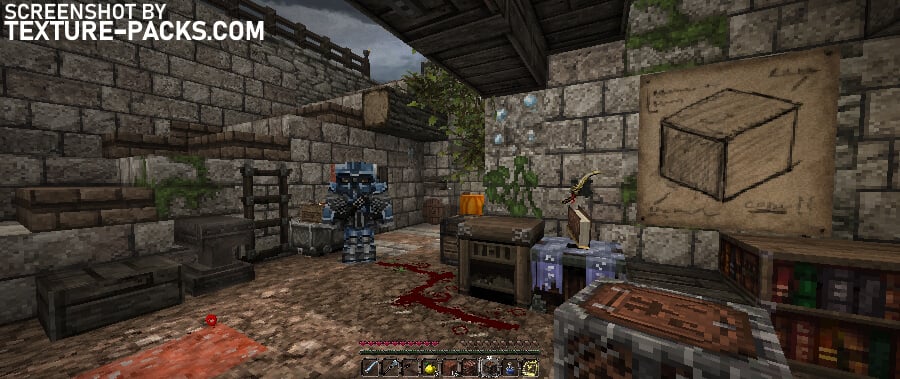 How to install the Conquest Texture Pack
Download and install OptiFine for CTM (connected textures).
Click on the Conquest texture pack download link that is compatible with your game version and Minecraft edition.
Launch Minecraft.
Click on "Options" in the main menu.
In the options menu, go to the submenu "Resource Packs".
Click on "Open Pack Folder" at the bottom left.
Move the downloaded ZIP file into your resourcepacks folder.
You will see the pack on the left half of the resource pack screen. If it is not displayed in Minecraft, you need to unzip the file.
Move the cursor to the pack logo and click the arrow pointing to the right.
Click on "Done".
The game may tell you during the installation that the pack was made for a newer or older Minecraft version. This is an error and you can still activate the pack.
Conquest Texture Pack Download
ADVERTISEMENT
Blocks

Items

RPG textures

Completeness
Summary
We recommend you to use the pack for castles, palaces or other historical buildings. We came to this conclusion because many successful adventure maps have been created with Conquest_ since 2012. For us it is the best medieval texture pack.