For Minecraft players who crave a more classic look, the Winthor Medieval texture pack is a perfect choice. This meticulously crafted pack combines the charm of the Middle Ages with realistic textures that fundamentally transform the appearance of your in-game buildings. With two different versions available, players can choose between the standard pack with a 64×64 resolution or the legacy edition, which is a more lightweight 16×16 resolution option. The normal version is recommended for players with normal to high-performance computers, while the Legacy Edition is ideal for those with low-end PCs. The project aims to bring players into a bygone era of medieval times, immersing them in a world of knights, castles, and rustic villages. The textures are designed to evoke the look and feel of medieval architecture, clothing, and landscapes, creating a visually stunning experience that transports players back in time.
One of the most impressive aspects of the Winthor Medieval texture pack is its completeness. Every single texture has been painstakingly created, and not a single one is missing. This is a testament to the dedication of the creator who has continuously developed the pack over the years. The initial release of the pack was some time ago when the creator was just an avid Minecraft player who enjoyed creating a medieval-themed world. However, they realized that old castles only truly come to life with the right textures, and thus, the Winthor Medieval Texture Pack was born. In the beginning, some textures from MeineKraft were included, but now all third-party textures have been removed, making the pack entirely original.
One of the reasons behind the popularity of the Winthor Medieval resource pack is its compatibility with other popular mods. You can easily combine it with other medieval-themed content, such as castle mods, medieval-themed mods, and medieval maps, to create a fully immersive medieval gameplay experience.
Initially, the pack was only available on Mediafire and Dropbox, but some players had difficulty finding the download button. As a result, the creator decided to publish all files on another file hoster, which not only makes it easier for players to access the pack but also provides an opportunity for the creator to earn money from their project without requiring players to pay anything.
Winthor Medieval is compatible with these Minecraft versions: 1.20.3 – 1.20.2 – 1.20.1 – 1.20 – 1.19.4 – 1.19.3 – 1.19.2 – 1.19.1 – 1.19 – 1.18.2 – 1.18 – 1.17.1 – 1.17 – 1.16.5 – 1.16 – 1.15.2 – 1.15 – 1.14.4 – 1.14 – 1.13.2 – 1.13 – 1.12.2 – 1.12 – 1.11.2 – 1.11 – 1.10.2 – 1.10 – 1.9.4 – 1.9 – 1.8.9 – 1.8 – 1.7.10 – 1.6.2
---
Armor
GUI
Models
Environment
Font
Blocks
Video
&

Screenshots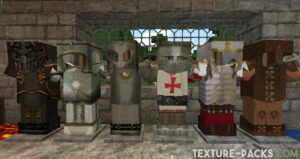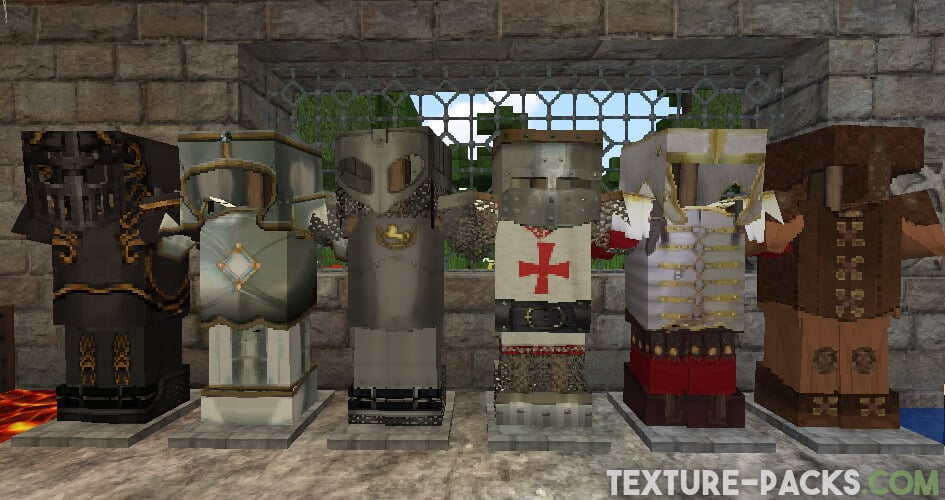 Comparison
Use our comparison tool to compare the Minecraft default pack with Winthor Medieval.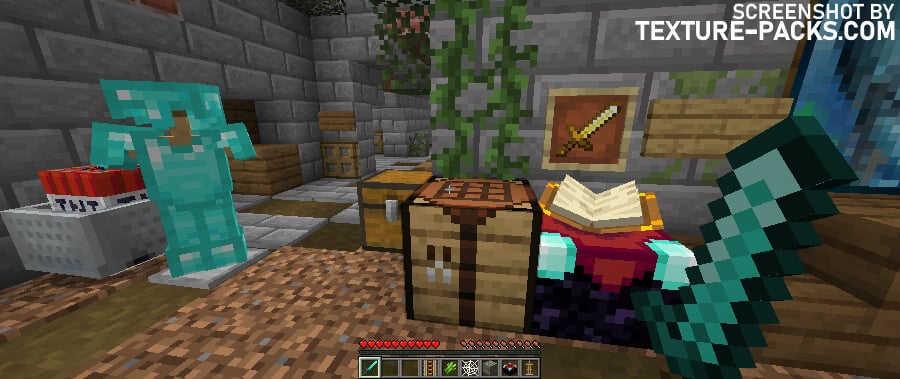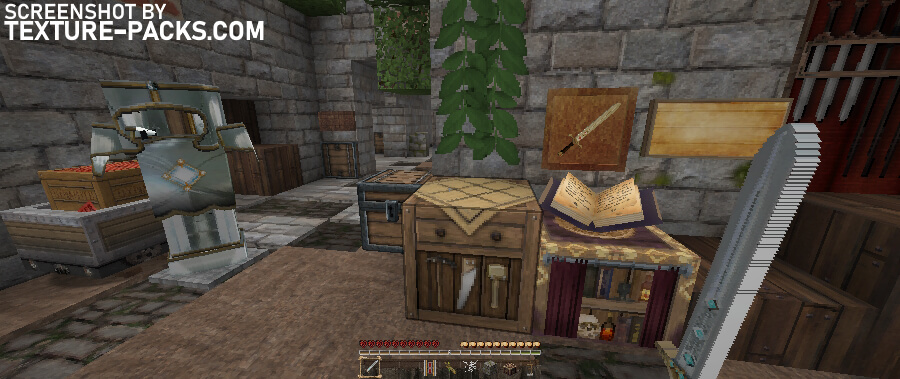 How to install the Winthor Medieval Texture Pack
It is worth mentioning that Winthor Medieval Texture Pack is compatible with Optifine. After installing this mod, all blocks look even better and you hardly notice that you are in Minecraft at the moment. Finally, we always recommend installing OptiFine HD.
Once you have completed this step, you can now continue with the Winthor Medieval download.
You have to choose the version you want and then click on the official link from Qumpel and Studio Winthor. The files are hosted on Dropbox and therefore you will find the download button in the upper right corner.
Now start Minecraft and click on "Options" and "Resource Packs" in the menu. This will list all available Minecraft texture packs that you have already installed.
To add the Winthor Medieval texture pack, open your Resource Pack location in the lower left corner. Copy the file you downloaded earlier into this folder and then activate it in-game. Depending on how powerful your computer is, it may take some time to load the new textures. We wish you a lot of fun!
Do you have problems? Then have a look at the detailed Resource Pack Installation guide.
Winthor Medieval Texture Pack Download
Blocks

Items

Shader compatibility

Sounds