ADVERTISEMENT
Winthor Medieval texture pack is perfect for Minecraft fans who like it a bit more classic. It combines the Middle Ages with realistic textures and fundamentally changes the look of your buildings. There are also two different versions. One is the normal pack with a 64×64 resolution and the other is a Legacy Edition, which is only 16×16. We recommend the normal version to those who use a normal or good computer. The weaker version is mainly suitable for players with low-end PCs.
Finally, everything is one hundred percent complete and not a single texture is missing in Winthor Medieval, which is really impressive. Accordingly, you can only praise the creator for always developing his pack over the years. In fact, the initial release was already some time ago. At that time, the developer was just an avid Minecraft player and had fun creating a medieval world, but old castles only look good when the textures are changed. Therefore, he decided to create the Winthor Medieval texture pack. Every single block and item is time-consuming and that's why in the beginning a few textures from MeineKraft were included. Nowadays all third-party textures have been removed.
In the beginning, the pack was only available on Mediafire and Dropbox, but some players had problems finding the download button. That's why the author decided to publish all files on Curseforge. Besides, it's a good way for the creator to earn money with his project without you having to pay anything.
Winthor Medieval is compatible with these Minecraft versions: 1.19.3 – 1.19.2 – 1.19.1 – 1.19 – 1.18.2 – 1.18.1 – 1.18 – 1.17.1 – 1.17 – 1.16.5 – 1.16 – 1.15.2 – 1.15 – 1.14.4 – 1.14 – 1.13.2 – 1.13 – 1.12.2 – 1.12 – 1.11.2 – 1.11 – 1.10.2 – 1.10 – 1.9.4 – 1.9 – 1.8.9 – 1.8 – 1.7.10 – 1.6.2
Screenshots & Video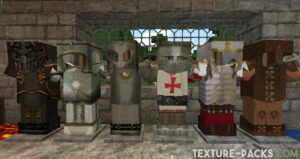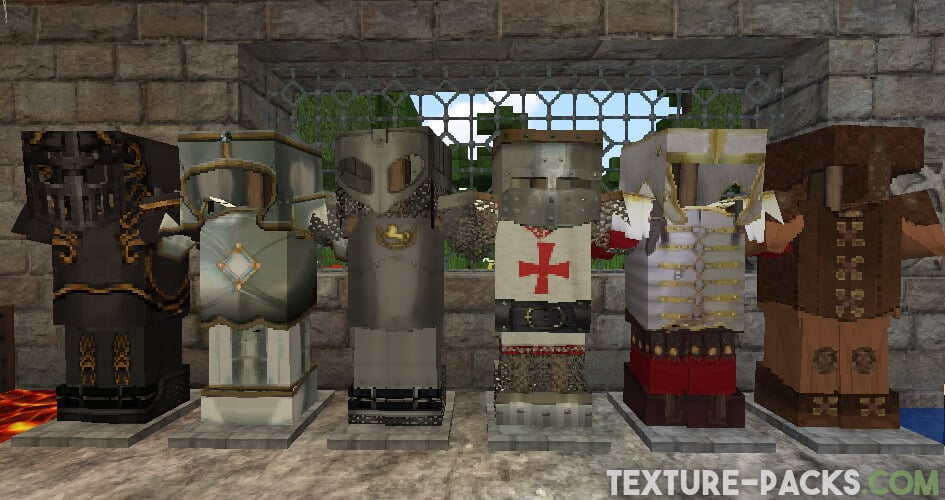 Winthor Medieval Texture Pack Download
It is worth mentioning that Winthor Medieval Texture Pack is compatible with Optifine. After installing this mod, all blocks look even better and you hardly notice that you are in Minecraft at the moment. Finally, we always recommend installing OptiFine HD.
Once you have completed this step, you can now continue with the Winthor Medieval download.
You have to choose the version you want and then click on the official link from Qumpel and Studio Winthor. The files are hosted on Dropbox and therefore you will find the download button in the upper right corner.
Now start Minecraft and click on "Options" and "Resource Packs" in the menu. This will list all available Minecraft texture packs that you have already installed.
To add the Winthor Medieval texture pack, open your Resource Pack location in the lower left corner. Copy the file you downloaded earlier into this folder and then activate it in-game. Depending on how powerful your computer is, it may take some time to load the new textures. We wish you a lot of fun!
Do you have problems? Then have a look at the detailed Resource Pack Installation guide.
| | | | |
| --- | --- | --- | --- |
| Progress: | Resolution: | Operating systems: | File size: |
| 100% complete | 64x, 16x | Windows, Android, iOS, macOS, Linux | 116.93 MB |
Blocks

Items

Shader compatibility

Sounds
Summary
With the Winthor Medieval download you can turn your minecraft world into the Middle Ages. It is a traditional texture pack.