---
Minecraft versions: 1.16.5 – 1.16.4 – 1.16.3 – 1.16.2 – 1.16.1 – 1.16 | 1.15.2 – 1.15 | 1.14.4 – 1.14 | 1.13.2 – 1.13 | 1.12.2 – 1.12 | 1.11.2 – 1.11 | 1.10.2 – 1.10 | 1.9.4 – 1.9 | 1.8.9 – 1.8
Resolutions: 512×512 | 256×256 | 128×128
Author: BDcraft Team


---
For quite some time now the creator is working on an update for the Sphax GrungeBDcraft Texture Pack. It will be based on semi-realistic blocks, but nevertheless there are parallels to the popular cartoon texture pack PureBDcraft from Sphax, which you surely already know. PureBDcraft is a bit simpler and reminds strongly of a comic book. Nevertheless you can regard the GrungeBDcraft Texture Pack as a little brother, which still has to grow and gets better and better with time. The pack is still not complete and the BDcraft team is still working on the Nether Update. We explain how you can still use GrungeBDcraft as Texture Pack.
GrungeBDcraft – Where can I download the pack?
Often players ask themselves where to download Sphax GrungeBDcraft. At the moment the answer is unfortunately still that there is no current version available. As a consequence you can download the Texture Pack for the versions 1.8, 1.7.10 and 1.5.2. Below is a little trick on how to get all the textures for the Minecraft Nether update.
So this Minecraft texture is a real classic and was first released on November 30th, 2013. At that time, all textures were actually 100% complete and we used it in Minecraft for quite some time. Among other things, the high resolution of the textures has remained, which you can download in 128x, 256x and 512x. Not every computer can handle these high resolution textures and therefore you should first test yourself if you have a good computer or a bad computer. For this we recommend that you download each resolution once.
GrungeBDcraft – Screenshots
---
How to download and install Sphax GrungeBDcraft
As already mentioned, the Sphax GrungeBDcraft Texture Pack is not up to date, but we'll tell you a trick how to get all new textures for Minecraft 1.16.5 anyway. First download GrungeBDcraft 1.8 and move it into your Resource Packs folder. If you can't find this folder, please refer to our small installation guide, which we have written especially for you. Now we come to the next step. Next you have to download PureBDcraft and move the file into your Resource Packs directory. Check if both packs are shown in your list and activate them.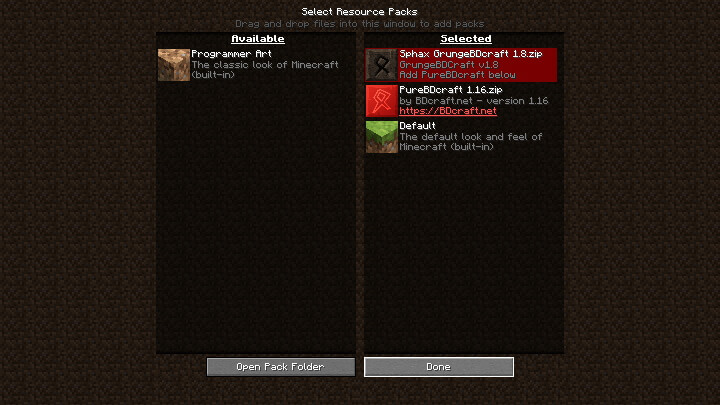 Finally comes the most important point of the whole installation. If you move your mouse pointer over the images of the two packs, you will see arrows. Thanks to these arrows you can choose which texture pack should be shown at the top. The sense of the thing is that GrungeBDcraft has to be on top, because then the game knows that all blocks, items etc. should be loaded from this pack first. Underneath must be PureBDcraft and completes all textures which are not available in GrungeBDcraft 1.8. And that was it. For sure it will have worked for you and you have just created your own Sphax Edit or Remix. Cool, right?
---
🔔 Please note:
We appreciate it if you share this post. Also, you can support the author by checking out the original post.
None of the files are hosted on our server. All direct download links on our website are provided by the authors. The packs are free of viruses.
Minecraft Java Edition Download Link:
GrungeBDcraft
Minecraft PE / Bedrock Edition Download Link:
Marketplace
---
Blocks

Items

Shader compatibility

Sounds
Summary
GrungeBDcraft Texture Pack transforms Minecraft into a realistic adventure.
---