---
Minecraft version: 1.18.2 – 1.18.1 – 1.18 – 1.17.1 – 1.17 – 1.16.5 – 1.16 – 1.15.2 – 1.15 – 1.14.4 – 1.14 – 1.13.2 – 1.13 – 1.12.2 – 1.12 – 1.11.2 – 1.11 – 1.10.2 – 1.10 – 1.9.4 – 1.9 – 1.8.9 – 1.8
Resolution: 512×512 – 256×256 – 128×128 – 64×64 – 32×32
Author: BDcraft Team
---
You like Vanilla and Cartoon Texture Packs? Then you will definitely like the VanillaBDcraft Texture Pack for Minecraft. One of the big differences to other packs is that all popular resolutions are available for you. You are free to choose any pixel resolution from 512x to 16x. Accordingly, you can adapt the pack directly to your operating system. In case you have lags you just have to choose a weaker version. So it doesn't matter if you have a powerful or a weak computer.
By the way, all versions of VanillaBDcraft have something in common, because the textures are always 100% complete. From a simple earth block to Ancient Debris all textures are changed. The addition of the name "Vanilla" lets you guess in which style the blocks and items are. They are very similar to the normal Default, but look much nicer. One of the reasons for this is that the structure and details of the textures have been significantly reworked and now look a bit simpler. The result is a cool Cartoon Texture Pack that you can download for free.
In the end it can be said that this Sphax Texture Pack is basically a better looking version of the original Minecraft. Therefore, the VanillaBDCraft Texture Pack is so similar to the original version that players who have played Minecraft before will have no problem recognizing the different blocks. Although the layout is similar to the original Minecraft, the Resource Pack is designed to improve the appearance of the game. This includes the environment, the blocks used for buildings, the in-game items and the mobs. You will also not notice any crazy color combinations, shading or unusual lighting that makes the Gameplay look unrealistic.
VanillaBDcraft – Screenshots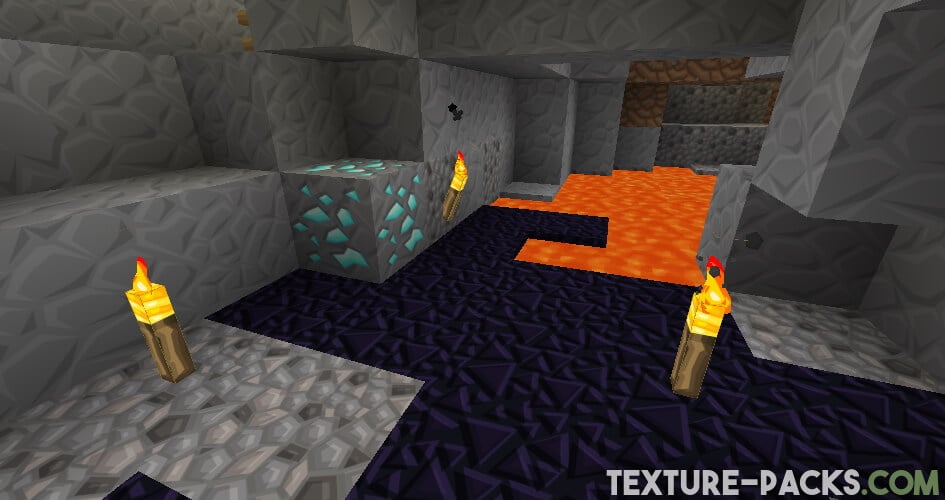 ---
VanillaBDcraft Texture Pack Download
Download and install OptiFine HD for an FPS-Boost and smoother graphics.
Download the VanillaBDcraft Resource Pack.
Launch Minecraft.
Go to "Options" > "Resource Packs" > "Open folder".
Move the Resource Pack into the folder.
Enjoy the new textures and share it with you friends!
You have problems? Then have a look at the detailed Resource Pack Installation guide.
🔔 Please note:
We appreciate it if you share this post.
None of the files are hosted on our server. All direct download links on our website are provided by the authors. The packs are free of viruses.
Minecraft Java Edition Download Links:
VanillaBDcraft
Minecraft PE / Bedrock Edition Download Link:
VanillaBDcraft
---
Blocks

Items

Mobs

PvP-Items
Summary
In our eyes the VanillaBDcraft Texture Pack is a compromise of the well-known PureBDcraft and the standard Vanilla Minecraft. All in all it is strongly oriented on the default textures, but the creators have managed to make sure that everything is still displayed in a cool cartoon style.
---