Minecraft has made a few small changes for the Christmas holidays. The most striking of them is the change of all the chests in your environment. Instead of the standard wooden look, each small and large chest looks like a wrapped gift. The normal chest has the colors red-yellow and the double chest has the color combination green-white-red. This Easter egg is existing since 2012 and is repeated every year at Xmas. Maybe this is not enough for you to have a Christmas mood while playing. That's why we present you the fantastic Sphax Xmas BDcraft texture pack today.
As you already know it from PureBDcraft, VanillaBDcraft, and GrungeBDcraft there are again some cartoon textures included. But you will notice the differences immediately. First of all, you can see the earth blocks, which are covered with snow when you open your world.
Then you should look up in a snowy biome because there you see something new. Spruce trees are decorated with garlands and turn into oversized Christmas trees.
You should spend a night outside to see the new graphics of the hostile mobs. For example, the creeper has a Santa hat on, which looks really cool. Even passive mobs, such as a pig, wear a red winter hat.
With regard to PvP, there are some changes. Most important is the gold sword, which looks like a candy cane. The other blades look like in PureBDcraft.
Furthermore, the leather armor looks extraordinary. This armor reminds strongly of the real clothing of the Inuit. Although the netherite armor is much better, you might want to test the leather armor in single-player mode.
At this point, we give you a tip on how to make your houses look better. Your roofs, in fact. The Xmas BDcraft texture pack changes the acacia slab so much that this building material looks like an ordinary roof of a hut. Therefore we strongly recommend you to use this block. In-game you will no longer find the required item under its old name, but under "Xmas High-Tech by BDcraft".
You can do nice things with the acacia blocks because you can add tablets and laptops in Minecraft with acacia fences.
Some blocks and items have a different name than in the Default pack. So you should first try the Xmas BDcraft pack from Sphax in the creative mode and have a look around a bit.
By the way, the BDcraft team updates all textures every year and releases them in December. Recently, new Christmas music and 3D models have been added.
Sphax XmasBDcraft is compatible with these Minecraft versions: 1.20 – 1.19.4 – 1.19.3 – 1.19.2 – 1.19.1 – 1.19 – 1.18.2 – 1.18 – 1.17.1 – 1.17 – 1.16.5 – 1.16 – 1.15.2 – 1.15 – 1.14.4 – 1.14 – 1.13.2 – 1.13 – 1.12.2 – 1.12 – 1.11.2 – 1.11 – 1.10.2 – 1.10 – 1.9.4 – 1.9 – 1.8.9 – 1.8 – 1.7.10 – 1.7
Screenshots & Video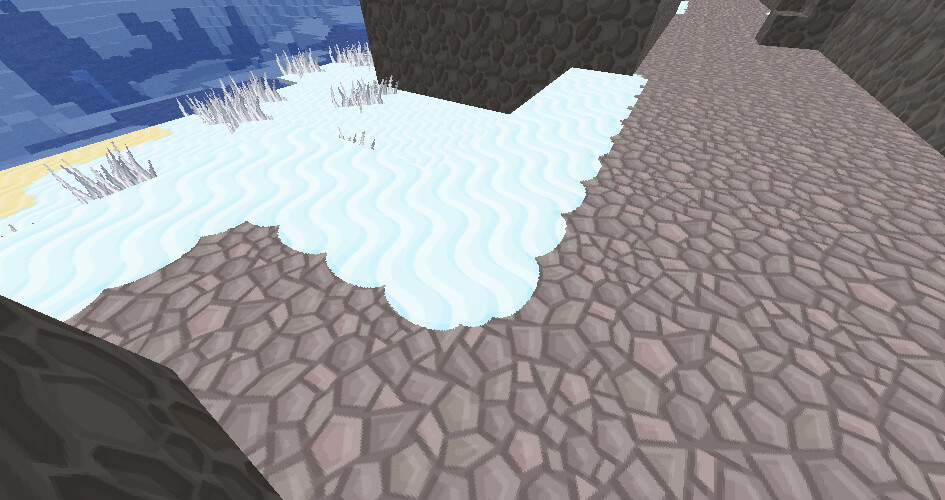 How to install the Sphax Xmas BDcraft Texture Pack
Please install Optifine for all features. Just the connected textures feature you see on the screenshots is worth downloading this mod.
Clicking on the official download link will take you to the BDcraft website. There you choose your Minecraft version and choose a resolution that your computer can handle.
If you are not a supporter you have to wait 15 seconds and then you can download the Sphax Xmas BDcraft texture pack.
Open Minecraft and click on Options.
Click on Resource Packs and open the resourcepacks folder in the lower left corner.
Move the downloaded .zip file into this folder.
The pack is now listed on the left side of your screen. Click on the arrow pointing to the right to activate the pack.
Now all textures are loaded and the installation is complete.
Sphax Xmas BDcraft Texture Pack Download
Blocks

Items

Mobs

Creativity
Summary
With Sphax in the Christmas Edition, you'll see almost nothing but Xmas environments in your Minecraft world. In some places you will find gift boxes that turn into a 3D model with a right click. All in all, the Xmas BDcraft texture pack is one of the best for the Christmas season.