Many Minecraft mods and resource packs aim to be just a small add-on. In total contrast to this is the Space Station texture pack, which is not particularly faithful. The developer's approach is quite extraordinary, because he wants to offer you a more futuristic atmosphere. So you can already see that you should be open to new things, because the Minecraft environments will be completely changed.
Unsurprisingly, the universe and space stations are the main theme of the project, as the name suggests. However, the Space Station texture pack is not suitable for every building style. You should mainly use it if you want to build futuristic buildings. Finally, it's up to you to decide for which occasions you'll use the textures. For example, it's also perfect for building a civilization in the sky, like you do with SkyBlock maps.
Furthermore, the animated blocks are an absolute highlight. There aren't that many yet, but more and more of them will be added in upcoming updates. The creator generally says that he is looking forward to new ideas and suggestions for improvement, so that the Space Station texture pack becomes even better. Accordingly, we can all look forward to many more updates. Nevertheless, there will be no photorealistic textures in the future, because the resolution is only 16×16. This also fits the included styles Default, Steampunk and Modern. Whereby not really modern graphics occur, but that is probably a matter of interpretation.
By the way, there is also a Among Us texture pack available on Texture-Packs.com that includes astronaut suits and more. It is a free alternative, but it has much less to offer.
Space Station is compatible with these Minecraft versions: 1.17.1 – 1.17 – 1.16.5 – 1.16
Screenshots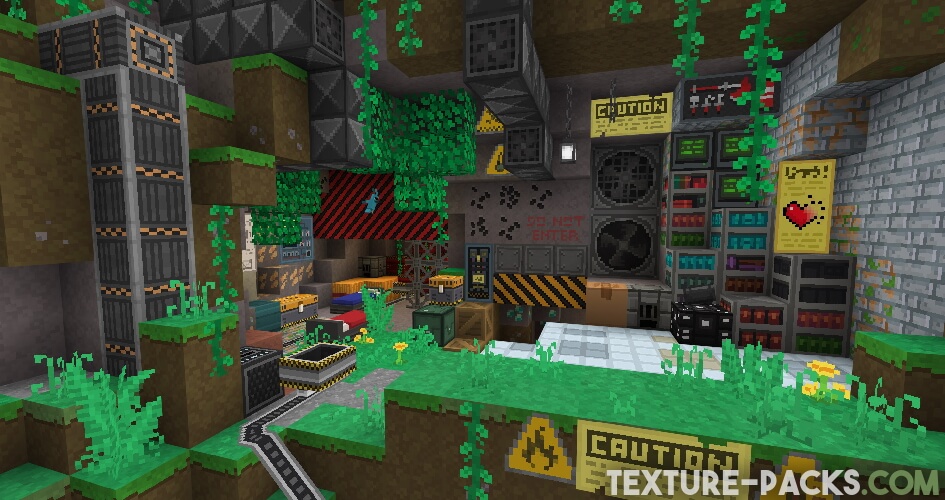 You can see in the screenshots what you can expect in the game. The many custom blocks and items are creatively designed and provide a lot of variety in your game world. It will be fun for you to take on the role of an astronaut. Several thousand players are already convinced and have given an extremely positive review after buying the pack in the Marketplace. They have also only seen the screenshots at first. Moreover, you should know that only high-quality packs are included in the Marketplace after they have been reviewed by Microsoft. However, it's best to test the Space Station texture pack yourself.
How to download and install Space Station Texture Pack
It's important to mention that the Space Station pack is free for Minecraft: Java Edition. Unfortunately, this does not apply to Minecraft: Bedrock Edition and you can buy it for 830 Minecoins in the Marketplace. There is a lot of discussion about this, because MCPE players also want a free version. After all, you have to accept the developer's decision and switch to a free alternative if necessary.
It is strongly recommended to install Optifine to use all the features of the texture pack.
This tutorial will help you with the installation:
Space Station texture pack download links for Minecraft can be found further down this page.
You will be redirected to the Marketplace if you are a Bedrock player and the download will start immediately if you are a Java player. The next steps are for PC only, because on other platforms everything is explained by the game.
Now go to your desktop and launch Minecraft.
Click on options in the main menu.
Click on resource packs on the next page.
Take the downloaded file and move it to the Minecraft window to import the ZIP archive.
The game asks you if you really want to import the Space Textures. You must answer "Yes" to this question.
Move the pack from the left to the right side by hovering the mouse over the icon.
Click on "Done".
Summary
It's always nice when there are Minecraft players who release unconventional texture packs. The developer's creativity is impressive and he puts a lot of effort into making the pack 100% complete. Overall, we can only agree with the opinion of the community, which is proven to be very enthusiastic.