ADVERTISEMENT
The online multiplayer game Among Us was already released in the summer of 2018. And as the past has shown, it doesn't take long until such a popular video game gets its own texture pack in Minecraft. Again, the creator MANON took his time and released an Among Us Texture Pack.
However, you don't need to be afraid of Impostors, because fortunately they only exist in the original Indie game. Basically the Texture Pack is an all-rounder, because thanks to the simple 16x blocks and items it is suitable for every Minecraft game mode. But if you had to put it into a category, I would personally count it as a PvP edit. I come to this opinion, because for example the swords have been modified. The normal default weapons are now shorter than usual and the respective blade looks much better. Surely you'll want to enchant your sword with an enchantment table some day and there's a cool feature here as well. Each enchantment sparkles red and makes the Among Us Texture Pack unique.
Also included is a sheet animation, which is typical for good PvP resource packs. If you look around in the landscape of your game world, you will notice something special. The water and rain are shown more clearly and you have a better overview. Especially in combat, the better overview is a big advantage because you can see your opponents faster. Also worth mentioning is the custom crosshairs and the transparent inventory. In the Graphic User Interface only the colors red and black have been used, which completes the Among Us Pack for Minecraft.
By the way, the Crazy Trump Pack, Evil Pack and Corona Pack are from the same creator. You like his work? Then share it with your friends!
The Among Us pack is compatible with these Minecraft versions: 1.16.5 – 1.16.4 – 1.16.3 – 1.16.2 – 1.16.1 – 1.16 – 1.15.2 – 1.15.1 – 1.15
Screenshots & Video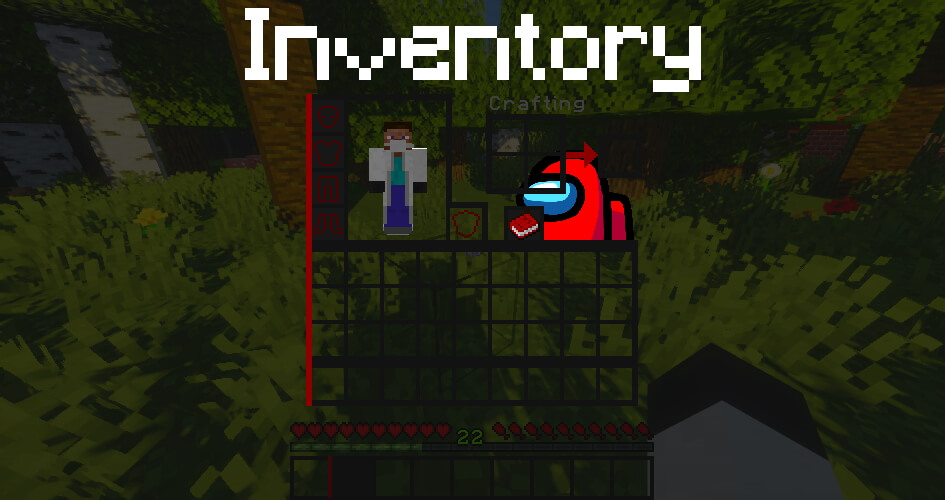 Among Us Texture Pack Download
A very good thing is that the Among Us Texture Pack can be installed for free. Furthermore, you don't need a lot of disk space, which will surely make you happy if you use a nearly full memory card. If you don't know how to install Texture Packs in Minecraft, please read the installation tutorial for Windows, Mac and Linux. The tutorial works for any version of the game.
Installation for Minecraft Java Edition
Click on the Among Us Texture Pack Download Link and wait for the .zip file to download.
Start Minecraft Java and go from "Options" to "Resource Packs" and finally click on "Open Pack Folder". Now the correct installation path opens.
Move the .zip file into this folder and the Among Us Pack will appear in your list.
Blocks

Items

Details

Shader compatibility
Summary
With this Among Us Texture Pack you add many textures of the video game to Minecraft. Go in search of the Impostor in your world!