Have you ever wondered what it would be like to step into a world where Minecraft graphics resemble charming paper cut-outs? With the Paper Cut Out texture pack, you can experience the joy of playing in a Minecraft universe that looks like a delightful paper wonderland. Let's delve into the details!
Originally created by the talented user superalgae in 2012, the Paper Cut Out texture pack quickly gained popularity among Minecraft players. While superalgae's additional texture add-ons are sadly no longer available on Dropbox. It is likely that the creator lacked the necessary time to continue working on it, but the pack's legacy lives on. Recognizing the pack's potential, fan chengzzi89 from China, took up the mantle in 2019 and began publishing patches for newer Minecraft versions. If you're inspired to create your own variation of Paper Cut-Out, remember to reach out to the author for guidance.
Forget about traditional blocky textures – by skillfully utilizing shading techniques, the pack creates the illusion of cutting, folding, and overlapping paper. This ingenious approach not only adds a unique style to Minecraft but also introduces a cool 3D effect to certain blocks, immersing you further into your virtual world. The textures in this pack strike the perfect balance between a papery feel and clean overlays. While they possess a subtle roughness akin to real paper, they avoid being overly distracting. This ensures that your Minecraft buildings remain visually pleasing, without sacrificing the nostalgic essence of paper craftsmanship.
Why should you download Paper Cut Out?
Furthermore, the pack goes beyond mere superficial changes. It covers a wide range of Minecraft assets, transforming them into whimsical paper creations. You'll notice reimagined textures for icons, mobs, armor, user interfaces (GUI), and HUD elements like the hot bar and health indicators. Additionally, particles like smoke and fireworks receive a delightful paper treatment. Not to forget, the pack includes new Mojang splash screen art in a charming cartoon style on the Minecraft title screen.
Because of these features, you should definitely download the Paper Cut Out resource pack. If we delve into the community feedback, a clear consensus emerges. Cartoon textures are immensely popular in Minecraft. By the way, the most well-known pack in this category is PureBDcraft by Sphax. The original creator Superalgae drew inspiration from the Sphax style and, after extensive effort, unveiled the Paper Cut Out textures. Another remarkable fact to consider is its initial release date, which dates back over a decade ago. Since then, over four hundred thousand Minecraft players have downloaded it.
Moreover, you won't experience any noticeable lag, as the resolution remains at a mere 16×16. In fact, there may even be a slight FPS boost that results in smoother movements. So you can install Paper Cut Out Culture even if you are operating on an older device.
Paper Cut Out is compatible with these Minecraft versions: 1.20.3 – 1.20.2 – 1.20.1 – 1.20 – 1.19.4 – 1.19.3 – 1.19.2 – 1.19.1 – 1.19 – 1.18.2 – 1.18.1 – 1.18 – 1.17.1 – 1.17 – 1.16.5 – 1.16 – 1.15.2 – 1.15 – 1.14.4 – 1.14 – 1.13.2 – 1.13 – 1.12.2 – 1.12 – 1.11.2 – 1.11 – 1.10.2 – 1.10
---
Art
Particles
Environment
Font
Mobs
Models
Video
&

Screenshots

ADVERTISEMENT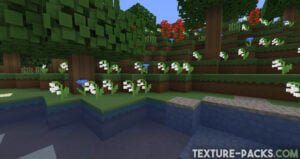 The screenshots showcase various biomes. Among the depicted landscapes, glimpses of the nether and textures of the survival mode can be seen in the screenshots. Moreover, subtle changes have been implemented in the shape of swords and other items. Apples, splash potions, and bottles exhibit a more angular appearance than usual. The milk, water, and lava buckets also no longer have a round shape.
Comparison
Use our comparison tool to compare the Minecraft default pack with Paper Cut Out.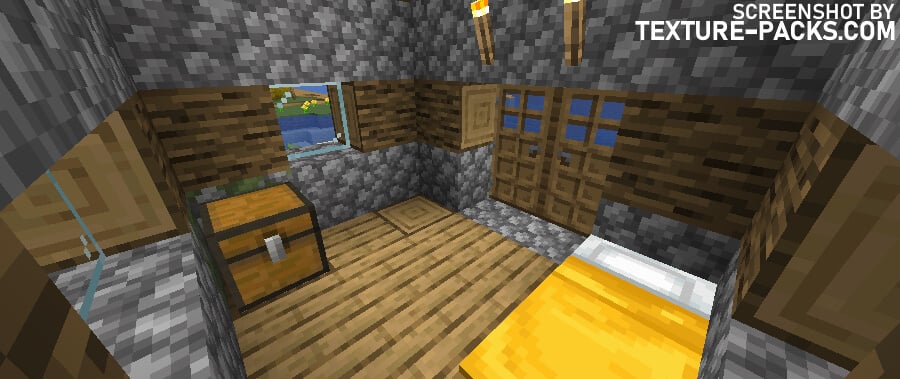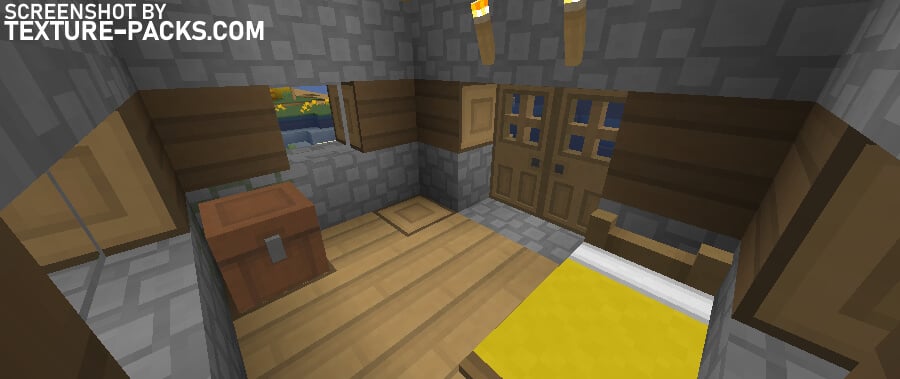 How to install the Paper Cut Out Texture Pack
Download and install OptiFine.
Click on the Paper Cut Out texture pack download link that is compatible with your game version and Minecraft edition.
Launch Minecraft.
Click on "Options" in the main menu.
In the options menu, go to the submenu "Resource Packs".
Click on "Open Pack Folder" at the bottom left.
Move the downloaded ZIP file into your resourcepacks folder.
You will see the pack on the left half of the resource pack screen. If it is not displayed in Minecraft, you need to unzip the file.
Move the cursor to the pack logo and click the arrow pointing to the right.
Click on "Done".
The game may tell you during the installation that the pack was made for a newer or older Minecraft version. This is an error and you can still activate the pack.
Paper Cut Out Texture Pack Download
ADVERTISEMENT
Blocks

Items

Details

Shader compatibility