86K Downloads | Resolution: 16x16 | by chengzzi89
As a Minecraft player, you're constantly looking for a new Resource Packs that will keep your game fun. Today I present a great pack, the Paper Cut Out Texture Pack. Originally superalgae started the project, but since the full version 1.11 he has not released any updates. Probably he didn't have enough time to continue working on it, but luckily the user chengzzi89 updated all textures. In plain text this means that you can use the Texture Pack without any problems or missing textures.
Why should you download Paper Cut Out? I want to answer this question in the best possible way and will give you some facts. If you take a look at the community feedback, a clear opinion will emerge. Namely that Cartoon Texture Packs are very popular. One of the best known in this category is Sphax PureBDcraft. Superalgae got a little bit inspired by the Sphax style and after a lot of work published Paper Cut-out with a great cartoon design. There is another amazing fact regarding the first release date. This was already in spring 2012 and since then over four hundred thousand Minecraft players have downloaded it. The Texture Pack exists for several years now, so it is logical that in this long time many textures have been perfectly optimized.
Furthermore you won't notice any lags, because the resolution is only 16x16 like in the default pack. Maybe there is even a minimal FPS boost which makes your movements look more smooth. So you can use the Texture Pack even if you are using a very old operating system.
Paper Cut-Out is compatible with these Minecraft versions: 1.18.2 – 1.18.1 – 1.18 – 1.17.1 – 1.17 – 1.16.5 – 1.16 – 1.15.2 – 1.15 – 1.14.4 – 1.14 – 1.13.2 – 1.13 – 1.12.2 – 1.12 – 1.11.2 – 1.11 – 1.10.2 – 1.10
Screenshots & Video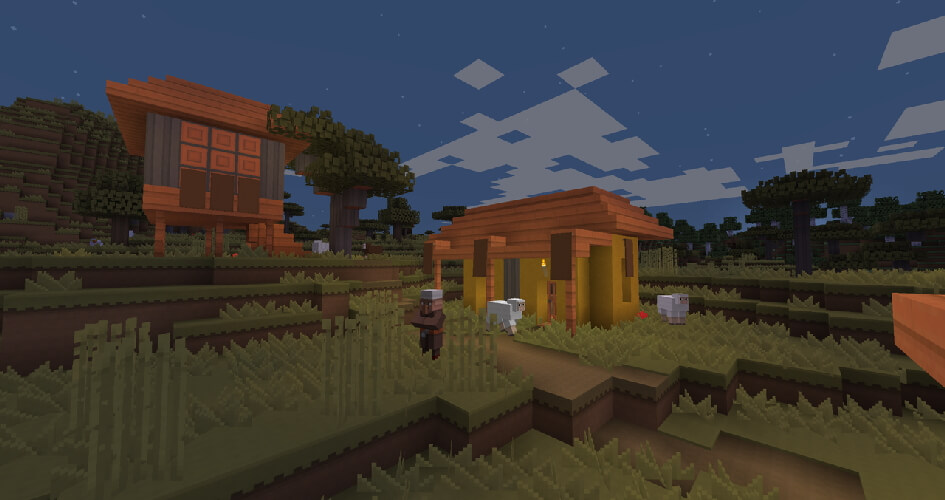 The screenshots show you the different biomes in Minecraft. First you will see a graphic showing the blocks in the original version and the current Paper Cut-Out Culture Texture Pack. Among other landscapes you can also see the Nether and the player inventory. In the mentioned inventory you can also find the Gold Helmet, but it was designed completely different. This helmet now looks like a magnificent crown.
Other minor changes to the form have been made to the swords and items. In addition, splash potions, apples and other bottles are more angular than usual. The same can be seen in the buckets of milk, water and lava, which are also no longer as round. Also the valuable ores have been changed. On the one hand, the block itself, but also the item. In my opinion, you can now distinguish the diamonds much better from the surrounding stone.
Paper Cut Out Texture Pack Download
Most importantly, the files are completely free for Java and Bedrock. For you this means that you don't have to spend Minecoins in the Minecraft Marketplace. First of all I explain the installation for Windows, Mac and Linux. The Bedrock version and installation instructions are linked further below.
The Paper Cut Out download starts with a few clicks. The file is not very big and therefore the pack should be on your PC after a short time.
Call up the download location and copy the Texture Pack. Now start Minecraft and go to the options. There click on the menu item "Resource Packs".
At the bottom left you can now open the directory for resource packs. Paste the downloaded file into this directory.
The installation is completed at this point, but an additional step is required for activation. Click the arrows to move Paper Cut Out to the right side of the screen. If you now click on "Done", all textures will be loaded.
✔️ None of the files are hosted on our server. All direct download links on our website are provided by the authors. The packs are free of viruses. Therefore, they are completely safe and secure.
✔️ Please share this post on social media.
✔️ Are there any thoughts you'd like to share? Please write a comment and rate the pack to help the authors.
---
👨‍💻 Chengzzi89 is the author of Paper Cut-Out. Rate this pack:
In the past, there were a number of additional add-ons, but unfortunately they are no longer publicly available. But Paper Cut Out for Bedrock, MCPE and Minecraft PE is available for download. So it makes no difference if you are a MCPC or MCBE player.
Blocks

Items

Details

Shader compatibility
Summary
The Paper Cut Out Texture Pack download for Java and Bedrock is free. The textures will make your game world look beautiful and like a comic cartoon.