If you're a Minecraft player who loves the medieval aesthetic, then Ovo's Rustic Redemption texture pack is a must-try for you. This pack has been maintained by the Minecraft community since 2012, after the original creator stopped playing the game. Despite its age, the pack adds new textures to all blocks and items. You won't need a high-end computer to enjoy this pack, making it accessible to many players. Textures are rendered in a 64x style, which results in a slightly higher resolution than in vanilla Minecraft. Created by the talented Ovocean, this pack draws inspiration from John Smith Legacy, another beloved medieval-themed pack.
So, what exactly sets this project apart? In the creator's own words, Ovo's Rustic Redemption for Minecraft is an amalgamation of nature, handcrafted aesthetics, and elements of fantasy. Its designs feature relatively simple and rounded shapes, adorned with meticulous attention to detail. The color palette strikes a delicate balance between vibrancy and subtlety, never venturing into overly saturated territory. Gone are the days of flat, plastic-looking textures. If you're eager to dive into the rich lore of RPG or RP Minecraft servers, we recommend this pack. They transport you to a world teeming with knights, castles, and quests waiting to be undertaken.
Ovo's Rustic Texture Pack Transforms the Minecraft Experience
As you explore medieval Minecraft buildings, you'll encounter numerous elements that showcase the pack's beauty. From the cobblestone roads to the delightful sheep with perfectly crafted faces. Every block and mob looks better. Ovo's texture pack breathes new life into your environment with enchanting tables adorned with intricate sketches and crafting tables with enhanced details and shadows. Some other blocks got also changed. The emerald block, for example, features a subtle animation, making the gameplay more realistic. The dispenser resembles a decorative statue, reminiscent of a fountain, while the beacons glimmer with a hint of magic. The stained glass, with its vibrant colors and connected textures, creates eye-catching windows that can enhance any structure.
Enhancing the Items and Font
Additionally, Ovo's Rustic resource pack makes items better. Potions appear full of enchanting magic, emanating subtle particle effects. The animated charcoal texture simulates the warm glow of burning embers. Even the eye of ender, a key item in Minecraft, becomes an eye-catching, blinking orb. Furthermore, when the sun sets and night falls, the moon in the pack is a sight to behold, with its round, captivating presence. Unfortunately, the clouds retain their default texture.
Behind the scenes, the project owes some of its features to the collaborative efforts of other prominent modders. Misa from Misa's Realistic pack and XSSheep from the Pixel Perfection pack lent their talents to develop a custom font specifically tailored for Ovo's Rustic. This detail ensures a harmonious visual experience in your GUI.
Mobs with Personality and Delightful Variations
No Minecraft experience is complete without encountering mobs. In Ovo's Rustic texture pack, mobs take on new life and personality. Admire the intricate details of the chickens' vibrant feathers. Even the cows radiate an unexpected charm. Moreover, Ovo's Rustic Redemption adds delightful variations to villagers. Some villagers carry pieces of wheat or sports glasses, adding diversity to the game's NPCs. Fans claim that villagers with glasses look like Harry Potter.
To experience the enchanting ambiance of Ovo's Rustic texture pack in Minecraft, you can download it using the link in our download section. So, grab your sword and shield, and immerse yourself in the medieval world of this project.
Ovo's Rustic is compatible with these Minecraft versions: 1.20.1 – 1.20 – 1.19.4 – 1.19.3 – 1.19.2 – 1.19.1 – 1.19 – 1.18.2 – 1.18 – 1.15.2 – 1.15 – 1.14.4 – 1.14 – 1.13.2 – 1.13 – 1.12.2 – 1.12 – 1.10.2 – 1.10 – 1.9.4 – 1.9 – 1.8.9 – 1.8 – 1.7.10 – 1.7 – 1.6.4 – 1.6 – 1.5.2 – 1.5 – 1.4
---
Armor
Art
Misc
Particles
Font
Video
&

Screenshots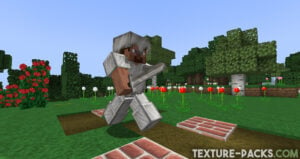 Comparison
Use our comparison tool to compare the Minecraft default pack with Ovo's Rustic Redemption.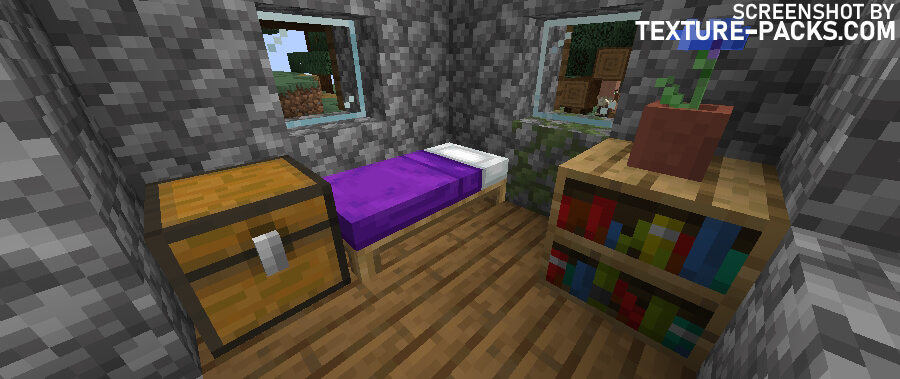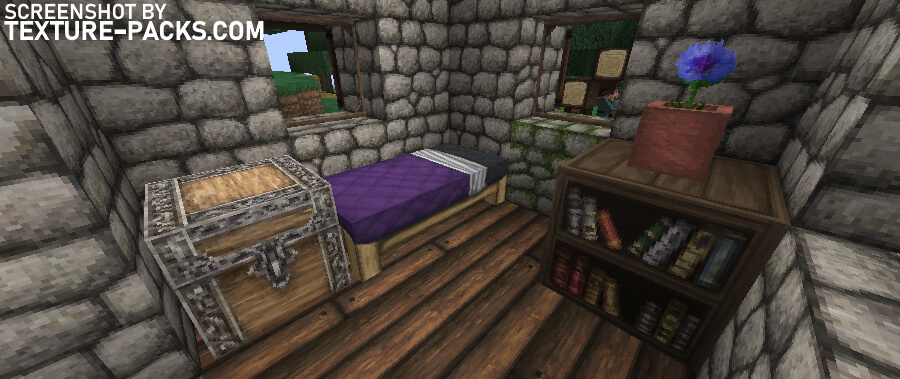 How to install Ovo's Rustic Redemption Texture Pack
Download and install OptiFine.
Click on the Ovo's Rustic Redemption texture pack download link that is compatible with your game version and Minecraft edition.
Launch Minecraft.
Click on "Options" in the main menu.
In the options menu, go to the submenu "Resource Packs".
Click on "Open Pack Folder" at the bottom left.
Move the downloaded ZIP file into your resourcepacks folder.
You will see the pack on the left half of the resource pack screen. You need to unzip the file if it is not displayed in Minecraft.
Move the cursor to the pack logo and click the arrow pointing to the right.
Click on "Done".
The game may tell you during the installation that the pack was made for a newer or older Minecraft version. This is an error and you can still activate the pack. Furthermore, Ovo's Rustic Redemption texture pack has a range of add-ons that can augment or modify specific features of the pack. While some of these add-ons may no longer receive updates, they are still readily available to anyone who plays older Minecraft versions. Installing and using these add-ons follows the same straightforward process as with any other packs.
Ovo's Rustic Redemption Texture Pack Download