ADVERTISEMENT
The Default 3D texture pack adds 3D blocks and 3D items to Minecraft. This makes the normal default textures look much nicer. Normally, the textures in vanilla Minecraft have no depth, which is why the graphics don't look like a modern video game. Fortunately, this is changing now, because even simple blocks like the crafting table become three-dimensional. Know2Good's pack is the best solution if you want 3D textures in Minecraft.
First of all the basic facts. As you could already see from the info box, you can download Default 3D for any Minecraft version. Accordingly, you will never receive an incompatibility notification, because every major update since 2014 is supported. This is not a coincidence, because this is the year when the creator started the development back then. Since then, he has added several new textures that set completely new realism standards in Minecraft.
Furthermore, it is to the creator's advantage that many gamers get bored with the Minecraft graphics after a while. This is no wonder when you see what graphic masterpieces are now released for consoles. As a result, this 3D pack became more and more popular, because it makes Mojang's game at least a bit more realistic.
A similar 3D resource pack is Classic 3D, which is available for the latest Minecraft version.
Three different versions
Another advantage is that even small landscape elements are changed. The flowers are a great example of this. We recommend you to find a flower meadow and look at the tulips, as they are the most realistic plants. Of course, there are changes in other biomes as well. For example, even the mushrooms in the dark forest are in 3D from now on. However, even small changes have their price, because they all have to be rendered by your computer. The developer is aware of this problem, which is why the Default 3D texture pack is available in three different versions.
High: This version is only for those who have a very powerful computer. A cool feature of this version is that many blocks are connected to each other. This puts even more strain on your graphics card. By the way, we used the high version for our screenshots and videos.
Medium: In second place is the Medium version, which is the perfect mix between the weakest and strongest versions. Through our testing, we have come to the conclusion that this pack is most suitable for the average gamer. Normal computers should not have any problems with this pack. If they do, you should download the low edition.
Low: This version is for all those whose PC is too bad for the other two variants. Unfortunately, you have to reckon with some slowdowns here. At least you have the possibility to play with 3D textures. If you have very few FPS even with this edition, you have to think about buying a new computer.
It's best to try out each version once, so you can find out which one meets your needs the most. In addition, there is always a snapshot version for the upcoming Minecraft update. Few resource packs are available in so many editions, which is why Default 3D is far superior to its competition in this regard.
If you feel like testing the texture pack yourself, feel free to download it. The best way is to start a creative world. Then open your inventory and search it for new blocks and items. This will give you the opportunity to view all textures at once. By the way, you can play with the developer on the following Minecraft server: Know2Good.mcserver.id!
Default 3D is compatible with these Minecraft versions: 1.20.2 – 1.20.1 – 1.20 – 1.19.4 – 1.19.3 – 1.19.2 – 1.19.1 – 1.19 – 1.18.2 – 1.18 – 1.17.1 – 1.17 – 1.16.5 – 1.16 – 1.15.2 – 1.15 – 1.14.4 – 1.14 – 1.13.2 – 1.13 – 1.12.2 – 1.12 – 1.11.2 – 1.11 – 1.10.2 – 1.10 – 1.9.4 – 1.9 – 1.8.9 – 1.8
---
Armor
Environment
GUI
Items
Misc
Particles
Terrain
Video
&

Screenshots

ADVERTISEMENT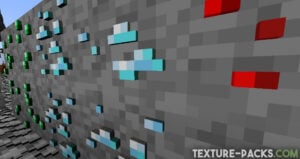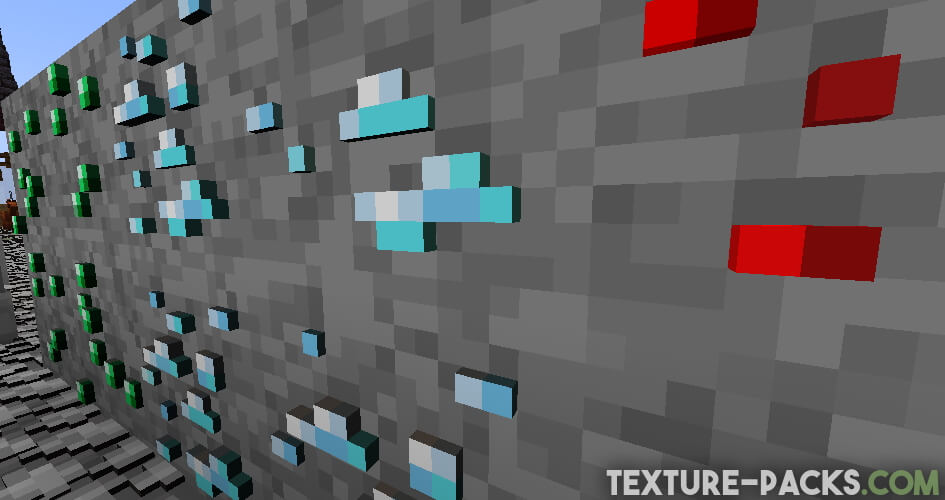 Comparison
Use our comparison tool to compare the Minecraft default pack with Default 3D.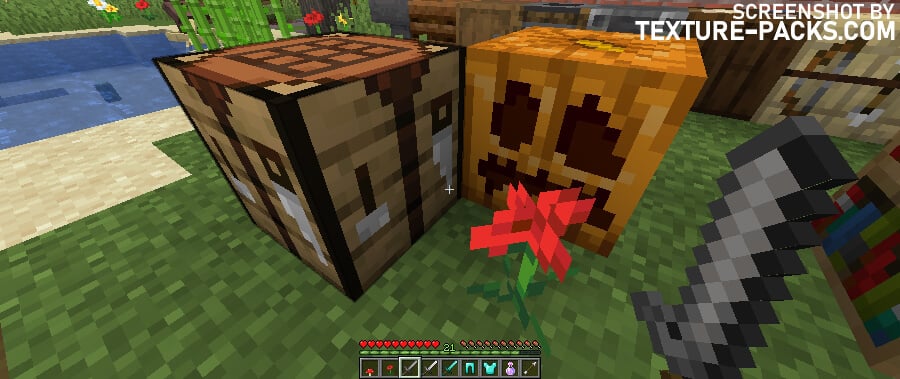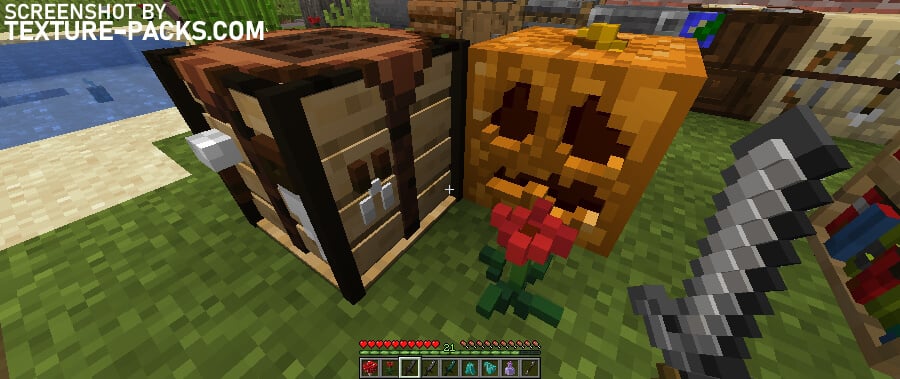 How to install the Default 3D Texture Pack
1. Optionally, you can install Optifine and Shader first. This will give you higher FPS and at the same time make your world more realistic. If you don't feel like it, you can skip this step.
2. Go to the download links under the next heading. There you can download the Default 3D texture pack. Either the download starts automatically or you will be redirected again. If you are redirected to the official Know2Good website you have to click on the download button manually.
3. Move the downloaded file to your desktop first. This will help you to keep track of everything and make the installation faster.
4. Start Minecraft and navigate to Options in the menu and then click Resource Packs. Now you need to click "Open Folder" at the bottom left to open the .minecraft/resourcepacks directory.
5. The last step is to move the file from your desktop to this directory. If Minecraft crashes when you activate it, it means that your hardware is too bad.
Default 3D Texture Pack Download
ADVERTISEMENT
Blocks

Items

Creativity

Realism
Summary
All blocks and items are extremely realistic in the Default 3D texture pack for Minecraft. You can download this resource pack for free.