ADVERTISEMENT
Bedless Noob is an American YouTuber with Chinese roots who is mainly famous for his very impressive PvP clips on the Internet. He has released his own Bedless Noob 350k texture pack to celebrate reaching 350,000 subscribers. However, this is not the first time that he releases a pack, because in the past there was already the 200k texture pack. Everything is designed for PvP so that you become even better in combat and bridging.
Especially the swords are important in the game mode BedWars because they are used in every round. That's why the creator Yuruze took extra care here. All swords are a bit smaller than usual and also the blade is thinner, which gives you a better overview because your field of vision is less obscured. Also, you should know that many items have a few pink hues. This is most noticeable with the diamond sword and the diamond armor because both are almost completely pink. But that's not all, because the sandstone and the birch tree leaves are also in this color scheme. You can also easily play with the Bedless Noob 350k texture pack if you are not a girl. The times are over when only women are allowed to play with pink things.
Furthermore, there is a huge sound pack. In the beginning, it is funny to hear different sounds in Minecraft, but in the long run, they become very annoying. Therefore, there is now also a version of the Bedless Noob texture pack without sounds, so that everyone is satisfied.
Additionally, the ore blocks have also been revised. They now have a starfish in the center, which is displayed in the respective color. Each ore block is outlined because otherwise, you could easily miss it. By the way, the resolution of all PvP blocks and items is 64x, and for all other textures 16x. This creates a good mix of simple and high-resolution textures.
Finally, it is important to mention that some textures come from other Minecraft resource packs. For example, the font is from Faithful. You can find details about this in the credits.txt file inside the 350k pack. There is unfortunately also a piece of bad news because there is no official version of the Bedless Noob 350k texture pack for MCPE and Bedrock. Only one for Java is available.
The Bedless Noob 350k pack is compatible with these Minecraft versions: 1.8.9 – 1.8.8 – 1.8.7 – 1.8.6 – 1.8.5 – 1.8.4 – 1.8.3 – 1.8.2 – 1.8.1 – 1.8 – 1.7.10 – 1.7
Screenshots & Video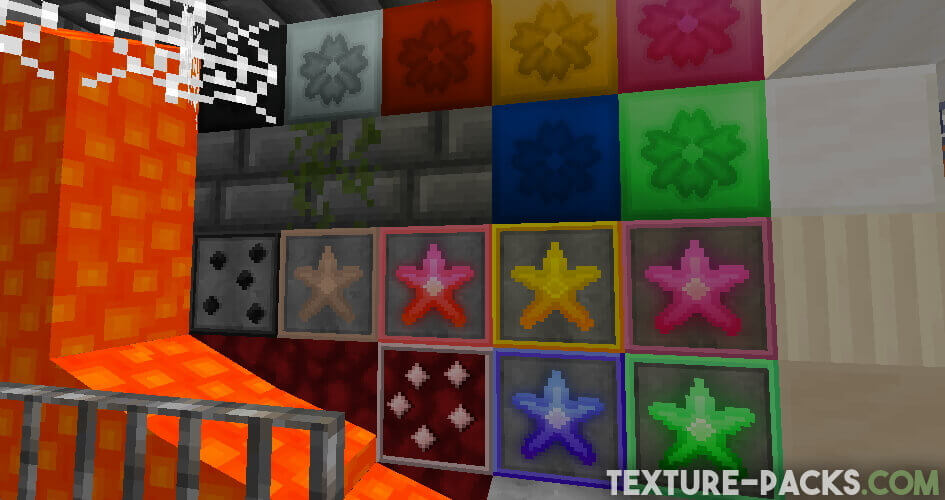 How to install the Bedless Noob 350k Texture Pack
First of all, it is recommended that you install Optifine because some features in the pack will only work with it.
The second step is to download the Bedless Noob 350k texture pack. Click on the button in the download section and your browser will immediately start downloading. It shouldn't take long because the file is uploaded to Mediafire and not to Curseforge.
Now you start Minecraft in-game version 1.8.9 or older. You can also play the textures in newer versions, but unfortunately, some things will be missing because the pack format is not correct.
As always, click on options and then on resource packs.
Open the pack folder and copy the downloaded file into it.
Bedless Noob 350k Texture Pack Download