Are you a Nintendo fan? Of course you are, who isn't? You no doubt are eagerly looking forward to new Zelda games for Nintendo consoles, right? Well, maybe you haven't had the best luck in your search to secure a video game console for yourself, or perhaps you're just in a very "Zelda" mood, and you just want to get out there and start slaying Ganon's forces and slaying octoroks. Even if you don't have a Nintendo console at home, we have the next best thing: This is The Legend of Zelda texture pack for Minecraft. You can play it on PC and mobile devices. The Zelda-themed textures are perfect for Zelda adventure maps which are created by the Minecraft community.
The Legend of Zelda and Minecraft
Minecraft fans and Zelda fans have some of the most cross-over appeals of any two groups of gamers imaginable. It shouldn't be surprising; if you think about it, The Legend of Zelda and Minecraft actually share tons of similar features. We're going to pose a situation, try and tell us if we're describing Minecraft or Zelda:
"You are a hero in an unknown land. Through your own determination you must take up a sword, or a bow and arrow, and battle terrifying creatures and demons in an effort to take back this world. The world is full of secrets, and should you discover them, you will be handsomely rewarded for your efforts. Watch out for traps such as Lava and dangerous heights, and be sure to not overstay your welcome at night"
See? Obviously, there are some key differences between a typical Zelda title and Minecraft, such as Link's never-ending quest to defeat Ganon and rescue Zelda, or the way Minecraft doesn't really have a linear story in the same way a typical mainstream game does. But at their heart, these are both action-adventure games that encourage the player to explore their surroundings and assert their dominance as the "Hero", more or less. After all, a Minecraft world without a player is kind of interesting, but generally unremarkable. It's what the player does with that world that makes it truly interesting, we feel.
And speaking of doing things to Minecraft, that's exactly the goal of this Minecraft texture pack, to affect the way your Minecraft games feel in a big way. As far as how noticeable the texture pack is, we feel it's somewhere in the middle of the spectrum: you can definitely tell that Minecraft has changed, but it's not so distracting that it takes you out of the experience. It's a very comfortable middle ground that will feel good to players who don't want to get too far away from what a classic Minecraft world typically looks like.
What is the Zelda Texture Pack?
The Legend of Zelda texture pack for Minecraft was created by a user by the name of Moldomre, who has been putting work into the project for over 5 years. Moldomre recommends playing his pack with the Complementary Reimagined shaders. There have been a number of Zelda texture packs for Minecraft over the years, however, this is definitely the one you'll want to look at if you have any interest, as there's far more here than there is in any of the others. This texture pack is also getting updates constantly, so there should be no worry about it going out of date any time soon. You can see all compatible versions below the review section.
Features
We think it's the best Zelda texture pack for Minecraft. There are all sorts of small touches that really bring out the shine in this themed texture pack. It includes tons of features, with something from every single main Zelda game. The main menu, first of all, has a very nice Zelda finish and almost looks like something Nintendo would put out. The crosshair, which typically is just a T or X shape, is replaced with a Triforce. The shield that your character can make in Minecraft has a beautiful finish of the Hylian shield in the Zelda resource pack.
If you wait until nightfall and you look out to the horizon it should come as no surprise to you that the Minecraft moon, previously just a large white square, has been replaced with the infamous apocalypse-causing moon from The Legend of Zelda: Majora's Mask. There's currently no way for the moon to come falling out of the sky and destroy you and your village as it does in that game, however, it does a great job adding some of that Zelda flavor to the experience.
All in all, the Zelda texture pack changes the font, mobs, particles, armor, tools, GUI, and all other textures. After the installation, the Minecraft environment will look like a Nintendo game. Even your Minecraft skin is now Zelda! By the way, we also reviewed the Super Mario texture pack and Animal Crossing texture pack.
Sounds
Our favorite detail in this texture pack is actually not directly even anything to do with the textures, but rather the music. This DLC texture pack comes with a ton of custom-made songs that replace the typical Minecraft songs that play. All these songs are tributes to classic music heard in Zelda games, but remade with the Minecraft sound system in a way that sounds very natural to the Minecraft experience. The sounds are both comforting and oddly distant and wayward in the same way that Minecraft's original unforgettable soundtrack is. If you don't like the Zelda music, you can delete the sounds.json file.
By our measures, this is a pretty fantasy texture pack, especially recommended if you are a fan of the Zelda games. It's more than just a "we have Zelda at home" experience, it really does add to Minecraft in some interesting and unique ways that we haven't really seen before. Definitely download the Zelda texture pack now!
Zelda is compatible with these Minecraft versions: 1.20.1 – 1.20 – 1.19.4 – 1.19.3 – 1.19.2 – 1.19.1 – 1.19 – 1.18.2 – 1.18 – 1.17.1 – 1.17 – 1.16.5 – 1.16
---
Art
GUI
Particles
Terrain
Font
Audio
Video
&

Screenshots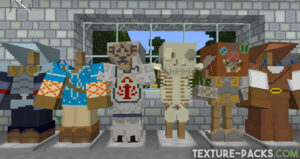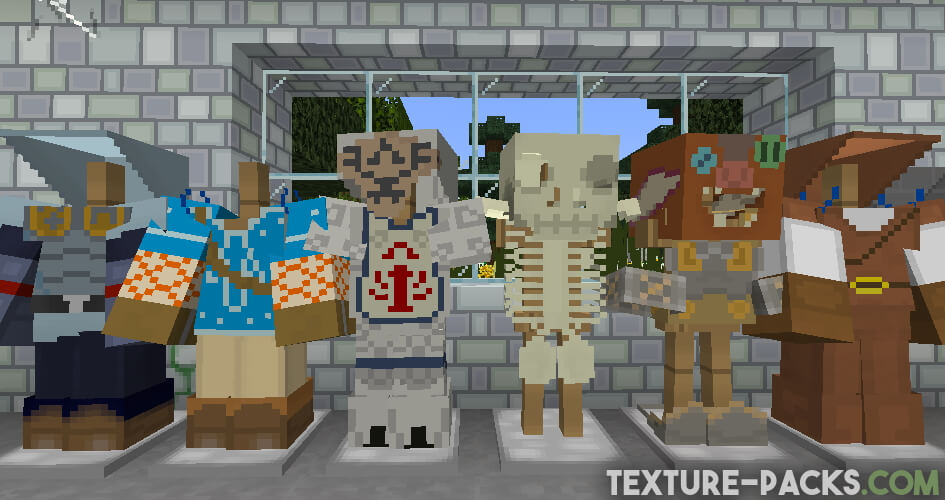 Comparison
Use our comparison tool to compare the Minecraft default pack with The Legend of Zelda texture pack.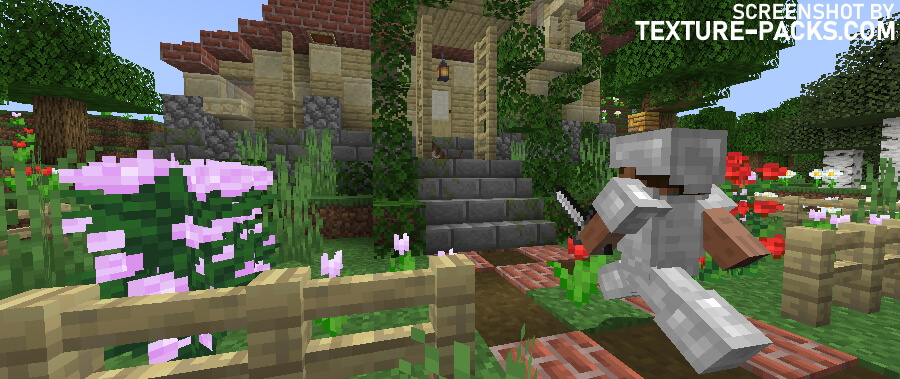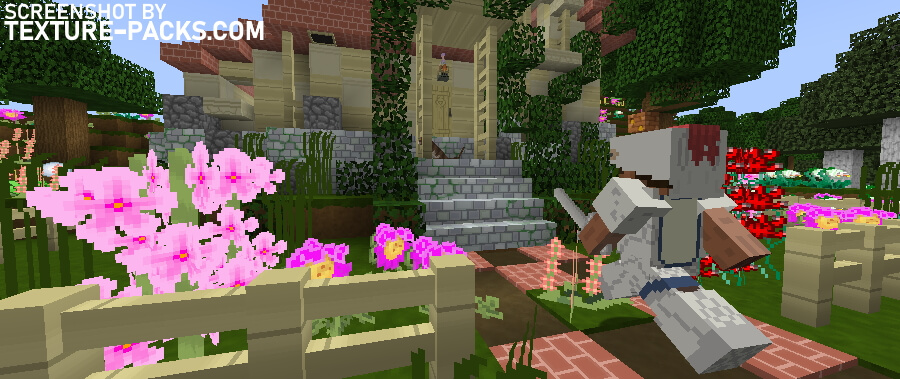 How to install the Zelda Texture Pack
Download and install OptiFine.
Click on the Zelda texture pack download link that is compatible with your game version and Minecraft edition.
Launch Minecraft.
Click on "Options" in the main menu.
In the options menu, go to the submenu "Resource Packs".
Click on "Open Pack Folder" at the bottom left.
Move the downloaded ZIP file into your resourcepacks folder.
You will see the pack on the left half of the resource pack screen. If it is not displayed in Minecraft, you need to unzip the file.
Move the cursor to the pack logo and click the arrow pointing to the right.
Click on "Done".
The game may tell you during the installation that the pack was made for a newer or older Minecraft version. This is an error and you can still activate the pack.
How to install the Zelda Sound Pack
Click on the Zelda sound pack download link in the download section.
Download "The Legend of Zelda Sound Pack" on Dropbox.
Open the zipped folder.
Copy the "sounds" folder that is inside the ZIP file.
Open the main texture pack folder.
Click on "assets" and after that on "Minecraft."
Paste the "sounds" folder into the "Minecraft" folder.
After the installation, you will have songs, music discs, and sound effects from the Legend of Zelda series when you play Minecraft with this pack.
Custom item textures list (CIT)
Learn how to rename items in an anvil to get different Zelda textures. You have to install OptiFine and check out the custom items list to see the exact names to put into the anvil.
Zelda Texture Pack Download