ADVERTISEMENT
Sometimes, things in this world were just made for each other. Peanut butter and jelly, eggs and bacon, cheese and crackers…and lots of other things that aren't food related (we gotta stop writing these articles on an empty stomach). The point is, sometimes you see two things in life, and you just instinctively know that they belong together. This brings us to the point of this article. We're here today to talk about an awesome Minecraft texture pack that you may not have seen yet, simply called Super Mario Craft or just Super Mario texture pack, featuring a theme made in the style of the retro arcade classic video game Super Mario Bros. Minecraft and Super Mario, have you ever even seen a more perfect combination?
The Bros need no introduction, you've got Mario Mario, Luigi Mario (yes, those are their real names), and all sorts of baddies and allies that they run into from their games, including classic characters like King Bowser, Princess Peach, Toad, and seemingly countless others.
The timing for the Nintendo texture pack by fans could not be any more perfect. Gaming has a big hype and fans love the official Super Mario Bros movie, which features Chris Pratt, Jack Black, Charlie Day, and many other high-profile celebrities. It's animated by Illumination Studios, the same guys who make the Minions movies, and people think the Super Mario Bros movie is a smash hit.
Speaking of the film being a "smash" hit, this actually isn't the first time Minecraft and Mario have crossed paths. If you've played Super Smash Bros Ultimate for the Nintendo Switch, you're probably aware of the fact that Steve from Minecraft is a playable character there, as is Mario of course. Heck, Mojang has even done official Minecraft collaborations with Nintendo in the past, however, this was limited to the Wii U release of Minecraft, which is some years old at this point. So unless you still play Minecraft on a Wii U, you're out of luck for official Nintendo content in Minecraft.
And unless you play Smash Bros on a regular basis and you've already got your fill of Minecraft X Mario there, you might be looking forward to peppering some Mario goodness into the Minecraft world. This is exactly what this Super Mario pack is all about, created by Jumper_99 in 2019, which features hundreds of thousands of previous downloads from satisfied players. Other artists are 33333mop and Coolfsta.
By the way, you can also download the Animal Crossing texture pack, Zelda texture pack, and Among Us texture pack. We regularly review themed texture packs, which for example have many textures from other video games.
Super Mario music in Minecraft
One thing that's truly unique about this texture pack is that it also features new music for the game, taken from Mario's most classic and recognizable titles. New music and sounds aren't something we see in these sorts of mods very often, and we need to tip our hats to the creators for the amount of effort and polish they've put into this project. The pack also adds some custom textures for servers to improve the gameplay: Hypixel, SkyWars, BedWars, Murder Mystery, CubeCraft, and Lucky Islands.
There are a ton of different Super Mario textures and mod packs out there, because of course there are, Super Mario is an icon for so many people so it makes a lot of sense that people would want to make a tribute to him in one of their favorite games. But in our opinion, this is absolutely the best Super Mario texture pack you can possibly consider for Minecraft. It's not even a contest, so much work has been put into this to bring the flavor of Mario's games into the world of Minecraft it's actually unreal.
Super Mario Craft is compatible with these Minecraft versions: 1.19.4 – 1.19.3 – 1.19.2 – 1.19.1 – 1.19 – 1.18.2 – 1.18 – 1.17.1 – 1.17 – 1.16.5 – 1.16 – 1.15.2 – 1.15 – 1.14.4 – 1.14 – 1.13.2 – 1.13
---
Art
GUI
Particles
Audio
Font
Models
Terrain
Video
&

Screenshots

ADVERTISEMENT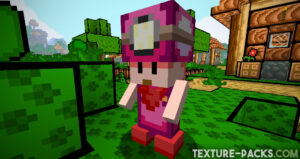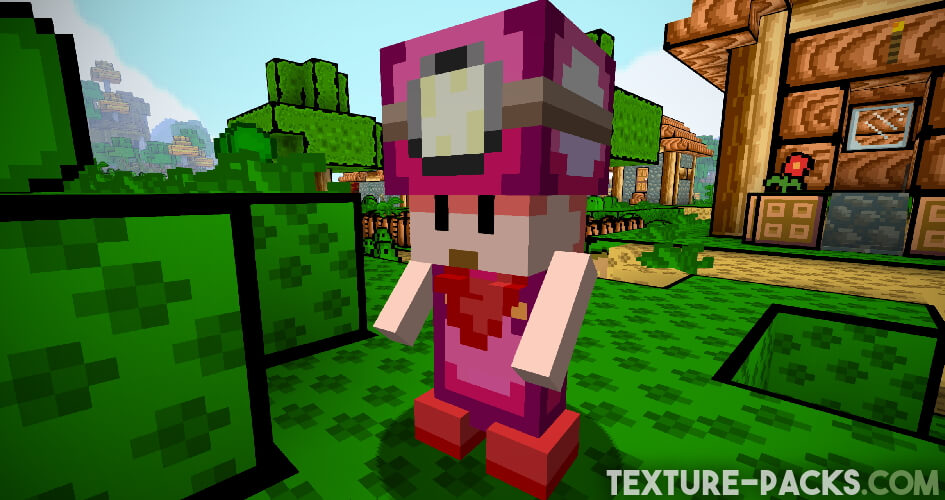 We uploaded a fun and playful gameplay trailer on our YouTube channel which does a good job demonstrating everything included. Everything you get with the Super Mario texture pack download is extremely "Mario", down to the pixel art style, the color palettes, and of course the different variety of blocks you can pick and choose from within this mod.
Remember how we said earlier that Minecraft and Mario were a perfect fit? Part of that is due to the fact that the Mario games have always been heavily "block-based" if that makes any sense. Mario, in all his games, is always running somewhere, jumping into and on top of blocks of different shapes and sizes.
Mario also has a distinct nostalgic feel, partially due to the fact that it was one of the first classic video games to ever exist in the home console market, and also due to how modern Mario games continue to bring that nostalgia for the past forward to the present in different ways, such as throwback melodies and pixel-art levels.
Minecraft has that same sort of sense of nostalgia. Even today Minecraft doesn't try to look like a realistic game, even with the most realistic shaders, because there's nothing realistic about a world made entirely out of blocks. Minecraft just wants to look like Minecraft, and Minecraft happens to look like an old retro 3D video game at times, which isn't a bad thing.
But enough reminiscing about the past, let's get back to the present. Going back to the trailer, we can see that not only have textures in the world changed but so too have enemy models, to reflect enemies you would encounter in Super Mario titles, as well as a Mario-style skybox that features those distinct 8-bit clouds featured in the original game. The lighting is very modern and distinct, featuring just the right amount of bloom to push the game into feeling a little more cartoony and whimsical than it might otherwise feel.
If you're feeling creative, you can even create a 2.5D look-alike of a classic Mario stage that you can explore and jump around in Minecraft. Yeah, it's not going to feel like you're playing a Mario game, but of course, it won't because you're playing it in Minecraft. But it's definitely a very cool way to see some of your favorite stages from a new angle. Try making levels 1-1 from the original game in Minecraft and walking around it, and you'll see what we mean.
Definitely give this Super Mario resource pack and texture pack a try if you have any interest in retro classics or the Super Mario series of games whatsoever, the amount of value you get here is so huge you'd be crazy to pass this one up.
Comparison
Use our comparison tool to compare the Minecraft default pack with Super Mario Craft.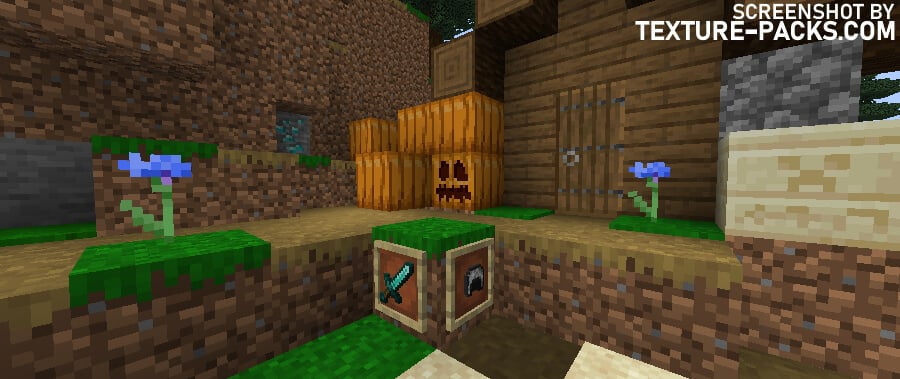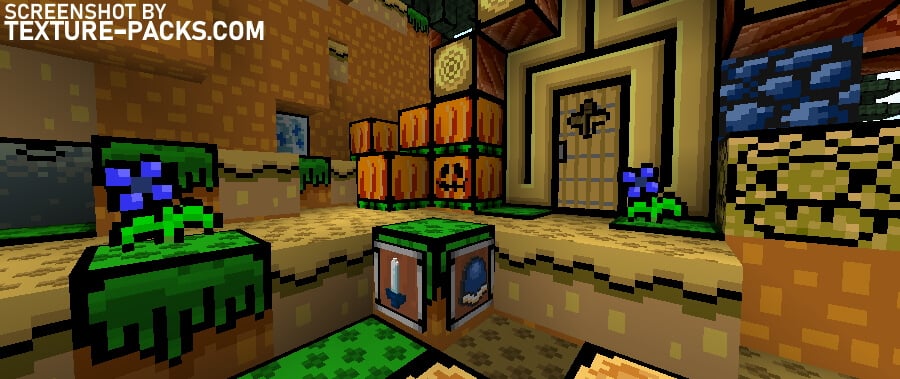 How to install the Super Mario Texture Pack
Check out the easy steps to install everything with just a few clicks.
To use all the cool features in this pack, download and install OptiFine. This pack supports custom entity models, custom biome textures, custom item names, and hundreds of connected textures. Please enable these things in the video settings if you play on a PC.
Download the Super Mario texture pack for Minecraft from the file section below. Pick the file that matches your Minecraft edition and version.
Launch Minecraft.
Click "Options" on the main menu.
In the options, go to the submenu "Resource Packs".
Click "Open Pack Folder" at the bottom left to see a folder titled "resourcepacks".
Put the downloaded ZIP file into your "resourcepacks" folder. Or, just just drag and drop it into the Minecraft window to add the pack.
You will see the pack on the left side of the resource pack selection menu. Unzip the file if you can't see the pack.
Hover over the pack thumbnail and click the arrow pointing right.

If the game says the pack is for a newer or older Minecraft version when you activate it, don't worry! It's just a heads-up. Click 'Yes' and enjoy the new textures – it won't affect your gameplay.

Click "Done" and all assets have been loaded.
Custom item textures list (CIT)
Rename items in the anvil to get new textures in the Java Edition, but you need OptiFine.
Super Mario Texture Pack Download
ADVERTISEMENT