We've got a fantastic new review for you – the Alacrity texture pack for Minecraft. This pack is all about amazing custom textures for building. While some building blocks, like cobblestones and sea lanterns, may bear similarities to John Smith Legacy, Alacrity outshines it by offering a wealth of additional decoration options. With Alacrity, your creativity can truly shine as you craft unique and epic bases in your own Minecraft world.
Alacrity adds 3D Blocks and Mobs
First off, Alacrity improves your Minecraft builds and adds new shapes for familiar blocks. For example, you can enhance house entrances or other openings in your structures with beautiful arches. We particularly love the sandstone arches, perfect for creating mind-blowing builds in the desert. Furthermore, building small shelters with this pack is a real treat, as the ceilings look incredibly lifelike thanks to the arches and 3D wood blocks. You'll be amazed at how fantastic your new base will look in a forest after downloading Alacrity.
Even fences get a makeover if you download the Alacrity texture pack. Not only do they sport a fresh texture, but they also boast a brand-new 3D model. This change is great if you like building yards. The connected textures feature makes the little gravel paths look super lovely, and the colorful flowers further enhance the charm of your Minecraft gardens around your virtual home.
Now, let's talk about the exciting new designs for mobs in the Alacrity texture pack. The project introduces some adorable new looks for animals, making cute creatures even cuter! However, it's worth noting that a few of these textures come from the renowned Epic Adventures project, famous for its impressive 3D mobs.
But that's not all – regular bookshelves and chiseled bookshelves also receive the 3D treatment! Now, your room can feel like it belongs to a wizard from a fantasy world, with these mystical and enchanting bookshelf designs. The 3D effect gives you the impression that real books are sitting right there, making your Minecraft space even more magical. The enchantment table and loom look super cool too. Enchanting books will be even more fun!
Mod Support and RPG Style
On top of that, Alacrity has incredible mod support! With compatibility for mods like Aborn, Stockpile, TConstruct, and ProjectE, the pack is fully compatible with many third-party mods. And that's just a small selection, as the developer Satellence is constantly working on adding more textures for various mod packs.
And speaking of lava, get ready for reworked caves in the Alacrity resource pack. The lava in underground caverns now resembles something straight out of a nostalgic RPG game. The light-emitting fluid takes on a more old-school appearance, adding a classic charm to the fiery depths of Minecraft's subterranean underground world. And let's not forget about the Nether – the lava sea has also undergone a transformation to match the RPG style. When it comes to lava, the animation is top-notch in Alacrity, making it so much more exciting to watch now!
Moving on, one standout feature in the Alacrity texture pack for Minecraft is the attention to detail given to foliage. The leaves and vegetation in the game look stunningly realistic. It's a perfect balance between a rustic and realistic aesthetic. By the way, the sun and moon are now circular.
Extra Features
Furthermore, the Alacrity texture pack boasts some extra features. Check them out:
Double planks slabs become parquet at the top and bottom: The planks block and double planks slab sides have separate CTM (Connected Textures Mod) atlases, allowing for additional decoration options. This means you can create eye-catching parquet patterns with these blocks.
Two stages of growth for all saplings: Grown saplings can now be used for indoor decoration without worrying about them growing into full trees. This lets you enjoy the beauty of saplings without the need to plant them outdoors.
Unique models for some upper stairs/slopes: Certain upper stairs and slopes have their own distinct models. The upper slab for these blocks is also consistent with the upper stairs, ensuring a seamless look.
Continuous pattern on wooden planks upper stairs: When using wooden planks on upper stairs, a continuous pattern is created on their upper part, even without the CTM feature.
Extra plane on top of glass panes: The custom glass panes feature an additional plane on top, specially designed for use in conjunction with inverted stairs and slabs, particularly the 1/4 slabs in Alacrity. This feature enhances the versatility of glass in your houses.
Three types of glass: Alacrity offers three different types of glass, each with its unique grid pattern. The darker colors have a more frequent grid, while the lighter colors feature a rarer grid. Additionally, white, light gray, gray, and black glass come with wood-framed textures in various shades, providing diverse decorative options for your structures.
Stripped wood as large beams: Stripped wood now has the texture of large beams, allowing you to create fascinating textures and designs. Combine this with the ability to place these blocks directionally, and you can build impressive supporting columns or wide planks on walls.
Items and Tools in the Alacrity Texture Pack
Let's shift our focus to the items and tools. Despite the blocks and friendly mobs impressing us with their detailed and rustic appearance, we must admit that the items didn't quite meet our expectations. They don't seem to blend as well with the detailed 32x blocks. However, taste varies from player to player, and you might actually enjoy the new tools. For us, though, the true highlights of this project lie in the new traditional blocks.
Moreover, the obsidian texture could use some improvement. Although it may not be a deal-breaker, we believe that improved obsidian would further enhance the quality. However, everything else looks impressive. With Alacrity, you're not just downloading a texture pack – you're embarking on an extraordinary adventure. Embrace the delightful new mobs and revel in the realistic touches that the pack brings to your structures. However, one thing to note is that the Alacrity textures are currently available only for PC users. Sadly, there are no Alacrity MCPE (Minecraft Pocket Edition) or Bedrock download links at the moment.
When you download the Alacrity texture pack, you contribute to the pack's future development. High download numbers motivate the creator to invest more time and effort into creating new and improved textures for the pack. So, by giving it a try, you're directly supporting the creator's passion for making Alacrity even better in the future. So, why wait? Download and install the Alacrity texture pack now for free!
Alacrity is compatible with these Minecraft versions: 1.20.1 – 1.20 – 1.19.4 – 1.19.3 – 1.19.2 – 1.19.1 – 1.19 – 1.18.2 – 1.18 – 1.17.1 – 1.17 – 1.16.5 – 1.16
---
Armor
Art
Font
Particles
GUI
Video
&

Screenshots

ADVERTISEMENT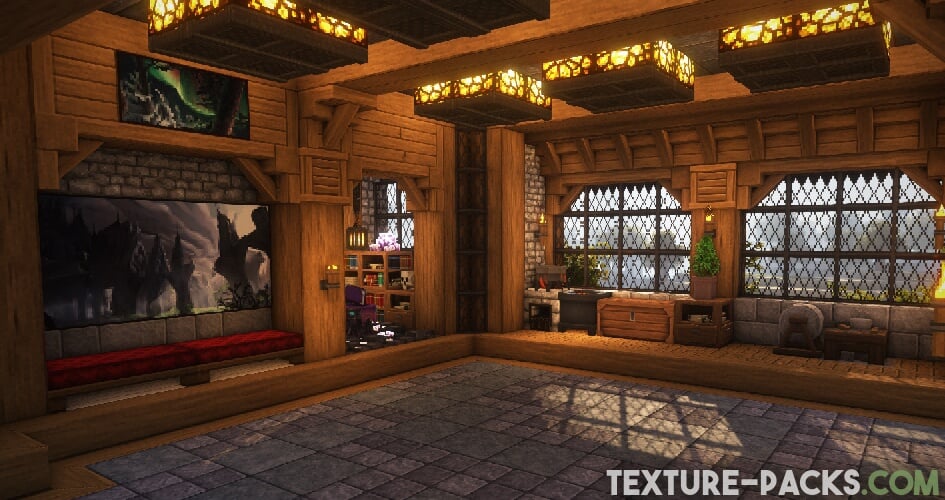 Comparison
Use our comparison tool to compare the Minecraft default pack with Alacrity.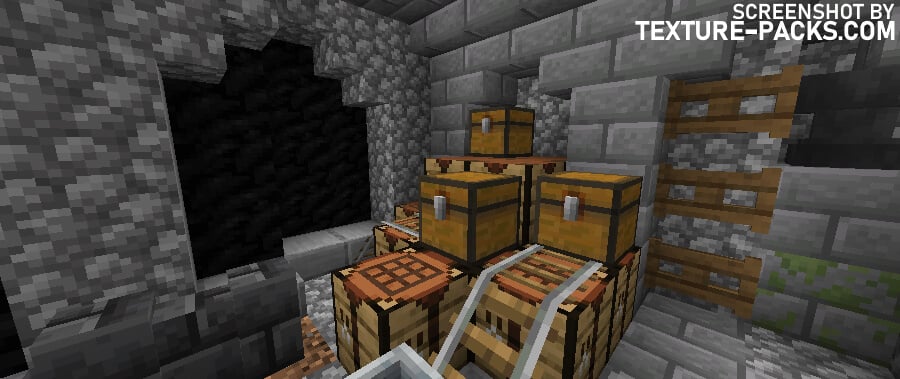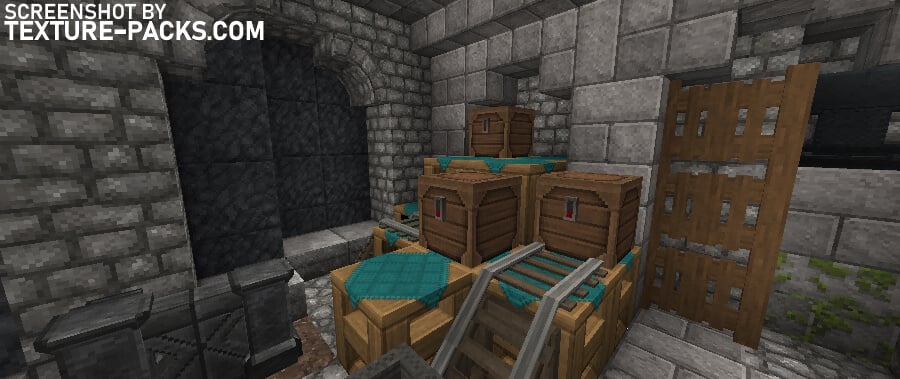 How to install the Alacrity Texture Pack
Alacrity uses the ConnectedTexturesMod. It's recommended to install OptiFine (works with Forge) or Continuity (works with Fabric) for connected textures and other extra features.
Download and install OptiFine.
Click on the Alacrity texture pack download link that is compatible with your game version and Minecraft edition.
Launch Minecraft.
Click on "Options" in the main menu.
In the options menu, go to the submenu "Resource Packs".
Click on "Open Pack Folder" at the bottom left.
Move the downloaded ZIP file into your resourcepacks folder.
You will see the pack on the left half of the resource pack screen. If it is not displayed in Minecraft, you need to unzip the file.
Move the cursor to the pack logo and click the arrow pointing to the right.
Click on "Done".
The game may tell you during the installation that the pack was made for a newer or older Minecraft version. This is an error and you can still activate the pack.
Alacrity Texture Pack Download
ADVERTISEMENT