ADVERTISEMENT
Sometimes, both in Minecraft and in life, it's like the old saying goes: less is more. Money can't buy you happiness, real happiness is often found in the simpler pleasures of life, such as good and supportive friends and family. Minecraft might just be a video game, and not as vast as the entire known universe (obviously), but the same logic applies to Minecraft in the same way that it does in real life. And on that note, we'd like to introduce you to a shader set we think you're really going to enjoy called the Tea shaders for Minecraft. The pack is one of the few shader packs that boost your FPS in Minecraft. Maybe you already know it under the old name Beyond Belief Vanilla Reborn.
Tea Shaders for Minecraft
Tea shaders is a shader pack developed for all current versions of Minecraft that currently support the shaders mod, which is an optimization mod for Minecraft which has been endorsed by the Minecraft community for a long time now. The shader pack is developed by a user named unicornblood2468, an experienced developer who has been active in the Minecraft modding scene for several years now.
Tea shaders might not get the same level of excitement as some of the flashier shader packs available for Minecraft these days, but despite not being as flashy as its competitors, Tea shaders are actually really good for the right people. After all, over 900,000 people have download Tea shaders so far, and people have absolutely loved this shader pack since its first release.
But what's the big deal with Tea shaders, do they change the look of the game or not? That's the thing, they do, but it might not be obvious to you unless you are already deeply familiar with how base Minecraft looks.
The colors within the Tea shader look really nice, they're just a touch brighter than Minecraft's default textures without looking like they're glowing too much. It's extremely subtle, almost like squinting your eyes very slightly when you take a look around yourself. At the same time, it looks like the water gets a little bit darker, maybe due to the way that Minecraft handles shadows and lighting with large stacks of water in the Tea shader pack.
By the way, the same developer published the Beyond Belief shaders. It's a project that has evolved tremendously over the years!
Tea Shaders Best Features
There are also plenty of nice features that many people expect to come standard in Minecraft shader packs, which include simulated wind for blowing trees, bushes, and grass, as well as affecting the way water looks as well, which will react to its surroundings in a nice and subtle way.
Tea shaders also make the interiors of rooms look, in our opinion, WAY nicer than the default Minecraft shader does. By default rooms in Minecraft will appear pretty dim, especially at night when there isn't much lighting. This might be done on purpose to encourage players to play the game and explore better ways to light up their surroundings.
But the problem with just creating more lights in-game for visibility is that it obstructs many parts of your environment, or it might make areas too bright. Torches and similar light sources might be considered eyesores by some. But the Tea Shader makes interiors look way better. Still dark in the right conditions, but with some much-needed ambient lighting that lifts the place up just a little bit. It's subtle, but it feels so right.
This lighting difference also expands to areas in the Nether, which almost appear to be deeper somehow, as there is now much more depth to these areas than before, which, in our opinion, looks really nice. It's hard to explain, but just take a look at some of the screenshots within the Tea shader pack, and you will see shadows reacting to light in many different ways than they would previously.
All features:
Waving leaves, foliage, and water

Custom swamp biome effect (more biome effects planned)
Depth of field (DOF)
Customizable fog for the overworld and underwater
Cel shading
Improved FXAA (anti-aliasing), SSAO, HDR, and TAA
Tone mapping
Underwater and Nether heat refraction effect
Compatible mods and Minecraft versions
Aether Legacy
Better Nether
Better With Mods
Biomes O' Plenty
Dynamic Trees
Dynamic Trees Biomes O' Plenty
Dynamic Trees Tinkers Construct
Forbidden Magic
Harvestcraft
Mystical Agriculture
NetherEx
Orespawn
Quark
Rats
Serene Seasons
Tainted magic
Thaumcraft
The Beneath
Tinkers Construct
Tropicraft
Twilight Forest
Witchery
Tea is compatible with these Minecraft versions: 1.20.1 – 1.20 – 1.19.4 – 1.19.3 – 1.19.2 – 1.19.1 – 1.19 – 1.18.2 – 1.18 – 1.17.1 – 1.17 – 1.16.5 – 1.16 – 1.15.2 – 1.15 – 1.14.4 – 1.14 – 1.13.2 – 1.13 – 1.12.2 – 1.12 – 1.11.2 – 1.11 – 1.10.2 – 1.10 – 1.9.4 – 1.9 – 1.8.9 – 1.8
Video
&

Screenshots

ADVERTISEMENT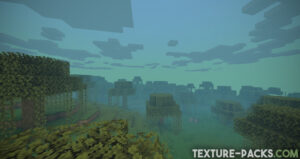 Comparison
Use our comparison tool to compare the Minecraft default pack with Tea shaders.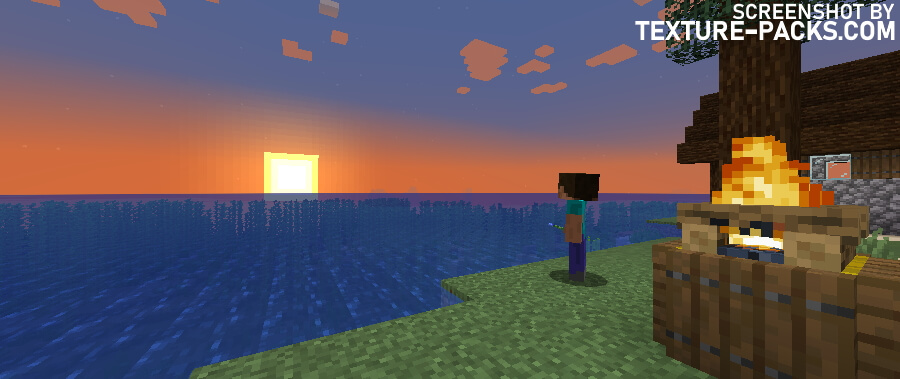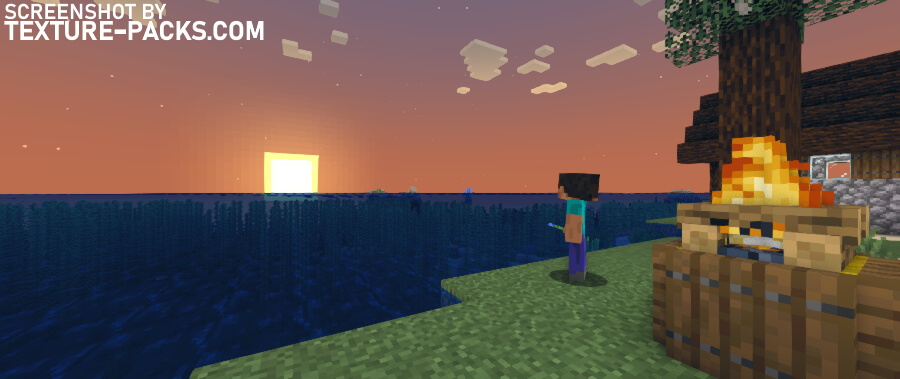 We recommend taking a look at our image comparison. Once you've got Tea shaders installed, you might not even notice the difference between Tea shaders Minecraft and regular default vanilla Minecraft at first glance. But if you take a moment to walk around, it won't take long for you to start spotting the differences.
So, are Tea shaders right for you? If you're someone that really likes the way that vanilla Minecraft already looks and you don't really want to change too much, Tea Shaders are absolutely perfect for you. If you want more obvious changes and more dramatic lighting you may want to consider a different shader, but Tea shaders is an extremely flexible all-around shader that should definitely be in your library in some way shape, or form. But don't just take our word for it; definitely check out the Tea shaders pack for Minecraft today!
How to install the Tea Shaders
Tea shaders are a very simple shader pack for Minecraft. To get Tea shaders to work, first, you need to download OptiFine, if you don't already have it installed. You can read the full installation guide further below. OptiFine is a very powerful modding tool for Minecraft that actually optimizes much of the game's code in order for it to run more efficiently across a larger variety of computers, which is awesome since no two computers are really alike. You might have an overpowered computer that isn't looking like the powerhouse it actually is in some cases, but in the case of a user with a weaker computer, OptiFine is going to help you in a number of different ways.
Of course, you can use OptiFine without Tea shaders, or really any kind of shaders if you want, but doing that would be missing half the fun of modding Minecraft, to begin with. After all, it's not like it's very hard to get started with making your game run with different shaders, it's basically just as easy as clicking a button.
Installation guide:
Install OptiFine or the Iris mod. These mods are the successor of the GLSL shaders mod that was previously used for the installation.
Click on the Tea shaders download link. Please pay attention to the notes in our download section.
Open the Minecraft Launcher and select the newly created OptiFine or Iris profile.
Launch Minecraft.
Go to the video settings in the options.
Click on shaders and open the shader folder.
Move the downloaded ZIP file into this folder (.minecraft\shaderpacks).
Return to Minecraft and select the pack in the shader list.
Click on Done.
After the installation, you can customize the pack. For example, you can make the waves faster and customize the watercolor with three settings for texture and biome effects, but be careful because the default settings are perfect for high FPS.
Tea Shaders Download
ADVERTISEMENT