3.6M Downloads | by Unicornblood2468
Many years ago, developer Daniel Rodriguez Moya started working on Beyond Belief Shaders. As is often the case with hobbies, he eventually ran out of time to release regular updates. Finally, he gave Unicornblood2468 permission to continue the work. Although it is a standalone project, some parts of it have been copied from other shader packs. For example, you can find programming code from SEUS developer Sonic Ether. However, this is not a big scandal, because it is agreed among each other. It is always nice to see that the modding community works together.
By the way, the pack is also known as Beyond Belief Engine PC and the abbreviated variant BBEPC. You may have already seen it in a YouTube video, because it is often used in top 5 videos. This already shows that the project is very popular among Minecraft fans.
Usually, it's really annoying when a storm comes up in Minecraft. The visibility gets worse and the gameplay gets pretty ugly. At least the latter can definitely be changed with this shader. First and foremost, it's meant to improve Minecraft's graphics in bad weather conditions, so that the game always looks nice.
You'll be surprised how great wet surfaces can look, because as soon as it rains there's a moisture effect. Fortunately, you don't have to worry about flooding because the rainwater seeps into the ground as usual. In contrast, it looks like the water is getting more and more in a body of water. This is mainly because there is a realistic swell that strongly resembles real life. It's really amazing how much the animations remind you of a sea. There is also a well-done light reflection that, in combination with the sun and moon, gives you a realistic gameplay.
Beyond Belief is compatible with these Minecraft versions: 1.19 – 1.18.2 – 1.18.1 – 1.18 – 1.17.1 – 1.17 – 1.16.5 – 1.16 – 1.15.2 – 1.15 – 1.14.4 – 1.14 – 1.13.2 – 1.13 – 1.12.2 – 1.12 – 1.11.2 – 1.11 – 1.10.2 – 1.10 – 1.9.4 – 1.9 – 1.8.9 – 1.8
Screenshots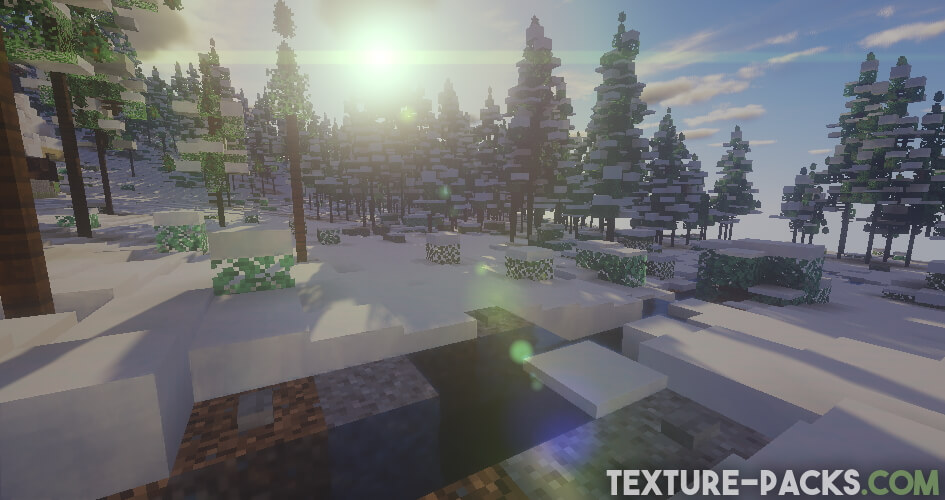 Finally, there is some criticism of the Beyon Belief shaders. This is because the shader is updated only very sporadically. Bugs that have been known for several years are unfortunately not fixed and are still included in the pack. Accordingly, you shouldn't have too much hope that a bug will be fixed when you find one.
Furthermore, there is officially no version for Minecraft PE and the Bedrock Edition. This info is really not surprising, since there are only a handful of working shader packs for Bedrock. Also, a PC is simply more powerful and is better up to the task.
All in all, the pack works quite well. Moreover, everything is completely free, so you should turn a blind eye if something works incorrectly. You"ll have the most fun with Beyond Belief Shader on a average to very good computer, according to our tests. We came to this conclusion because you will only get lags with a worse device. Just keep our recommendation in mind, because in the end you should test it yourself.
Beyond Belief Shaders Download
Obviously, a manual installation is necessary, because the shaders can't just be activated in the options. This tutorial will help you do everything necessary to make Minecraft more realistic.
Download the latest version of Beyond Belief Shaders. The download links are further down.
Install Optifine.
Launch Minecraft.
Go to the shader menu in the video settings. This option will only be displayed if you have installed Optifine correctly.
Open the shader folder at the bottom left.
In this folder you move the file you downloaded in the first step.
Select the shader in Minecraft.
Click done.
✔️ None of the files are hosted on our server. All direct download links on our website are provided by the authors. The packs are free of viruses. Therefore, they are completely safe and secure.
✔️ Please share this post on social media.
✔️ Are there any thoughts you'd like to share? Please write a comment and rate the pack to help the authors.
---
👨‍💻 Unicornblood2468 is the author of Beyond Belief. Rate this pack: