Created by the artist "zob" from Germany, the Woodpecker texture pack is available for free. Wait, woodpeckers? They're birds with long beaks and legs, right? Well, we didn't know that either, but let's take a closer look at this pack. It's quite nice-looking, although there are a few things that could be better. But the changes that have been made are really good, which is a plus. Maybe we missed something, but the name doesn't really scream "woodpecker" to us. The Minecraft wood doesn't even look like it's been pecked.
With a passion for Minecraft dating back to 2011, the creator zob began experimenting with RPG texturing shortly after diving into the game. Despite occasional periods of inactivity, zob's dedication to this project shines through in regular updates. By the way, we noticed some similarities to Vividity that you can download for Bedrock and MCPE.
Random Textures, Block Models and Animations
Variety is the spice of life, and the Woodpecker pack understands that like no other. With over 400 random textures, you'll never get tired of your own buildings. From the overworld to the end, every block of your Minecraft world will be a visual treat. Immerse yourself in a rich tapestry of vibrant colors that will keep you captivated for hours on end.
In addition, Woodpecker adds great new block models. For example, trapdoors and normal doors are affected by this feature. Say goodbye to the same-old textures, and welcome cartoony blocks and items. Furthermore, prepare to be amazed by over 50 new animations. From sparkling diamonds and emeralds to amethyst shards, each interaction with items becomes a delightful spectacle as you witness items come to life with dynamic movements.
The grass and other elements, like wool and stained clay, have a unique touch. The lava looks fantastic, and the water has a nice fluid effect. It really brings the game to life! Oh, and the obsidian, it's on point! Buildings like Minecraft villages remind us of the medieval. The wheat fields and villagers definitely have an old-timey feel. It's like stepping into a bygone era. Moreover, the interface and menus (GUI) have a different look. We especially like the brick-to-wood effect on the buttons.
Randomly Textured Mobs
Encounter randomly textured mobs that make all creatures unpredictable. Creepers, skeletons, spiders, zombies, and slimes all got a makeover. You might even find them a bit scarier. Watch out for witches, too. They're a rare sight, but they add an extra layer of thrill to the game. If you like scary textures, try BloodCraft in Minecraft. Passive mobs, like mooshrooms are also changed. How cool is that? Don't they look tasty? Not that we'd suggest eating the mushroom-covered variant of cows. Mushrooms aren't exactly heavyweights if you catch our drift. Let's not forget about the squids! They deserve a special mention because they create a beautiful pond or a waterfall with them.
Display for Food Values in Woodpecker Pack
Ever found yourself wondering how much your hunger bar would be filled by a certain food item? The Woodpecker resource pack has got your back! With a clever use of language files, this pack adds food/saturation value displays and effects to all your favorite food items. No more guesswork or wasted bites—now you can strategize your hunger management and make the most of your culinary delights. It's a feature that works in all English, Spanish dialects, and most West European languages. This ensures that you're always well-informed, regardless of your language preference.
Give the Woodpecker texture pack a try, and who knows, maybe you'll discover a newfound appreciation for woodpeckers and their long beaks!
Woodpecker is compatible with these Minecraft versions: 1.19.4 – 1.19.3 – 1.19.2 – 1.19.1 – 1.19 – 1.18.2 – 1.18 – 1.17.1 – 1.17 – 1.16.5 – 1.16 – 1.12.2 – 1.12 – 1.11.2 – 1.11 – 1.10.2 – 1.10 – 1.9.4 – 1.9 – 1.8.9 – 1.8
---
Armor
Environment
Misc
Particles
Terrain
Video
&

Screenshots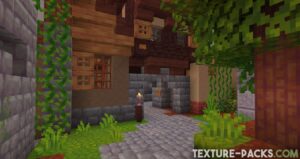 Comparison
Use our comparison tool to compare the Minecraft default pack with Woodpecker.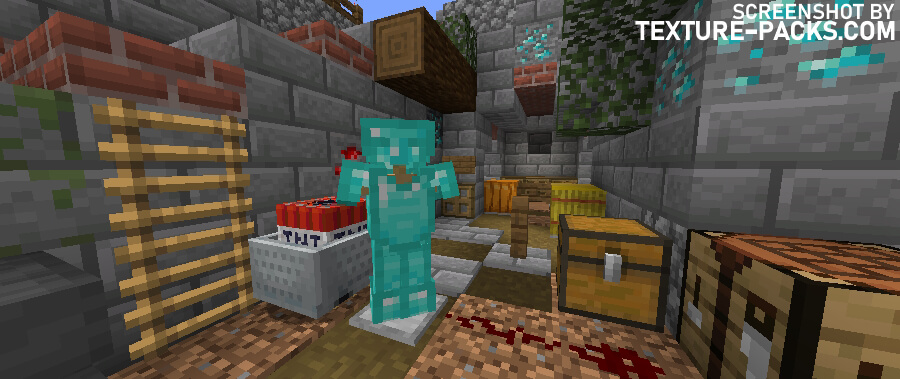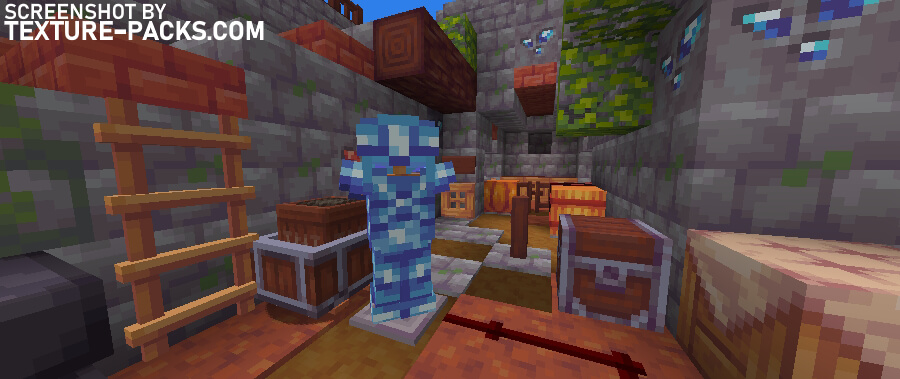 How to install the Woodpecker Texture Pack
Download and install OptiFine for custom sky colormaps that paint the heavens with vibrant hues.
Click on the Woodpecker texture pack download link that is compatible with your game version and Minecraft edition.
Launch Minecraft.
Click on "Options" in the main menu.
In the options menu, go to the submenu "Resource Packs".
Click on "Open Pack Folder" at the bottom left.
Move the downloaded ZIP file into your resourcepacks folder.
You will see the pack on the left half of the resource pack screen. If it is not displayed in Minecraft, you need to unzip the file.
Move the cursor to the pack logo and click the arrow pointing to the right.
Click on "Done".
The game may tell you during the installation that the pack was made for a newer or older Minecraft version. This is an error and you can still activate the pack.
Woodpecker Texture Pack Download