298K Downloads | Resolution: 16x16 | by Asphyxious
For almost every event there is usually a suitable Minecraft texture pack. So it's only logical that there are also numerous for Halloween. One of them we would like to review to you today is The Asphyxious texture pack. After the free download your environment in Minecraft will look completely different. Especially the special atmosphere will catch attention, because it is really spooky or scary. Of course you don't need to be afraid of activating the pack, because in the end it only changes the textures and sounds in Minecraft.
Some time ago this texture pack was released for the first time, but on the occasion of the Buzzy Bees Update it was nearly completely redesigned again. More precisely, the first release was in 2012. The redesign has taken The Asphyxious CustomPack texture pack to a whole new level. You will surely be most interested in the spooky part of the blocks and items. In this point the author concentrated mainly on game textures that are rare to see. As an example we can mention the note block, which you normally only occasionally get to see.
Of course this Halloween Texture Pack is 100% complete and will change every spot of your environment. But you should be aware that the author try not to fill the pack with too many scary elements. This aspect is a definite advantage for you, because you can theoretically use The Asphyxious Texture Pack all year round.
By the way, there are also many custom items that change their look when you rename them on the anvil. In addition, there are cool animations that you can admire for example with every enchanted book and some mobs. The creator Asphyxiou has animated all these pixel art animations himself and accordingly each one of them is unique.
You want even creepier textures? Then check out the Evil Texture Pack.
The Asphyxious CustomPack is compatible with these Minecraft versions: 1.19.1 – 1.19 – 1.18.2 – 1.18.1 – 1.18 – 1.17.1 – 1.17 – 1.16.5 – 1.16 – 1.15.2 – 1.15 – 1.14.4 – 1.14
Screenshots & Video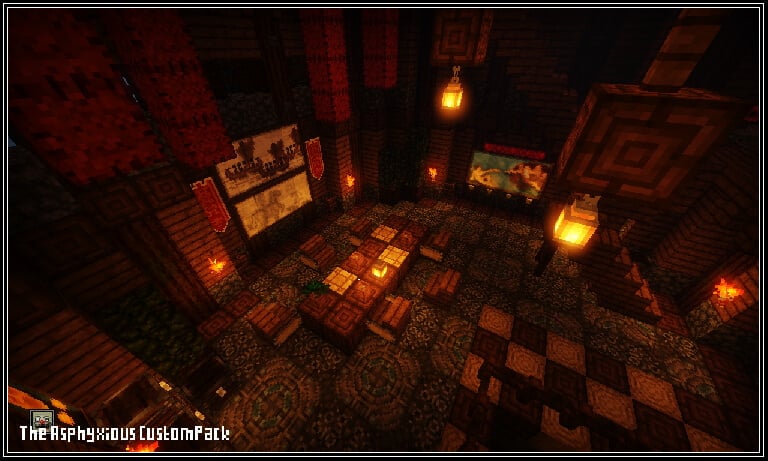 Another interesting fact is that you will always find new textures. For this a little trick was used which makes it possible to generate the appearance of some mobs and blocks randomly. Thanks to this feature you will definitely never get bored.
However, there are more advantages that speak for the Asphyxious texture pack. In an impressive way, the vanilla style of Minecraft has been retained. In plain language, this means that you won't feel out of place. But it has to be said that the low 16x16 resolution also plays its part, because the default default pack has exactly the same pixel rate. Nevertheless, the attention to detail is clearly visible for you.
Asphyxious Texture Pack Download
Many of the features described above require the Mod Optifine. Connected glass panes are in this case the smallest advantage of Optifine, because you can install shaders with this mod. Creator Asphyxiou explicitly recommends the free Sildurs Vibrant Shader. Now we come to the full texture pack installation for Minecraft.
As you are used to from Texture-Packs.com, you can find the free download link for this pack on this page. The file is quite large, so it might take a little longer to download than you are used to.
Once the file is completely loaded, you can start the Minecraft Launcher.
In current game versions you only have to navigate to "Options" and then to "Resource Packs" to install the Texture Pack. Now you can easily drag and drop the downloaded file into the Minecraft window and answer "Yes" to the question that pops up.
✔️ None of the files are hosted on our server. All direct download links on our website are provided by the authors. The packs are free of viruses. Therefore, they are completely safe and secure.
✔️ Please share this post on social media.
✔️ Are there any thoughts you'd like to share? Please write a comment and rate the pack to help the authors.
---
👨‍💻 Asphyxious is the author. Rate this pack:
Blocks

Items

Details

Shader compatibility
Summary
Overall, the use of The Asphyxious Custom Pack adds a rustic style to Minecraft. With various techniques a really great Halloween texture pack was created. The enlarged leaves are still the smallest change.