Almost every event has a suitable Minecraft mod available, so it is logical that there are numerous options for Halloween as well. We would like to show you the Asphyxious texture pack. Once downloaded, your Minecraft environment will undergo a complete transformation. The standout feature of this pack is its eerie and chilling atmosphere.
Forged in blood and fire, the Asphyxious CustomPack offers a perfect blend of horror and fantasy. With stunning textures and dark colors, every block and item feels alive, making your gaming experience truly unforgettable. Furthermore, this pack is 100% complete. Worried about compatibility? Fear not! All assets in the pack are fully vanilla-friendly. By the way, the pack imparts a certain rustic style to Minecraft.
The Asphyxious texture pack was initially released some time ago, but it underwent a significant redesign with the buzzy bees update. The original release dates back to 2012. This redesign has propelled The Asphyxious CustomPack texture pack to a whole new level. The most intriguing aspects are the spooky blocks and items. The developer Asp_B focused on rare game textures, such as the note block, which is rarely seen in Minecraft houses.
Asphyxious Features
Say goodbye to flat, lifeless blocks. Included are 3D block models and a vast collection of custom items, allowing you to unleash your creativity like never before. Build intricate structures in 3D, and adorn them with unique items in item frames. Please note that the custom items only change their appearance when you renamed them on the anvil. You can find all the new names further below. Additionally, there are captivating animations for enchanted books and certain mobs. Asp_B, the creator, has personally crafted these pixel art animations, making each one of them unique. If you desire even creepier textures, we recommend checking out BloodCraft.
Horror sounds and music
Prepare to be captivated by the custom horror sounds and music in the Asphyxious resource pack. Every step you take and every interaction you make will be accompanied by haunting melodies and bone-chilling effects. Get ready for gameplay that will send shivers down your spine. However, there is no need to fear activating it, as it only alters the textures and sounds in Minecraft.
The Asphyxious pack brings a deep sky and stained atmosphere to Minecraft, creating a visually striking backdrop for your adventures. Marvel at the vibrant colors of the sky, as it sets the tone for your explorations. From forests with fluffy leaves to desolate wastelands, each biome is redesigned to evoke a sense of awe and wonder. Another fascinating fact is that you will always discover new textures. A clever little trick has been used to generate the randomized appearance of some mobs and blocks. Thanks to this feature, you will never grow bored.
Expand Minecraft with Add-Ons
If you're craving even more customization options, the Asphyxious texture pack offers additional add-ons and versions to expand Minecraft. One notable add-on is the massive outlines add-on, which gives blocks inked outlines reminiscent of a comic book. In our opinion, it doesn't look very good, but it's a nice gimmick.
Ready to dive into the mesmerizing world of this project? You can download all the files for free on the file hoster MEGA. Simply visit our download section further below and follow the links provided to embark on an unforgettable gaming session.
The Asphyxious custom pack is compatible with these Minecraft versions: 1.20.3 – 1.20.2 – 1.20.1 – 1.20 – 1.19.4 – 1.19.3 – 1.19.2 – 1.19.1 – 1.19 – 1.18.2 – 1.18.1 – 1.18 – 1.17.1 – 1.17 – 1.16.5 – 1.16 – 1.15.2 – 1.15 – 1.14.4 – 1.14
---
Art
GUI
Particles
Font
Audio
Misc
Video
&

Screenshots

ADVERTISEMENT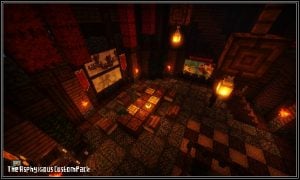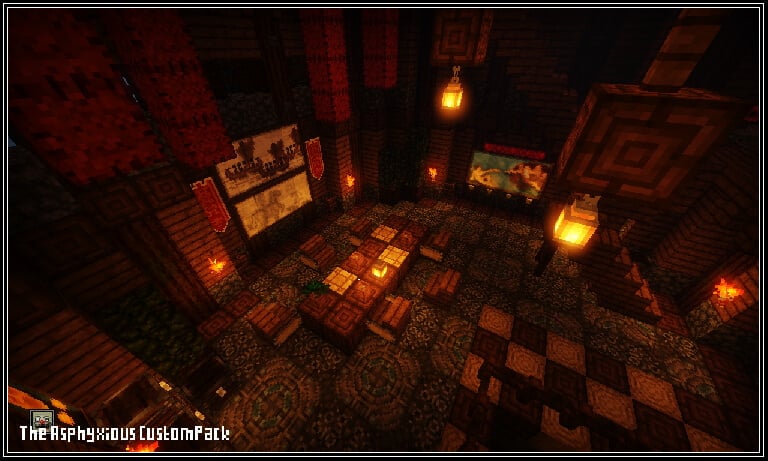 Comparison
Use our comparison tool to compare the Minecraft default pack with the Asphyxious custom pack.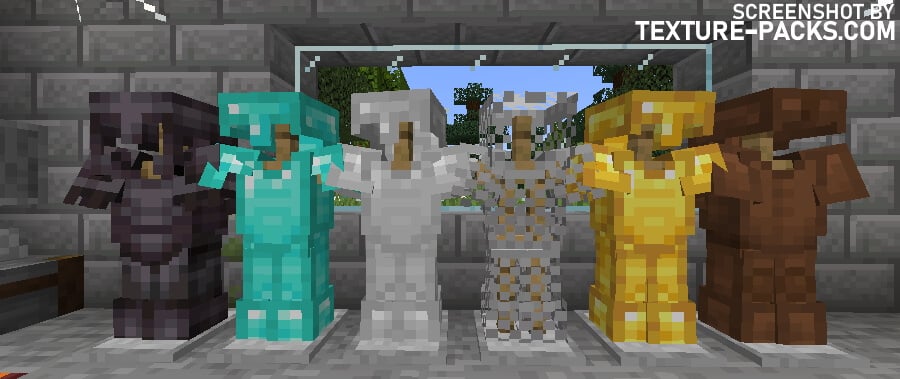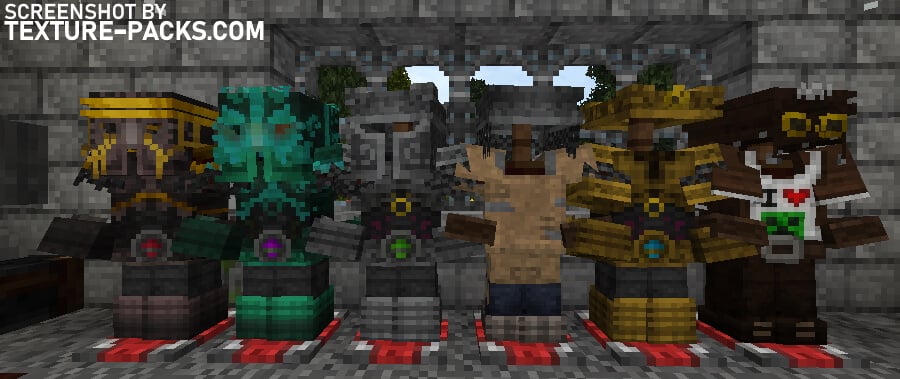 How to install the Asphyxious Texture Pack
Many of the features described above require the Mod OptiFine. Connected glass panes are in this case the smallest advantage of OptiFine because you can install shaders with this mod. The creator explicitly recommends the free Sildurs Vibrant shaders. Now we come to the full texture pack installation for Minecraft.
Click on the Asphyxious texture pack download link that is compatible with your game version and Minecraft edition.
Launch Minecraft.
Click on "Options" in the main menu.
In the options menu, go to the submenu "Resource Packs".
Click on "Open Pack Folder" at the bottom left.
Move the downloaded ZIP file into your resourcepacks folder.
You will see the pack on the left half of the resource pack screen. If it is not displayed in Minecraft, you need to unzip the file.
Move the cursor to the pack logo and click the arrow pointing to the right.
Click on "Done".
The game may tell you during the installation that the pack was made for a newer or older Minecraft version. This is an error and you can still activate the pack.
Custom item textures list (CIT)
Rename items in the anvil to get new textures in the Java Edition, but you need OptiFine.
Asphyxious Texture Pack Download
ADVERTISEMENT
Blocks

Items

Details

Shader compatibility
Summary
Overall, the use of The Asphyxious Custom Pack adds a rustic style to Minecraft. With various techniques a really great Halloween texture pack was created. The enlarged leaves are still the smallest change.