3.1M Downloads | Resolution: 16×16 | by Sindavar
Stoneborn texture pack consists of several add-ons, which all contain different textures. The creator was inspired by the medieval times and gave the new designs an old-fashioned touch. He is probably also a fan of RPG games, because there are undoubtedly clear parallels to this video game genre. Furthermore, the rustic style fits every Minecraft game mode. Accordingly, it doesn't matter whether you play with mods or vanilla Minecraft. Moreover, Stoneborn harmonizes excellently with other texture packs as well. This is also necessary, because there are many missing blocks and items that have not been reworked yet. More Stoneborn texture pack add-ons will be released in the future.
Dwarven-Fantasy Inspired UI Overhaul
This name seems a bit complicated, but apparently the developer couldn't think of a better name. Stoneborn – Dwarven-Fantasy Inspired UI Overhaul exclusively modifies the game's user interfaces. The implementation is fantastic. For example, the menu background, the home screen and the inventory are changed. Even the creative inventory is new. Most impressive are the new hearts in the health bar, which are now RPG-style. They have been replaced with red gems, and to match, the hunger bar is displayed with green gems. Overall, the colors are very uniformly chosen, and the pack works well as a big whole. By the way, it is recommended to combine this add-on with a medieval texture pack, like Winthor Medieval, so that all textures are reworked.
Dwarven-Fantasy Inspired Gear Overhaul
Unlike the first add-on, Stoneborn – Dwarven-Fantasy Inspired Gear Overhaul exclusively changes the Minecraft gear you have. The item names are now different to give you the best RPG experience possible. Anyway, the new names also have a drawback, as they only work in the English language. The creator Sindavar33 describes the pack as a unique armor system that lets you combine different sets. For example, the armor helmets have cool eye slits. However, many Minecraft skins have different head shapes. That's why there is a version with high eye slits and one with low eye slits. Also, it is important for you to know that the Stoneborn elytra will not be displayed correctly if you have a cape activated on your skin. Therefore, it is advisable to deactivate your cape in the settings.
Stoneborn is compatible with these Minecraft versions: 1.18.2 – 1.18.1 – 1.18 – 1.17.1 – 1.17 – 1.16.5 – 1.16 – 1.15.2 – 1.15 – 1.14.4 – 1.14 – 1.13.2 – 1.13 – 1.12.2 – 1.12 – 1.11.2 – 1.11 – 1.10.2 – 1.10 – 1.7.10 – 1.7
Screenshots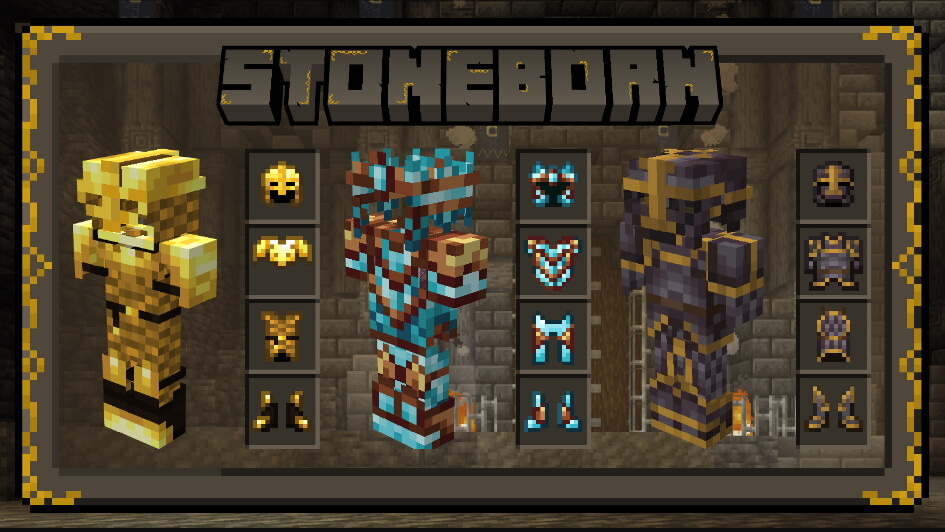 Stoneborn Texture Pack Download
Click on the Stoneborn texture pack download link.
Move the downloaded ZIP file to your desktop.
Launch Minecraft.
Go to options in the main menu and then click on resource packs.
Select the ZIP file on your desktop and move it into the Minecraft window.
Agree to the import in the dialog box.
Move Stoneborn from the left to the right side.
Click on "Done".
✔️ None of the files are hosted on our server. All direct download links on our website are provided by the authors. The packs are free of viruses. Therefore, they are completely safe and secure.
✔️ Please share this post on social media.
✔️ Are there any thoughts you'd like to share? Please write a comment and rate the pack to help the authors.
---
👨‍💻 Sindavar is the author of Stoneborn. Rate this pack: